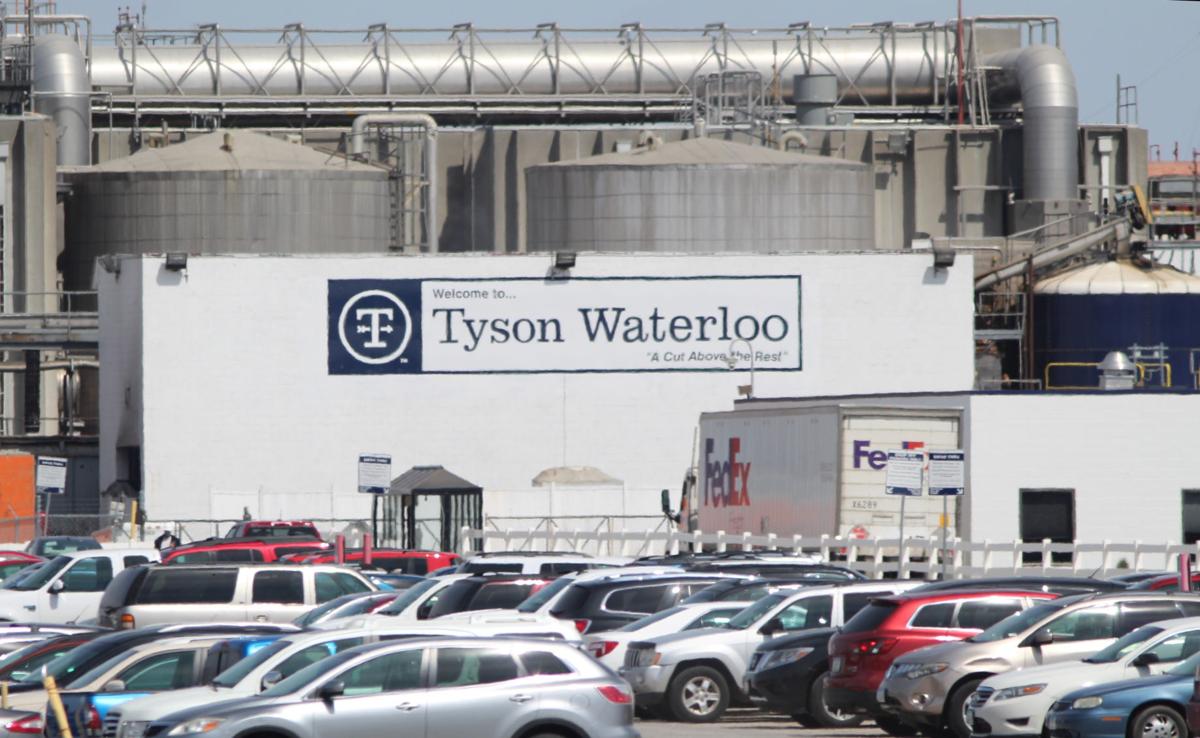 WATERLOO — The closure of Tyson Fresh Meats affects a wide swath of area residents, from employees out of work, to the county's three hospitals handling the influx of coronavirus patients, to pig farmers supplying the meatpacking plants and the entire ecosystem of agriculture surrounding getting hogs to market and pork products on tables.
Even the temporary closing of one meatpacking plant has broad implication across an agriculture-based state like Iowa. But the closure of Tyson in Waterloo — a large pork processing plant in the No. 1 hog producing state in the nation — has huge ramifications for Iowa's multi-billion dollar pork industry.
"It's really serious — these processing plants are critical infrastructure," Gov. Kim Reynolds told a radio station Wednesday morning after Tyson announced its Waterloo plant would close temporarily. "This is an essential workforce that's out there on the front line every day to keep nation's food supply moving."
Meatpacking plant closures because of coronavirus, even if brief, are likely to send ripples throughout the economy, said Lee Schulz, livestock economist with Iowa State University Extension.
"I think it's very difficult to even characterize the tremendous impact that this has been to the pork industry," he said. "This has been a fast-evolving and dramatic impact, as we have seen prices for hog producers have been cut in half compared to last year."
Iowa produces about a third of the country's pork — a $7 billion to $8 billion industry, according to Schulz.
"Many industries in Iowa support the pork industry, and the economic activity that is generated by the pork industry impacts industries across the board," he said.
Livestock farmers, the feed industry, transportation and the financial industry that is involved with the pork sector will likely feel the immediate effects, followed by other segments of the economy.
"You can see how these ripple effects occur," Schulz said.
But with 511 Black Hawk County residents testing positive for coronavirus — a large percentage of those connected to the 2,700-person meatpacking plant — Sheriff Tony Thompson said it needed to be done.
At least one of the county's four deaths from the virus was a Tyson worker, though Thompson wouldn't confirm if there were others.
"I think, if we had a shutdown when we first asked for a shutdown, we could have saved some lives," Thompson said Wednesday. "Now, we deal with the here and now."
Thompson, who along with 19 other elected officials in the county asked for the plant to shutter for a week for cleaning and to allow testing to catch up, nonetheless acknowledged he understood both sides of the situation.
"We don't want to see hogs euthanized, but we don't want to see people die, either," he said.
Tyson spokesperson Liz Croston noted the Waterloo facility would fully shutter when they were finished processing "already harvested hogs," which was the company's focus Wednesday.
"How quickly we can get through that will determine when we shut down," Croston said in an email to The Courier, noting no new hogs had been taken in since the weekend.
She didn't say if the company had a timeline for reopening the plant.
"We will continue our efforts to divert animals where we can, but with the current situation we are backing up hogs significantly due to harvest limitations," Croston added.
Pork producers in the area were feeling that back up — even those that didn't directly supply Tyson, like Blake Hollis of Lanehaven Farms, a "larger family-owned" hog farm south of Waterloo.
"Any time you have capacity taken off line anywhere, really anywhere in the Midwest, it has an indirect effect because the hog industry is scaled pretty efficiently," he said.
Those efficiencies — larger but fewer meatpacking plants, larger hog operations — came out of a bad time in the industry that feels similar to today's crisis, Hollis said. In 1998, a heavy surplus of pork production came up against small meatpacking plants that couldn't handle the supply.
"It got to the point where hog prices really dropped far below the cost of production for a period of time," Hollis recalled. "A lot of family farms went out of business."
But though the pork industry pivoted to that new reality, there was no predicting coronavirus' impact.
Hollis sells his hogs to JBS in Marshalltown, which hasn't shut down but he said has scaled back production by half, forcing him to keep an excess of pigs on his farm — meaning he needs extra space and extra feed when piglets are still being born.
"Number one, the surplus caused prices to precipitously drop," Hollis said. "Then you only get half the loads in — that's cutting your revenue stream in half there. And obviously you've got revenue taking a huge hit with expenses continuing on."
Hollis has a bit of extra space and the financial cushion to weather the crisis for a few more weeks. If nothing changes after that, he said he'll have to start euthanizing his pigs.
Hollis has heard a few rumblings about possible government assistance in a variety of forms to help pork producers and farmers across the board hurt by the ongoing pandemic and its effects. But he added farmers aren't just concerned with their bottom line.
"We understand the human side of the packing industry — we recognize the value of their lives," he said. "It's a very tough situation for the leaders in the industry to figure out how to navigate, because there aren't any easy answers."