A live performance venue. A microbrewery. A community garden and public park. Indoor rock climbing. A day care center. A wine bar and outdoor dining. A residential care facility, townhouses and office space.
Those are some of the opportunities and new uses Davenport city officials envision as part of an effort to reposition the NorthPark Mall and surrounding property for redevelopment.
City officials recently announced plans to create a new zoning district to facilitate the revitalization of the shopping center and adjacent property that includes multi-family residential and retail areas, office space, restaurants, entertainment and green space.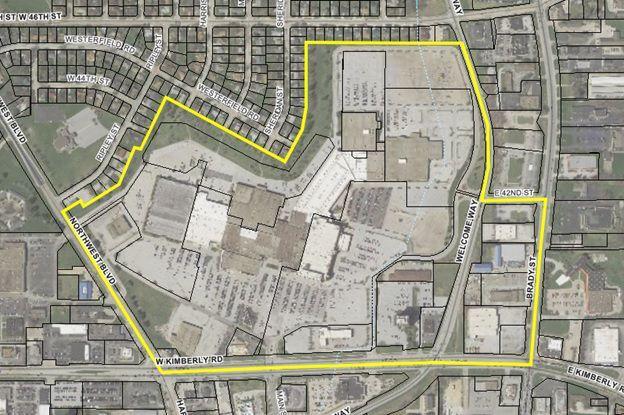 "We have to have a long-term plan for growth because the future of retail space is going to be different going forward," said Davenport 7th Ward Alderman Joseph Miller, whose ward includes the mall. "And as a community we have to be very, very smart about what we allow in that space that will allow not only for that space to be profitable but will maintain amenities for the citizens of this city."
Once-flourishing enclosed shopping malls across the country are struggling to remain relevant as more shoppers go online and the number of vacant storefronts grows, according to city officials and commercial real estate experts. 
"COVID accelerated e-commerce, which was already well on its way," Davenport City Administrator Corri Spiegel said. "And when you look at our mall, which was very traditional of its time — (with) five big-box anchors — that customer who wants that same (brick-and-mortar shopping) experience just doesn't exist anymore."
Some anchors gone
NorthPark Mall opened on July 11, 1973, with 700,000 square feet of space, making the shopping center the largest enclosed mall in Iowa at the time.
The original anchors were JCPenney, Younkers and Montgomery Ward, which closed in 2001 when the chain went out of business. It was replaced by Dillard's two years later. A multimillion-dollar expansion in 1981 brought Sears and Von Maur to the mall.
Today, three of the mall's five anchor tenants remain. Sears and Younkers closed within months of each other in 2018, leaving behind thousands of square feet of empty retail space.
More than 47,000 square feet of NorthPark Mall's 394,000 square feet of leasable space, or roughly 12%, sat empty as of the end of last year, according to a 2020 annual report from Macerich, the company that owns both NorthPark and SouthPark Mall in Moline. That figure does not include anchor tenants Dillard's, JCPenney and Von Maur, which occupy space not owned by the mall.
A mall representative did not respond to requests for comment Wednesday.
While malls were hit particularly hard during the pandemic, "retail sales remain strong and retailers have embraced a multi-channel model which meets consumer demand," Stephanie Cegielski, vice president of research and public relations at ICSC, responded in an email.
"As for malls, for a number of years now they have been diversifying their tenant mix to protect their revenue," Cegielski said. "This came out of both the Great Recession and consumers demanding more entertainment options. ... Some are facing challenges because the local economy has been hard hit and the community simply cannot support the mall for economic reasons. Other struggling malls simply didn't keep up with the changing needs of the community."
Cegielski took issue with the notion that a surge in online shopping during the pandemic and e-commerce is hurting physical retail.
"90% of all retail sales still take place in a physical store," Cegielski wrote. "While we saw a spike in online shopping during the pandemic, which was out of necessity, those numbers have leveled off as consumers have been able to return to stores."
Still, many stores that once were mall anchors are downsizing and seeking freestanding locations. Retailers from Gap to Abercrombie & Fitch are investing in opening smaller locations away from malls, as CNBC reported. And Macy's and Walmart have converted some stores into centers for curbside pickup or contact-free checkout services and online order fulfillment, not in-store shopping.
Given the changing retail landscape, city officials said Davenport needs to be strategic about guiding future investment to the 140-acre area that provides commercial tax benefits and offers shopping and entertainment opportunities within easy reach of a large part of the city.
"There are things we want to protect it from becoming," Spiegel said. "You already have some fairly large vacancies there (namely Sears). And in the commercial real estate world, they have margins and performance that they want to meet. … So what they're willing to do to make their real estate profitable may be inconsistent with our vision for the community."
Preserve the status quo — for now
Aldermen in May approved a six-month moratorium on new car washes, self-storage facilities and car dealerships near the mall as city officials explored plans with the mall's owner and adjacent property owners to redevelop the area.
The resolution halted the issuance of special uses or site plan approval for those uses in the area bounded by Brady Street, Kimberly Road, Northwest Boulevard and 46th Street until Nov. 27.
Spiegel said the moratorium is intended to preserve the status quo while the city assesses both short- and long-term redevelopment opportunities for the area, including through the Iowa Economic Development Authority.
Among the opportunities city officials hope to explore is the use of a Reinvestment District for the mall property through the Iowa Economic Development Authority. Such districts are designed to assist communities undertake large investments that generate high volumes of sales tax and draw consumers to areas that have seen an economic decline, according to the IEDA.
The program provides up to $100 million in new state hotel/motel and sales tax revenues to be "reinvested" within approved districts to help fund projects of $10 million or more that spur economic development.
Existing state reinvestment funds have largely been spoken for. Spiegel said city officials are evaluating the potential for the legislature to reauthorize the program as well as the potential for utilizing other states grants and federal stimulus and COVID-19 recovery dollars received by the state for similar purposes.
A number of communities and major U.S. mall owners in recent years have successfully pursued turning old retail space into live performance and sports venues, hotels, apartments, condos, townhouses and office space to offset declining store revenue and bolster the performance of their properties.
But rather than create a master planned development for the mall property, similar to Elmore Corners, city officials felt it best to provide flexibility with a new zoning district.
"It's a big enough parcel that (redevelopment) will have to be done over time," Alderman JJ Condon, at-large said. "And to spend a bunch of money on a consultant to come in and tell us what it's supposed to be when we're finished, I don't think anybody has that foresight yet. Better to help to cultivate an environment where the marketplace can go in there and succeed than for us to tell them exactly what it needs to be."
The city, though, would still retain the ability to restrict certain development within the new zoning district. For example, drive-thru facilities, apartments, townhouses and duplexes would be allowed by special use, which requires review and approval by the city's Zoning Board of Adjustment, which could place additional conditions on the proposed development, including but not limited to hours of operation, setback from other property, screening and landscaping. 
"The rezoning opens up some uses that weren't there," Spiegel said of the addition of residential units. "It does create some boundaries, though. We have some great single-family homes around (the mall property). We don't want to take this very valuable real estate and turn it into a great single-family neighborhood. That seems like a lost opportunity. But, is there an opportunity for duplexes and townhomes on the edge?"
The proposed zoning district is set to go before the Davenport Plan & Zoning Commission for a public hearing Sept. 14. It will also get a public hearing and three readings before the Davenport City Council prior to adoption, which is expected in late November.