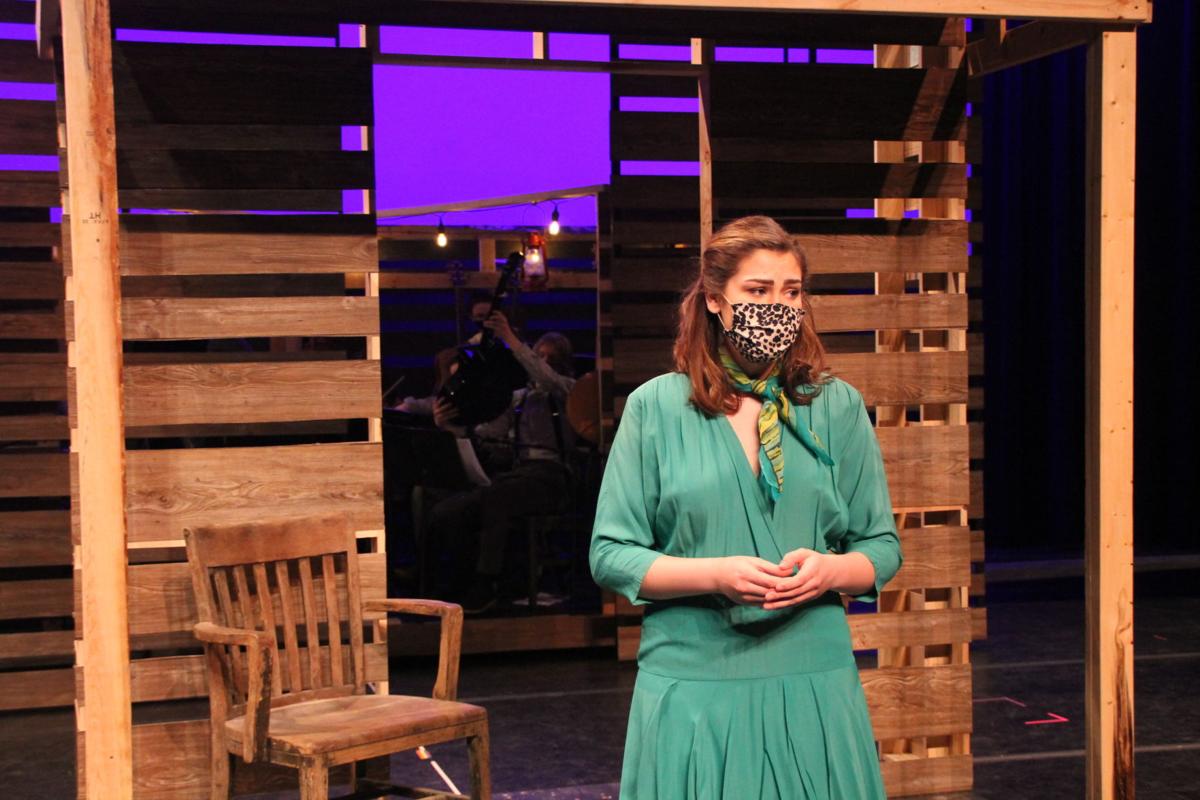 Bettendorf High School offering youth baseball camps
Bettendorf High School's baseball program is offering three days worth of camps in late April for youth baseball players.
The fundamentals camps are 7-9 p.m. each night at Bettendorf Middle School gym from Monday, April 26 to Wednesday, April 28. The camps are for players from third through eighth grades.
Monday's camp will focus on pitching and catching, Tuesday's camp will focus on infield and outfield, and Wednesday's camp will focus on hitting. Instruction is provided by Bettendorf High School coaches and players. Cost for the camp is $20 per night or $50 for all three nights. Registration is limited to the first 60 participants each night.
There is a $10 family discount for families signing up multiple players for all three nights. The registration deadline is April 23.
Bettendorf High School theater putting on musical
The Bettendorf High School theater department will present "Bright Star the Musical" April 15-18 at the Bettendorf High School Performing Arts Center. Shows begin at 7 p.m., with a Sunday matinee at 1 p.m. Tickets are $10 in person and $20 online and are available at the high school activities office or online at bhspac.booktix.com. For more information call (563) 332-7001.
Bettendorf named Tree City USA
The City of Bettendorf was named a 2020 Tree City USA by the Arbor Day Foundation in honor of its commitment to effective urban forest management. Bettendorf achieved this recognition by meeting the program's four requirements a tree board or department, a tree care ordinance, an annual community forestry budget of at least $2 per capita and an Arbor Day observance and proclamation. This is the 26th consecutive year Bettendorf has been recognized as a Tree City USA.
Openings for golf league
The Senior Golf League at Palmer Hills Golf Course currently has a few spots available for the morning league The league golfs every Thursday morning with tee times starting at 6:40 a.m. and ending at 10:30 a.m. For more information or to signup, call the proshop at 563-332-8296.
Library expands hours
The Bettendorf Public Library recently expanded operating hours. The new hours are 9 a.m. to 7 p.m. Mondays-Thursdays and 9 a.m. to 5 p.m. Fridays and Saturdays. The library is closed on Sundays.
No-contact curbside services will remain available upon request. The library also will continue to offer online programming and digital resources.
For more information, contact the Bettendorf Public Library at 563-344-4175.
Makers Market to be held in May
On Saturday, May 8 from 10 a.m. to 1 p.m., the Bettendorf High School Class of 2022 will host a Makers Market. Parking spot spaces are currently available for purchase for $30 (cash or check). The spots are located in BHS north lot for community members to sell or advertise a product/service. This event is open to the public.
A sample of vendors already signed up includes I licked the spoon, Living Lands and Waters/Bison Bridge, US Army Reserve and Color Street.
Summer job openings
The Bettendorf Parks and Recreation Department has announced openings for several different jobs this summer including summer camps or the team at Splash Landing. To view job openings or to apply online, visit www.bettendorf.org/jobs
No sticker yard waste weeks scheduled
The City of Bettendorf has announced the eight weeks in 2021 when residents will not need to put yard waste stickers on paper yard waste bags.
No Sticker weeks in 2021 will include April 5-16 and Oct. 25 to Dec. 3.
Residents also may take yard waste to the Davenport Compost Facility, 2707 Railroad Ave., Davenport.
No Charge weeks at Davenport Compost will include April 4-17 and Oct. 25 to Dec. 3. For more information, call 563-328-7225 or visit cityofdavenportiowa.com/compost.
BCSD 2021-2022 kindergarten registration open
The time to register kindergarten students in the Bettendorf Community School District for the 2021-2022 school year has officially begun. Families living in the district with children who will be five years old on or before Sept. 15, 2021, are invited to fill out the BCSD Kindergarten Registration form available on the district website www.bettendorf.k12.ia.us. Parents who don't have technology access are welcome to call the neighborhood school office for support.
BCSD kindergarten teachers use the workshop model to present grade-level curriculum. In the workshop model, the teacher presents a mini-lesson to model a learning strategy. Social skills are modeled and practiced during academics and playtime. Teachers provide opportunities for students to build social skills during math and literacy partner games. Students also learn teamwork as they design and build in science and social studies units. Snack, lunch, recess and centers are opportune times for students to interact with peers learning how to work together and compromise.
Before the first day of school, parents or guardians are required to provide:
* Physical and Lead Testing Results
Construction update for I-74 bridge project
The I-74 Project Team announced that the Illinois-bound I-74 construction will be ramping up and some local access changes will be required.
* On Monday, March 1, the Grant Street/US 67 loop ramp to the old I-74 bridge was closed.
* The new Iowa-bound bridge will continue to provide a two-way, head-to-head traffic pattern for motorists going to Illinois and Iowa.
* Motorists going to River Drive or 7th Avenue in Moline can access the old Illinois-bound bridge only at State Street.
* The Grant Street/US 67 off-ramp (Exit 4) on Illinois-bound I-74 will remain open to provide access to downtown Bettendorf and the State Street on-ramp to the old Illinois-bound bridge.
* Motorists going to Avenue of the Cities, John Deere Road or I-280 in Moline can continue to take the new I-74 bridge, which can be accessed at or north of Middle Road.
* To improve traffic flow while the Illinois-bound I-74 local detour is in place, the ramps at Middle Road will be re-striped to allow two left-turn lanes. Motorists should watch for new pavement markings and signs at Middle Road.
For further information, visit www.i74riverbridge.com or follow the I-74 Bridge Project on Facebook. For questions, call the Project Hotline at 866-474-4255.
Rivermont Collegiate announces tuition reduction
After serious research and discussion with families, outside community members and the board of trustees, Rivermont Collegiate, Bettendorf, has decided to reduce K-12 day student tuition to $12,290. Current tuition runs from $14,730 to $15,990. The hope is that this reduction in tuition will make a Rivermont education possible for more community members. The financial assistance program, helping qualified families beyond the tuition reduction, will continue to be in place.
The tuition reduction will not affect the quality of a Rivermont education. There will continue to be improvement on and expansion of offerings. Next year a dedicated K-5th-grade MakerSpace, a grades 6-12 maker shop, a competitive gaming club, an Academic Success Center, an Academic Coach and more high-interest electives in grades 6-12 will be added.
BCSD accepting applications for preschool program
The Bettendorf Community School District is now accepting preschool applications for the 2021-2022 school year. Children who will be four years old on or before Sept. 15, 2021, are eligible to participate.
Funding provided by the State of Iowa in support of the Statewide Voluntary Preschool Program allows children four years of age to be placed in local preschool programs. Families of preschoolers can receive preschool education at no charge for 10 hours per week with parents paying for the balance of the attendance time. The local preschools participating include Ready Set Grow Preschool, KinderCare Learning Center, Lourdes Preschool, Redeemer Preschool, St. John Vianney Preschool and Skip-A-Long Child Development Services.
Bettendorf Community School District provides preschool classrooms at Grant Wood Elementary School, Mark Twain Elementary School and Neil Armstrong Elementary School. Children that meet economic eligibility criteria are given preference in the BCSD public school preschool classes. For more information or to request an application, call Joyce Meyer at 563-359-3681, email jmeyer@bettendorf.k12.ia.us or download a preschool application form at bettendorf.k12.ia.us/services/student-services/preschool.