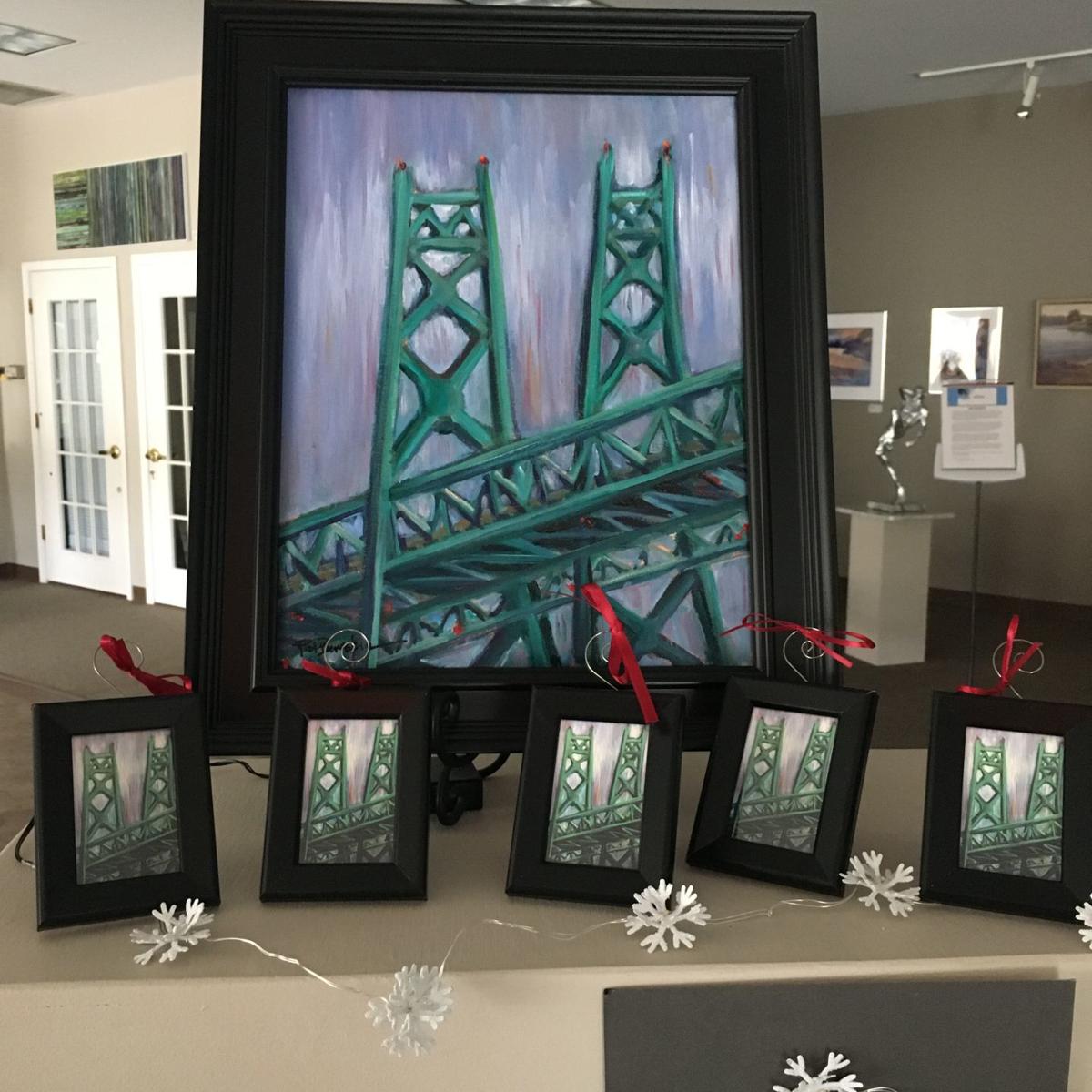 Like anyone who has grown up in Bettendorf, artist Pat Berèskin has her own special fondness for the Interstate 74 Bridge, with its signature green color and tall towers.
Wanting to capture a particular view of the bridge towers during the past summer's Plein Art Paint Out, she didn't anticipate as she stood underneath that a gust of wind would pick up her canvas and paint and throw it in the dirt.
"When I picked up my palette, there was dirt, mud and rock in my paint and on my picture," she smiles as she recalls that hot (high of 97 degrees) July day.
She also didn't anticipate that her painting of the bridge would be featured on the 2019 Christmas ornament being sold by the Downtown Bettendorf Business Women. It was chosen by the group among several bridge paintings finished on July 20.
Berèskin described her work as "more modern, not what people expect."
"The sky was really light that day," she said. "I wanted to do more linear strokes to make the bridge seem larger than life because it's been such an integral part of our lives."
You have free articles remaining.
The 2-inch by 3-inch ornament, a beribboned and framed miniature copy of Berèskin's painting, is now on sale for $10 at a variety of downtown  businesses. A limited number of 5-inch by 7-inch ornaments are available for $15.
Funds raised by the sale will be given to several Bettendorf charities including the Jefferson/Lourdes Neighborhood Christmas Project, The Agape Center's Christmas Stocking Drive and the Bettendorf Angel Network. Others may be added.
Funds also will benefit students through scholarships to the 212 STEAM Labs, the Berèskin Art Academy, and "The LaMar Scholarship for Young Women in Business," named for former Bettendorf Third Ward Alderwoman Debe LaMar, who passed away in 2017.
The 2018 ornament, featuring a miniature copy of a painting of the bridge by artist Jean Johnson, was very popular. Fewer than 40 of those remain for sale at the Berèskin Art Gallery, and no more will be made once they are gone. Nostalgia for the I-74 Bridge is growing as construction on the new bridge continues nearby.
About 400 of the 2019 ornaments have been made. They are being assembled as a fundraiser by adults and children with the ONE (Opportunities Never Ending) Foundation of Bettendorf.
The Downtown Bettendorf Business Women, a committee of the Bettendorf Business Network, organized several years ago to devise initiatives to help promote shopping downtown. The group is planning a "Shop Local" promotion for the holiday season, details of which will be released soon.
Ornaments are being sold at these Bettendorf businesses: Berèskin Gallery & Art Academy, 2967 State St.; WITHIN Interior Design Studio, 1729 State St.; Frymoyer Stone Fabrication & Supply, 205 S. 35th St.; Tango Salon, 836 State St.; Concept Bath, 2203 Grant St.; and K&K True Value Hardware, 1818 Grant St. They also will be sold from 3-7 p.m., Dec. 3, at "Christmas in the Historic William Bettendorf Mansion" at Iowa Masonic, 2500 Grant St.