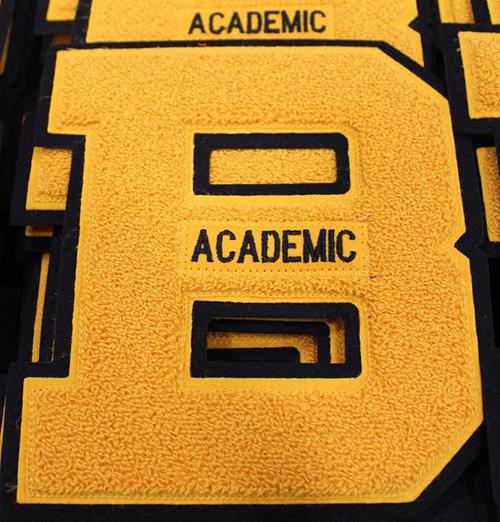 These are Bettendorf High School students on the Honor Roll for the 2nd semester of 2018-2019:
Grade 9
Highest Honor Roll: Grant Anderson, Isabelle Appel, Aliya Barnett, Hannah Beintema, Bradley Bodkin, Zakiya Bolar, Lydia Campion, Grant Carkner, Emma Cleveland, Andrew Crocker, Sarah Crowley, Anna Davison, Kaira DeBoe, Sarah DeFauw, Mason Dormire, Carter Dougherty, Nicholas Duncan, Coy Evans, Julia Fiedler, Jackson Fields, Samantha Fitzpatrick, Rebeca Garza-Doty, Sarah Giese, Aidan Hamner, Ellie Hinch, Emily Hueser, Thomas Hughes, Tyler Hurd, Vanessa Jensen, Isabelle Johnson, MacKenzie Kent, Emma Kerr, Lisa Knight, Noah Knudson, Tyler Koch, Carolyn Kress, Maria Ladenburger, Noah Mack, Katherine Maher, Morgan Makoben, Kristin Manion, Brittan Mariman, Riley Markham, Preston Martens, Kate McAleer, Noah Mitvalsky, Katherine Pessman, Emma Porter, Katelyn Rahe, Tyler Ramstack, Cecilia Rasmer, Noah Raso, Kathleen Ripley, Adeline Ritchie, Clarisse Roscio, Katherine Roseman, Ava Rowland, Anna Scholl, Amanda Scott, Kiara Silva, Eli Skeen, Kaytlin Sowards, Andrey Sprosty, Sophie Stierwalt, Jensen Tatton, Caden Temple, Nicholas Theuerkauf, Olivia Uhde, Karen Williams, Amanda Wilson.
High Honor Roll: Carter Anderson, Olivia Anderson, Alexander Baker, Kaitlyn Beghtol, Britney Bell, Joseph Bergstrom, Brandon Bishop, Dustin Bohren, McKenzie Borden, Jakiah Boultinghouse, Emma Burnett, Nicholas Cale, Maylee Callahan, David Canfield, Gabriel Cypret, Anastasia Drexler, Avery Dubberstein, Norah Dunn, Terry Dunn, Lane Eastman, Jayda English, Charly Erpelding, Peter Evans, Payton Gagne, Julian Garcia, Mackenzie Greenley, Isabella Hoffmann, Brady Howard, Patrick Hurd, Nathaniel Hutcheson, Olivia Ivory, Hannah Kleinert, Emily Knight, Aden Krauss, Aryana Lay, Braeden LeHew, Braden Like, Riley Marshall, Kathryn Miletich, McCarty Miller, Lauren Mitchell, Elizabeth Mook, Patrick Mooney, Emily Mortiboy, Pamela Murcia, Ryan Murray, Natalie Naumann, Ankhang Nguyen, Sydnee Nicotri, Marisela Ocampo, Ayden O'Neal, Nicholas Orr, Cole Ortiz, Dakota Otts, Andrew Pearson, Joshua Pelzer, Brooklyn Rashid, Hailey Reis, Jenna Ripley, Sadie Ryan, Morgan Sage, Dallas Schatteman, Mariella Schmit, Grace Schuetz, Robert Schwan, Malia Shinbori, Aryana Shoop, Mariella Snell, Cole Snyder, Delaney Speth, Stephanie Stellmach, Macy Stevenson, Jackson Stradt, Erin Teague, Ysenia Troche, Abigail Tryon, Braden Vidmar, Kristofer Voy, Mena Wagner, Alex Walter, Delaney Ward, Luke Weckel, Ashton Westphall, Luke Wiley, Cole Witter, Danielle Yeggy, Kasey Zabloudil, Maycen Zimmerman.
Honors Honor Roll: Elizabeth Alves, Finley Bagby, Paxton Bagby, Annalie Bargmann, Alex Berkenbosch, Walter Blackman, Daniel Blankenfeld, Teriano Bogan, Adeline Carlson, Talia Cary, Blake DeLeon, Jayde DePorter, Jonathan Duncan, Charles Eaton, Nora Edwards, Gabriella Escontrias, Chloe Gardner, Jesus Gonzalez-Hayes, Jackson Gross, Hollye Gutierrez, Valerie Gutierrez, Avery Horner, Sydney Jones, Luka Konovalov, Katie Lampe, Levi Langel, Carter Mack, Jessica Maly, Ocean Maughan, Gage Menke, Logan Nelson, Eric Newton, Payton Noack, Tynan Numkena, Brock Ohlensehlen, Trenton Reeves, Sabrina Rinehart, Khamale Russell, Autumn Skahill, Riley Spooner, Alexander Stone, Sydney Strief, Sarah Swearengen, Hannah Thomas, Kiya Trettin, Faith Tyra, Camille Vesey, Alexis Wentink, Michael Whitehead, Sydnee Williams.
Grade 10
Highest Honor Roll: Elizabeth Aanestad, Ava Abbott, Kaitlyn Anderson, Brittany Badure, Charlotte Barnes, Abigail Belcher, Lydia Bloome, Rayanne Brackey, Madelyn Cline, Olivia Edwards, Lauren Ellingson, Shannon Evans, Estefania Fernandez Arizpe, Havyn Fish, Samantha Foht, Carter Furness, Kyle Garnica, Aidan Goerdt, Ty Gross, Sydney Hanson, Ryan Harris, Emmersen Haugland, Emma Hubbard, Ella Kilstrom, Tiffany Le, Griffin Liddle, Jason McNab, Hally Michaelis, Trey Miller, Nicholas Moore, Kayla Petry, Jaden Poole, Noah Rantilla, Abigail Schafer, Kathleen Schermerhorn, Kamber Schmidt, Owen Schmidt, Sarah Schmidt, Annika Skogman, Hayley Smith, Emily Sparks, Emma Stiener, Sydney Stout, Reilly Tabares, Angelina Tremaine, Sophia Utsinger, Luke Wareham, Rachel Witt, Mason Zweifel.
High Honor Roll: Alexander Adame, Athena Andrews, Jake Bachman, Callista Baker, Oliver Bakeris, Hope Bauer, Graham Besser, Riley Bicknese, Lucas Bowe, Aiden Broderick, Allyssa Bryant, Luke Carroll, Ryan Cole, John Cozadd, Katie Curtis, Brissa Dalburg, Riley Deere, Sophia Del Vecchio, Nicholas Dykstra, Eric Eastland, Karson Egger, Christopher Elliott, Angelina Faubert, Grace Fite, Ashley Fountain, Jenna Gamble, Zachary Garton, Katelyn Girsch, Jack Glenn, Hannah Graves, Aaron Gunn, Chesnie Hank, Kathryn Harrison, Carmen Hayes, Jillian Hazlett, Ethan Herrmann, Ethan Hill, London Hockaday, Christian Holst, Makayla Hughbanks, Issac James, Emily Johnson, Charles Judge, Caden Knight, Susan Longstaff, Paige Magistrelli, Chase Mason, William Matthys, Xander Nau, Seth Nelson, Gabriella Pacini, Ethan Pogemiller, Layton Pribyl, Dominic Quick, Stephanie Rice, Jacob Ripple, Kane Schmidt, Laney Schriner, Niyah Sharif, Austin Shepherd, Ethan Shepherd, Michael Shepherd, Katelyn Skillett, Marina Snyder, Elle Speer, Devon Stahmer, Eva Stamper, Christian Stineman, Annie Stotlar, Benjamin Tappa, Ethan Uhrich, Donovan Valdivia, James von Maur, Laurel Wade, Ashlynn Whitcanack, Madelynne White, Benjamin Wilkinson, Kiran Willis, Hannah Wilson, Jenna Wingate, Ryan Witcraft, Hannah Witt, Madeline Witt, Carter Wolf, Keegan Zabloudil, Natalie Zanella.
You have free articles remaining.
Honors Honor Roll: Madeline Apple, Claire Bradley, Sydney Brownson, Morgan Culbertson, Cooper Dittmer, Kaitlynn Flick, Austin Hoots, Luke Jefferson, Brianna Keltz, Nicholas Kieffer, Nicholas Matthys, Jackson Mendez, Mia Orris, Sylvia Otero, Caleb Pipe, Benjaporn Pramjit, Joshua Schmeichel, Roman Sprosty, Joshua Stocks, Emma Teach, Sophia Tidrick, Emily Waggoner, Ethan Willis.
Grade 11
Highest Honor Roll: Parker Beck, Zachary Berntgen, Olivia Bert, Kristin Boyler, Layken Bytnar, Peyton Bytnar, Carly Chelf, Mya Christensen, Maysen Clark, Jacob Crouch, Logan DeLacy, Gabriel Elias, Matthew Elias, Luke Gaydos, Megan Greenley, Emma Gustafson, Lucas Hayes, Justin Hettlage, Ethan Horner, Emma Hovey, Peter Hurd, Savage Hutton, Jason Jiang, Allison Kling, Ashley McKim, Jordan McWilliams, Jessica Mouw, Nicholas Naumann, Jacob Nelson, Lauren O'Brien, Zachary Pessman, Constance Pyevich, Eva Rasmer, Keano Roberts, Aaron Roehr, Samantha Roemer, Sarah Rogers, Oskar Skogman, Greta Solbrig, Campbell Soncarty, Claire Stierwalt, Madison Temple, Reagan Terronez, Alexandria Uhrich, Breanna VerMeer, Jerry Vesey, Colton Viktor, Kaitlyn Walter, Carter Weyman, Madelaine Williams, Mitchell Winterlin, Noah Yets.
High Honor Roll: Zoey Ahrens, Nicole Akfali, Ricky Andrews, Megan Barnhill, Lauren Beck, Abigail Behrends, Faye Blackman, Isabella Bliss, Tiana Bogan, Olivia Bohren, Gillian Borden, Emma Brandel, Ethan Brownson, Charles Bunn, Joseph Byrne, Isabell Carranza, Kyler Castro, Samuel Cotton, Joseph Courtney, Emma Dennison, Zander Eckermann, Molly Edwards, George Elias, Maggie Erpelding, Brady Feaster, Madison Foht, Joshua Graves, Mia Griffin, Hailee Grovo, Griffin Hinch, Charles Hornaday, Jake Hornbuckle, Nathanael Houk, Emily Howard, Claudia Johnson, Erica Johnson, Nicholas Johnson, Benjamin Ketelaar, Elizabeth Koehler, Katherine Kuhel, Leann La, Adam Like, Ean Lovett, Madalyn Makoben, Carson Mariman, Zachery Marsh, Brooke McGee, Grace McKenzie, Isabella Miletich, Gabrielle Millhollin, Kelsey Moeller, Mya Morris, Adam Murray, Alyssa Newton, Breanna Newton, Alexis Opsal, Sarah Ostrom, Arianna Ottavianelli, Jas Patel, Joanna Perez, Kaalyn Petersen, Sydney Rosebrough, Brendan Scarlett, Steven Schafer, David Schwartz, Nicholas Schweizer, Alexandra Sepanski, Reed Shea, Eliza Sherman, Katerina Shinbori, Erica Smith, Haylie Spencer, Keaton Staley, Malik Stevenson, Madeleine Stone, Jonathan Swarm, Kyle Treimann, Tienna Trettin, Katherine Tyra, Maximilian von Gries, Owen Weimer, Peter Whitmer, Nathan Wilkins, Annie Wilson, Madison Wuorinen, Ava Young.
Honors Honor Roll: Noah Abbott, Michael Adrales, Rachel Anderson, Isaac Arp, Dylan Bonis, Annika Braaten, Rosemary Bumgarner, Shantae Cobenais, Isabella Cravero, Margaret Cullum, Mitchell Duncan, Samuel Dunn, Aiden Evans, Jamey Hagberg, Sophia Hazelett, Isabella Hengl, London Jacks, Riley Kelly, Rachel Lapaczonek, Kelley Lent, Brett Loquist, Gabriele Manion, Morgan Marchant, Brittnay McClaine, Cullen McDermott, Alexis Mulvehill, Taylor Neofotist, Francine Pace, Breanna Rice, Parker Schafer, Elena Sierra, Jacob Spinello, Abbey Van Middlesworth, Carlie Vance, Olivia Vincent, Jacob Weas, Faith Weis, Madison Wells, Alexa Westerkamp, Lauren White.
Grade 12
Highest Honor Roll: Eleanor Abbott, Bryson Allen, Zoe Allert, Erin Allison, Erin Anderson, James Baker, Jordan Bayles, Morgan Beghtol, Alexis Beine, Ashley Berkenbosch, Alex Blizzard, Teranee Bogan, Faith Bonilla, Cole Buhman, Ty Callahan, Sarah Canfield, Jaylen Cangas, Rebecca Davis, Griffen Deere, Jonathan DeFauw, Margaret Dixon, Jax Dormire, Emma Doyle, Allison Dykstra, Kade Egger, Ashley Endorf, Madison Garnica, Matthew Garside, Samantha Girsch, Emilie Gist, Abigail Harrington, Kelsey Hollis, Bryan Hurd, Ashtyn Hutcheson, Olivia Jackson, Will Jefferson, Chloe Johnson, Emma Johnson, Chloe Ketcham, Melanie Klein, Parker Knight, Lauren Kress, Alec Lank, Emily Lewis, Ryan Longenecker, Rachel Lucas, Hannah Luppen, Patrick Markovich, Jenna Marxen, Erin McQuillen, Anthony Medina, Brooke Mulholland, Louis Naab, Grace Nelson, Jacob Nelson, Rylee Nettleton, Justin Nock, Elizabeth Park, Madeline Pessman, Sophia Pike, Logan Quick, Logan Robinson, Abigail Saathoff, Maysun Sallak, McKenna Sands, Jenna Schweizer, Brendan Scott, Ian Silva, Yash Singh, Carly Smith, Saige Sturtevant, Ardalia Tracy, Hannah Uhrich, Isabella Valdivia, Dylan Welsh, Daniel Wilkinson, Mizuki Wittmer, Kylie Wroblewski.
High Honor Roll: Spencer Adams, Madeline Anderson, Arash Asadi, Jillian Atkinson, Maya Baker, Nathan Baughman, Jake Bayles, Tabitha Belcher, Brianna Berthiaume, Clarah Buhman, Cade Burton, Drake Cary, Steven Ciha, Ryan Coiner, Sarah Coughlin, Sheldon Deng, Richard Dinh, Jacob Duran, Anna Forari, Alana Ford, Lauren Fredell, Kennedy Gagne, Quincy Gibeau, David Harris, Olivia Holstein, Dylan Hutchison, Keri Johnson, Morgan Kaiser, Elise Kalin, Lydiah Kennedy, Madeline Kussatz, Katherine Kustes, Alexandria Larson, Kathryn Lent, Zachary Lewis, Elizabeth Lira, Cleopatra Martinez, Keegan Meuer, Josephine Meyer, Christian Myers, An Nguyen, Coltan O'Toole, Andrew Ottavianelli, Matthew Packard, Minori Peters, Micah Poole, Darien Porter, Rylee Ramstack, Lauren Rankin, Jessica Ripslinger, Tyler Russo, Samuel Schluensen, Emily Sharkey, Gareth Shepherd, Colton Smith, Bennett Soncarty, Jessica Sperling, Alexander Springer, Stuart Swearingen, Paige Terronez, William Trabue, Hunter Trudell, Lauren Tumey, Trevor Vaughan, Chandler Voelcker, Bridgette Weis, Tyler Wellman, Ke Jing Weng, Noah Williams, Madison Wischmann, Noah Zapolski, Alexa Zaruba.
Honors Honor Roll: Angus Anderson, Christopher Arevalo, Reagan Bastier, Tavian Brown, Allison Brownson, Dylan Burnett, Benjamin Carpenter, Tyler Ciha, Kenzie Clearman, Darion Derrick, Trevor Feller, Allyson Grothusen, Wanya Huffman, Erica Jensen, McKenna McGarvey, Caitlyn Mulvaney, Cain Richards, Lauren Roemer, Emily Sampson, Connor Steele, Kyra VanderWeele, Carter Williams, Anabelle York.