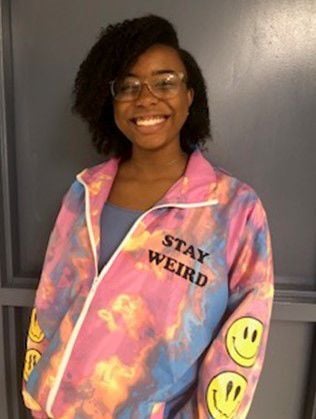 School: Bettendorf Middle school
Parents/guardians: Brittany and Denton Beard
Why was the student nominated? "Having Aamira as Bettendorf School District's student of the quarter was an easy choice. She encompasses the Bulldog way and is respectful, responsible and ready for each day at BMS. Aamira has a contagious smile and quite literally bounces down the hallways while laughing and joking with staff and fellow students. She is polite, intelligent, a hard worker, and is perfectly sarcastic! My life is better having her in it!" -- Ashley Sotelo-Ashby
"Aamira is an unbelievable student. She is a mature, hard-working, open-minded, kind and thoughtful student. She deserves to have this recognition because she does the right thing – because it is the right thing to do! It is exciting to watch her go and grow. I see nothing but the best in her future." -- Beth Douglas
What are you most proud of? "I'm most proud that at the moment I have straight A's. I usually get A's and B's but getting straight A's has been a goal of mine. Specifically for such a long period of time."
What makes you happy? "Some things that make me happy include music, family, and friends. I listen to music everywhere and for everything. I enjoy hanging out with my friends because it's fun and they're my safe space."
What teacher has inspired you and why? "I have a lot of teachers that have inspired me over the course of middle school. So, I chose two. Ms. Wagner, my 7th grade math teacher. Math is not my best subject, but Ms. Wagner helped me and made math fun for me to learn in the 7th grade. She has inspired me because her personality and the amount of patience she has, are things I wish to gain as I get older. The other person that has inspired is Mrs. Sotelo-Ashby. She is not a teacher but a social worker. Either way she has inspired me because I consider her as a role model. She also has a personality and patience that I wish to have, I also like the way she cares for her students."
What is your reaction to this honor? "I was very surprised but overall very happy and pleased with being someone that you thought of to nominate me."