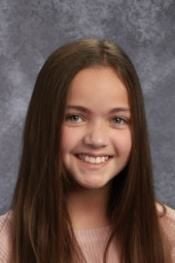 Parents: Chad and Laura Smith
Why was student nominated? "Jada is always kind to all of her classmates. She makes others feel included and welcomed. Besides being such a great classmate to her peers she is also a diligent student. She gives 100% of her effort all the time and takes feedback extremely well. She is always someone you can rely on to get her work done and to ask for help if needed. Jada is also involved in dance outside of school which shows she can balance being a high achieving student, an athlete, and a good friend. She is well deserving of being student of the week. -- Mrs. Gaul
What are you most proud of and why? "I am proud of me being able to fit in school, homework, and dance and still feel successful in all. Some days I feel my schedule is crazy, but I wouldn't change a thing because I love it all!" I am thankful I have great family, friends, and teachers who never give up on supporting me.
What teacher(s) have inspired you and why? "It is hard for me to choose one teacher. Each of my teachers have inspired me in different ways."
Mrs. Brown was a great first teacher for me. I remember her saying 'It's OK to make mistakes, that's why erasers are on pencils."
Mrs. Dwyer inspired me to always be kind and respect others.
Mrs. Davidshofer taught me to have fun while learning.
Miss Crandall helped me build my confidence.
Mrs. Boens challenged me, which helped me grow as a learner.
Mrs. Brandmeyer taught me how to present my best work.
Finally, Mrs. Gaul has been a great role model as she shows me all of these traits above.
What would you tell your younger self about your success? "I would tell my younger self to always strive for your best work because if you start now, you will be on a great path to success. It pays off when you pay attention in school and out of school. Always treat people with kindness and respect. It can make an impact on how they feel. Believe in yourself and build up your confidence each and every day, you will be amazed of what you are capable of."