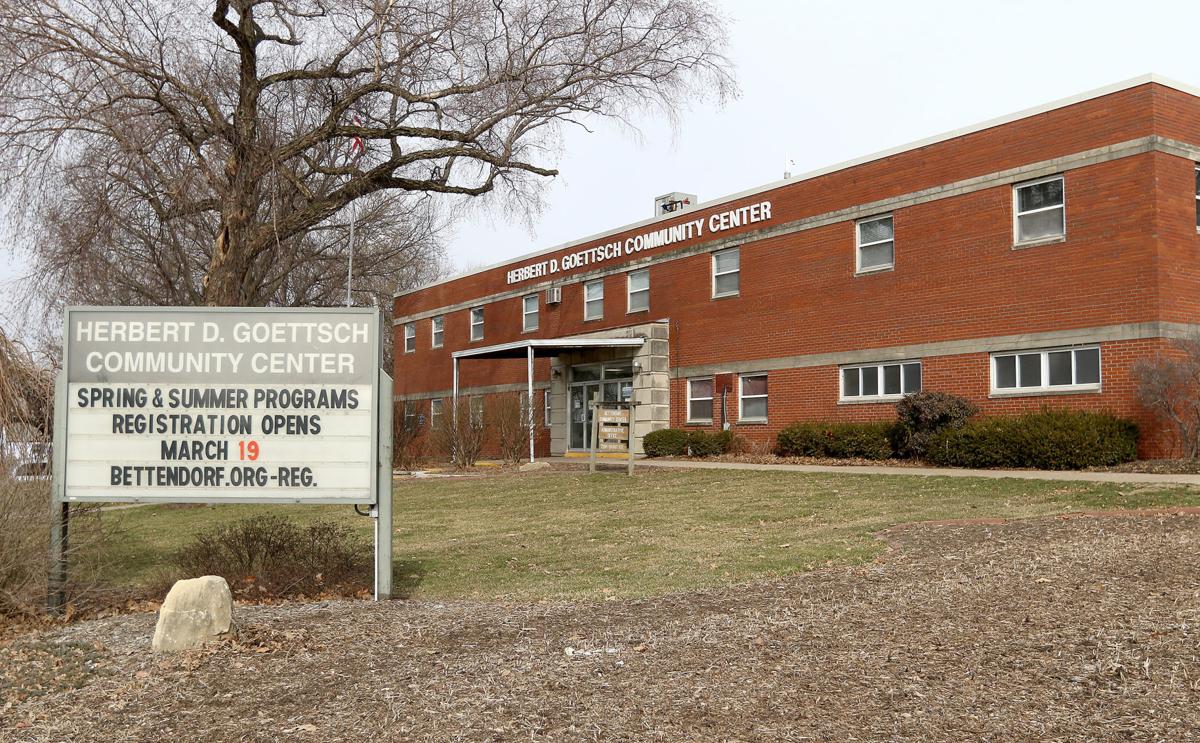 Bettendorf is looking for a developer to turn the downtown community center and adjacent park into a new a commercial, multi-unit residential, restaurant/retail development or communal recreation center.
It's been one of the city's top priorities to develop the 4.48-acre site. On Tuesday, Bettendorf approved a Request for Proposal asking for developers to submit bids for a project.
The Herbert D. Goettsch Community Center, at 2204 Grant St., is 18,000 square feet, built in 1955. It has four multi-purpose rooms, a full kitchen, three storage areas, two multi-use courts, an office area, a community food pantry and an AA meeting room. Adjacent to it is Sunnycrest Park.
According to the RFP document, the property "could see" the demolition of the existing community center for redevelopment, but Jeff Reiter, the city's economic development director, told council members staff wanted to keep open minds in case developers came to the table with an idea for repurposing the building.
Two community-service organizations now operate out of the community center, Alcoholics Anonymous and the Food Pantry. Reiter said the proposal asks bidders to give consideration for placement of the two organizations. According to the RFP, that would include enough space for both organizations (about 2,000 square feet) and suggested lease arrangements.
Reiter said city staff had done some "tire kicking" to find a new home for them.
"As part of the disposition goal, we did think it was important to start to look and see what was in the marketplace for them (the community center organizations) instead of you know, just kicking them out and saying we're getting rid of the property," Reiter said.
Barb Emerson, coordinator of the Bettendorf food pantry, said she's excited about a new location if it all comes together. 
"Moving the pantry's no problem as long as we have a place to go," Emerson said. "And the city is working on that for us."
Emerson said the pantry served about 60-70 families a month, about 200 people.
City Administrator Decker Ploehn expressed confidence the city would be able to find new homes for the organizations, which could be made easier through money from a sale or under the developer's consideration.
"We have potential locations for them," Ploehn said. "We don't have anything firm because we didn't think it was appropriate for us to commit to it until we went through this process."
The assessed value of the parcel, owned by the city, is $442,110, according to the RFP. Reiter told council members on Monday that bidders must include how they would acquire the land from the city, which could be a sale or an otherwise creative agreement. The city doesn't intend to lease the property.
"And we hope that the proposal will come in offering us an opportunity to either sell or have a development agreement with a proposed winner of this bid that is complimentary and mutually beneficial," Reiter said. "So we're asking them to tell us how they plan to acquire the property from us. Would it be just a cash transaction? Or would it be through a development agreement of some sort? We would intend on seeing that in their proposal."
Bidders must be from the Quad-Cities metro area, according to the proposal. Reiter told council members he expected between four and six qualified bidders before an Oct. 15 deadline. 
While Bettendorf doesn't yet know what business tenants could take up residence on this development, it has a long list of what can't. The city council could add other restrictions, but listed prohibited uses include: single-family housing, low-income housing, senior housing, liquor stores, gas stations, convenience stores, tobacco or vape shops, tattoo/piercing parlors, storage units, automotive sales, auto maintenance, car washes or body shops, pawn shops, "quick cash" operations, fireworks retailers or wholesalers, pet boarding operations, gaming establishments, adult entertainment establishments, construction or landscaping companies unless it is specifically a corporate office, storage/staging yards or service vehicle parking.