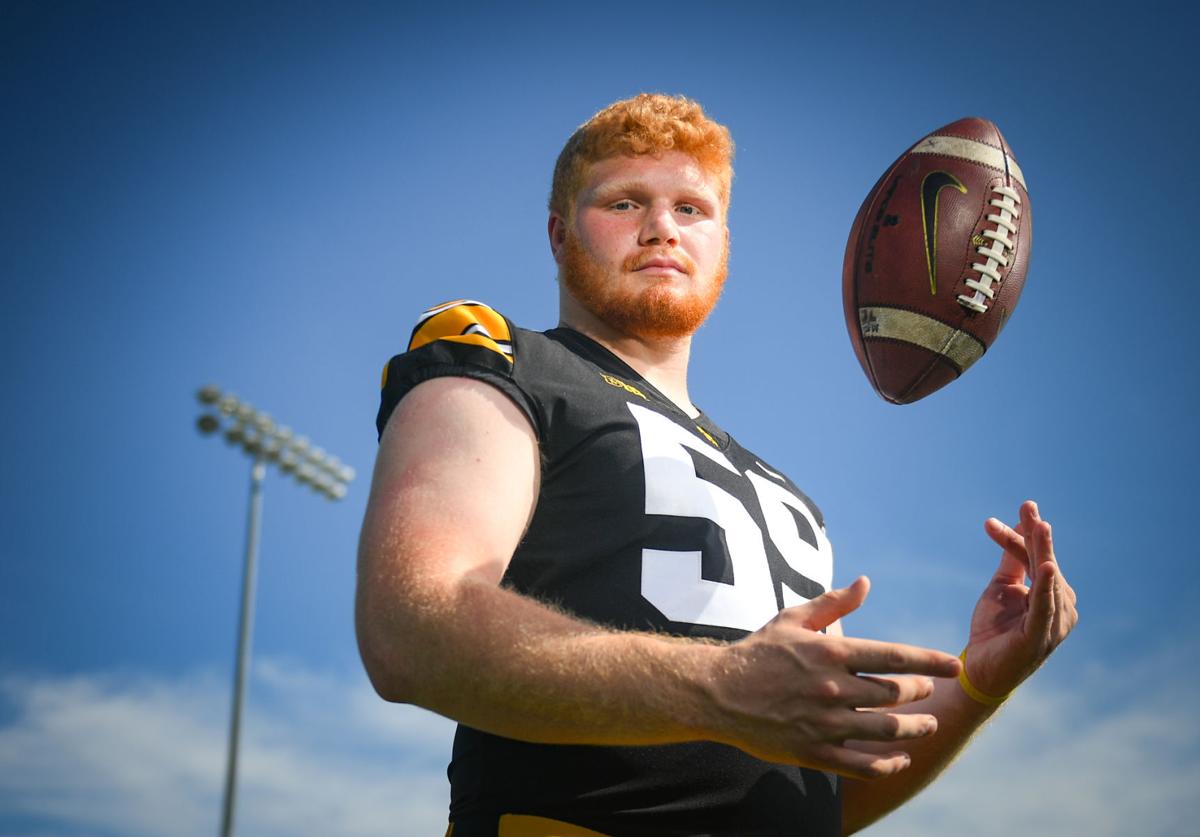 IOWA CITY — Some of the best players in University of Iowa football history have shown up one day and been told they were moving from defense to offense or vice versa.
It happened to Dallas Clark, who was a linebacker before developing into an All-Pro caliber tight end. Akrum Wadley played defensive back before shifting to running back. Leroy Smith was a running back before setting Iowa's single-season sack record. Current star center Tyler Linderbaum started out as a defensive tackle.
In the case of former Bettendorf High School star Griffin Liddle, it happened on one of his first days as a Hawkeye.
Liddle arrived for his first fall camp in Iowa City a few weeks ago, was invited to have a one-on-one chat with head coach Kirk Ferentz and was told the coaching staff really wanted to utilize his talents in the offensive line.
Liddle agreed without any degree of apprehension.
"I'm really excited. I'm super excited,'' he said. "I've never been so pumped in my life to be in a place like this. It's the best experience I could ever ask for. I'm more excited than anybody could even think.
"I can't wait to get out there and get cracking on the pads and start getting to work physically.''
The 6-foot-3, 267-pound freshman hasn't had a chance to do that yet. He had off-season surgery to repair torn labrums in both his hip and shoulder, and isn't entirely sure when he'll be cleared for contact.
Liddle isn't the only one who is eager to see what he can do when he finally gets to strap on the pads.
First-year offensive line coach George Barnett said he was delighted to learn that Liddle will be under his tutelage.
"He's just getting his feet wet,'' Barnett said. "We talked the other day where you're in an area where physically you're not on the field yet so mentally you're out of the frying pan a little bit. Let's learn. Let's soak in the game a little bit and learn from others.
"He's doing a pretty good job. That's hard for a young kid to do. A coach will explain a lot of things to a young kid and you may get just a blank stare. Not with Griff. He's been good in meetings. His attitude is always good. He's got a pep in his step. It's early, but I'm glad he's in there.''
Liddle was a rare four-year starter at Bettendorf, where he excelled on both sides of the ball and earned first-team all-state honors each of the past two years as an offensive lineman.
He also was a two-time state champion wrestler, which also made him a prime candidate to play on offense. Linderbaum, starting guard Kyler Schott and former Hawkeye Tristan Wirfs, who is coming off an outstanding rookie season with the world champion Tampa Bay Buccaneers, all were great wrestlers in high school.
"Guys like Linderbaum and Schott, they wrestled and you can see how much leverage they get and how much wrestling really helped them just be really useful with their hands and feet at the same time,'' Liddle said.
Liddle said he had an inkling during the recruiting process that this could happen even though he was listed as a defensive tackle on all of the team's preseason rosters and is billed that way in the team's media guide.
"When (former line coach Tim Polasek) was here, he would always say 'Come and join the offensive line, come and be part of the offensive line,''' Liddle said. "So I knew there was a possibility I could play either offensive or defensive line and when Coach Ferentz told me, I wasn't really that surprised. I was more excited. I just found it as an opportunity and something to grow from.''
Liddle has spent the past few weeks trying to immerse himself in knowledge so he is ready when he does finally get on the field.
He has spent a lot of time watching workouts with Schott, who also is sidelined with an injury.
"Talking to every single coach, they just said get all your mental reps in every single second you possibly can,'' he said. "That's what I do. I talk to the players, see what they're thinking during the plays … and just absorb as much information as I possibly can.''
It's exactly what Linderbaum, who has become the best center in the country less than three years after being moved to offense, said Liddle should be doing.
"Just getting familiar with the playbook and the reasons why we do all the drill work is important,'' Linderbaum said. "At the end of the day, you just need to ask yourself how much time and effort you want to put in and how great you want to be.''
Liddle really, really wants to be great. He said the culture of excellence surrounding the offensive line at Iowa is a big reason he chose the Hawkeyes.
"These guys work their butts off,'' he said. "They're a family, they're a team and it's not a me, it's a we with them. It's a group, it's a unit, and they want to do everything together, and I really like that.''