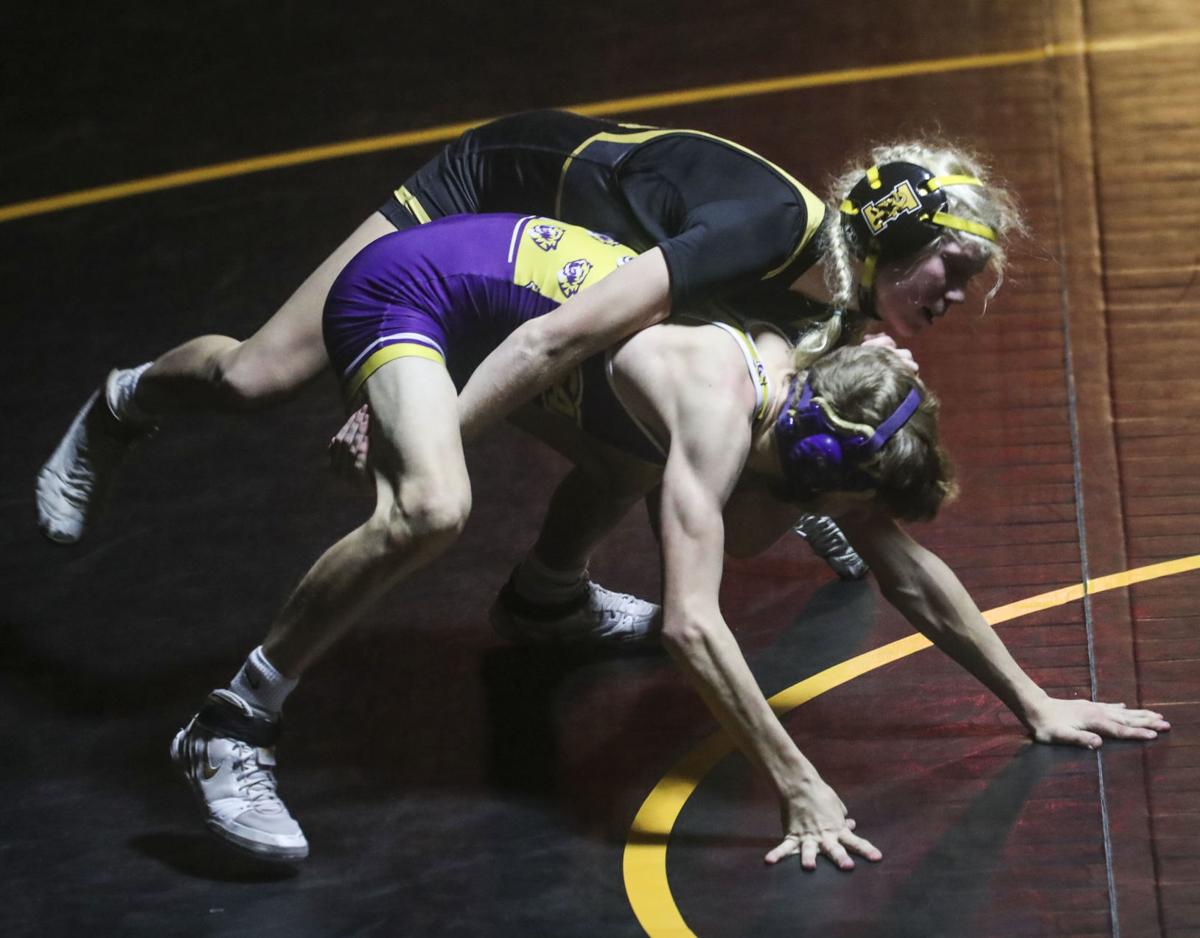 Ella Schmit is considered one of the top girls wrestlers in the country at 106 pounds.
Even so, Bettendorf High School wrestling coach Dan Knight had some reservations on how Schmit would fare in a dual on Dec. 17 when he saw Central DeWitt 106-pounder Keaton Kruse come out to the mat.
"I'm like, 'Man, he looks long, big and strong,'" Knight said.
She took Kruse down 33 seconds into the bout, eventually put him on his back and recorded a first-period fall in 1 minute, 29 seconds to help Bettendorf kick off its season with a 50-28 home dual win over Central DeWitt.
"It is pretty exciting," Schmit said. "It definitely is a step up and I've got to step up my game to stay at this level.
"I embrace the challenge a lot. It definitely builds my confidence."
Knight said Schmit is the first girl to earn a full-time starting spot in the Bettendorf lineup.
"We probably have five or six other 106-pounders, but she's the best one we got for sure," Knight noted.
Bettendorf was sluggish at certain points in the dual, but it won the last five contested matches by bonus points from 160 to 220 pounds.
Logan Adamson (160), Nick Matthys (170), Austin Barta (182) and Luke Jefferson (220) had pins while Bradley Hill (195) recorded a technical fall as Bettendorf turned a 28-15 deficit into a comfortable win.
"(Our upper weights) saved us," Knight said. "They brought us back to life."
Ranked 13th nationally at 106 by USA Wrestling and an Iowa High School Girls State Wrestling champion last winter, Schmit got the Bulldogs off on the right foot.
The sophomore wrestled junior varsity a year ago for the Bulldogs, but Knight told Schmit's father last winter she could be in position to start this year.
There have been other schools in the Mississippi Athletic Conference to have girls as full-time varsity starters. Davenport North's Tateum Park did it for multiple seasons.
Still, it is a limited list.
"It isn't easy coming out here and being one of the only girls doing it, but the more you see other girls do it, the more motivating it can be," Schmit said.
Schmit proved she belongs.
Kruse had won six of his first seven matches this season. He took an early shot, but Schmit was able to down block and eventually get around for a takedown.
She rode Kruse before executing a butcher move to record the pin.
"She's got two or three things she does really well," Knight said. "She's such a nice and quiet kid, but she's a competitor. It was neat to see."
Central DeWitt coach Matt Ohnemus called it bittersweet. His wife and 7-year-old daughter were able to watch it at home on a live stream.
"I wish it wasn't us, but obviously it is good for the sport that she is competing," Ohnemus said. "She's very, very tough."
With a growth spurt last offseason, Schmit said it was challenging to get down to 106 pounds.
"I didn't have very much energy, but as soon as I stepped on the mat, I gave it everything I had," she said. "It is a pretty good start to the season."
Schmit has lofty expectations this winter. She wants to contend for a spot at the boys' state tournament along with repeating as state champion at the girls state tournament.
"To make that happen, I'm going to have to put in even more work," she said. "It is definitely a motivator."
Royce Butt (113), Keaton Zeimet (120), Cael Grell (138) and Koal Bossom (152) had pins for the Sabers.
Grell upset state-ranked Josh Pelzer.
"We knew Bettendorf was coming off a long layoff, so we knew we had an advantage if we could take matches deep," Ohnemus said. "Hopefully, that's a win for Cael he can use to catapult himself to other victories down the road."
Dustin Bohren (132) and Kohler Ruggles (145) had wins for Bettendorf before the series of victories at the upper weights.
Bohren was a state place winner at 106 pounds last season, but has put on 30 pounds and grown five inches since last year.
"It was the first time getting down to weight tonight, so I didn't feel the greatest during the match," Bohren said, "but I was able to get the job done."
Victory aside, the Bulldogs realize they have a lot of work to do.
"Our gas tanks weren't the best tonight," Bohren said. "We need to get better at being able to go for six minutes, not one period or two. We just haven't wrestled as much as DeWitt or some other teams."