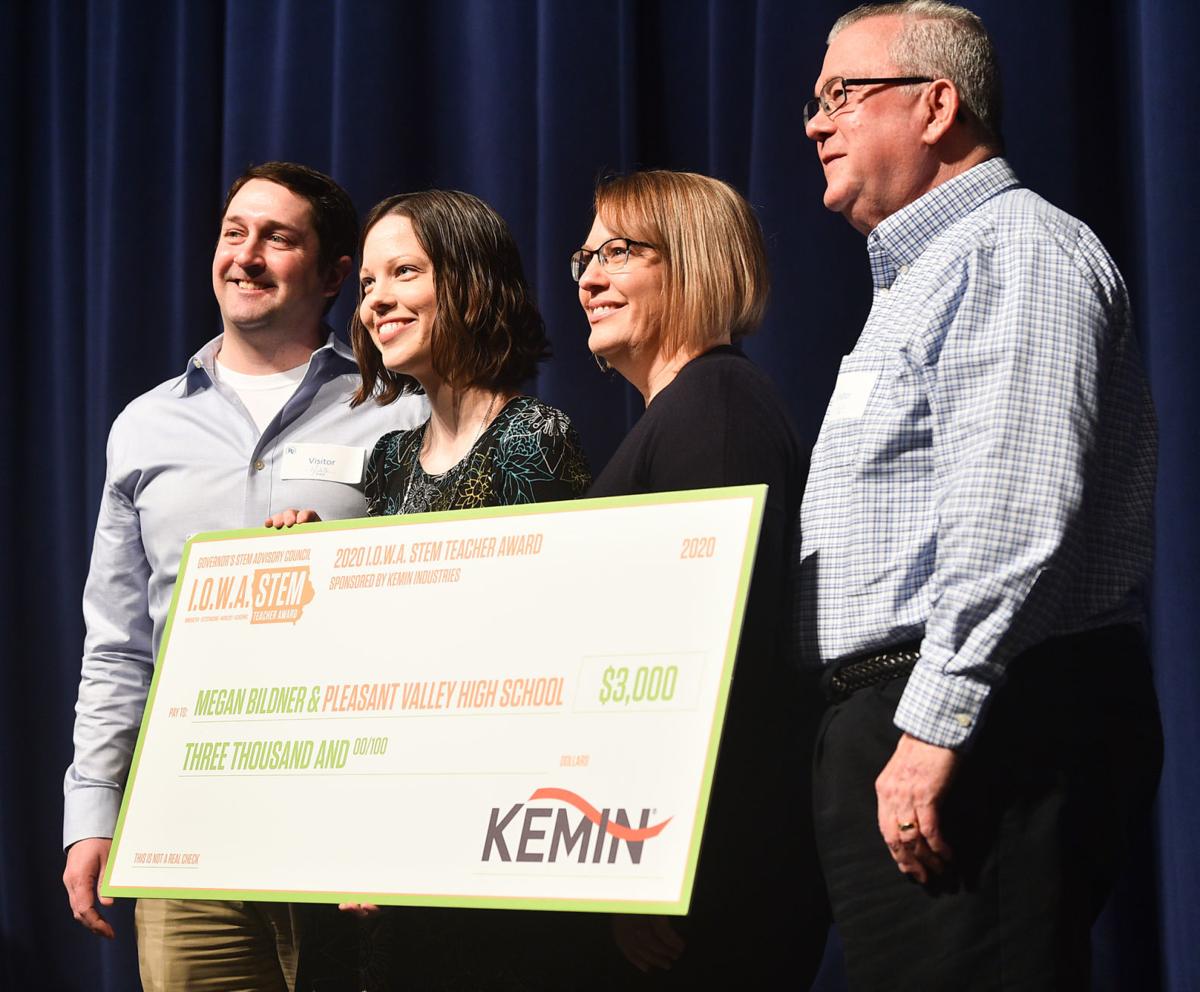 A chemistry teacher at Pleasant Valley High School is one of six teachers in Iowa being recognized for her outstanding effort to connect her students' work in the classroom to real-world STEM challenges and opportunities. 
Megan Bildner and the other recipients of the I.O.W.A STEM Teacher Award will receive $1,500 for classroom use and $1,500 for personal use. They will also be recognized by Gov. Kim Reynolds during STEM Day at the Capitol on Feb. 19. 
"It's a great honor. To me, I feel like what I do every day is what I'm supposed to do every day. But it's great to have that recognized," Bildner said. "I'm excited that other people will hear about what we're doing." 
In the six years Bildner has taught at the high school, she has moved from teaching physical and earth science classes to being a chemistry teacher. Principal Darren Erickson said that even as a younger teacher, she has worked hard to "put her stamp" on the science department. 
"As a teacher, the first thing that comes to mind is her energy," he said. "She's always advocating for both her department and her kids." 
You have free articles remaining.
Part of that stamp is starting the Women in STEM club, which Bildner said began three years ago when it was just her and two students who are seniors now. About 20 students regularly participate in the programming, which includes field trips and video conferences to hear from STEM professionals about career opportunities and volunteering to teach elementary students coding on early-out days. 
"A lot of them have learned a lot about what they do or don't want to do," she said. "It's one thing to take a class, and another to work in that field for the rest of your life." 
With the award money, Bildner is working with Mary Johnson — a career center coordinator who nominated her for the award — to have a one-day leadership retreat for girls. 
"She wants to use that money to put it right back in our program: How can she get girls involved and give them an opportunity," Erickson said. "That's just how she is as a person. She wins this award for expanding and improving her program, and she wants to put it right back into the program."