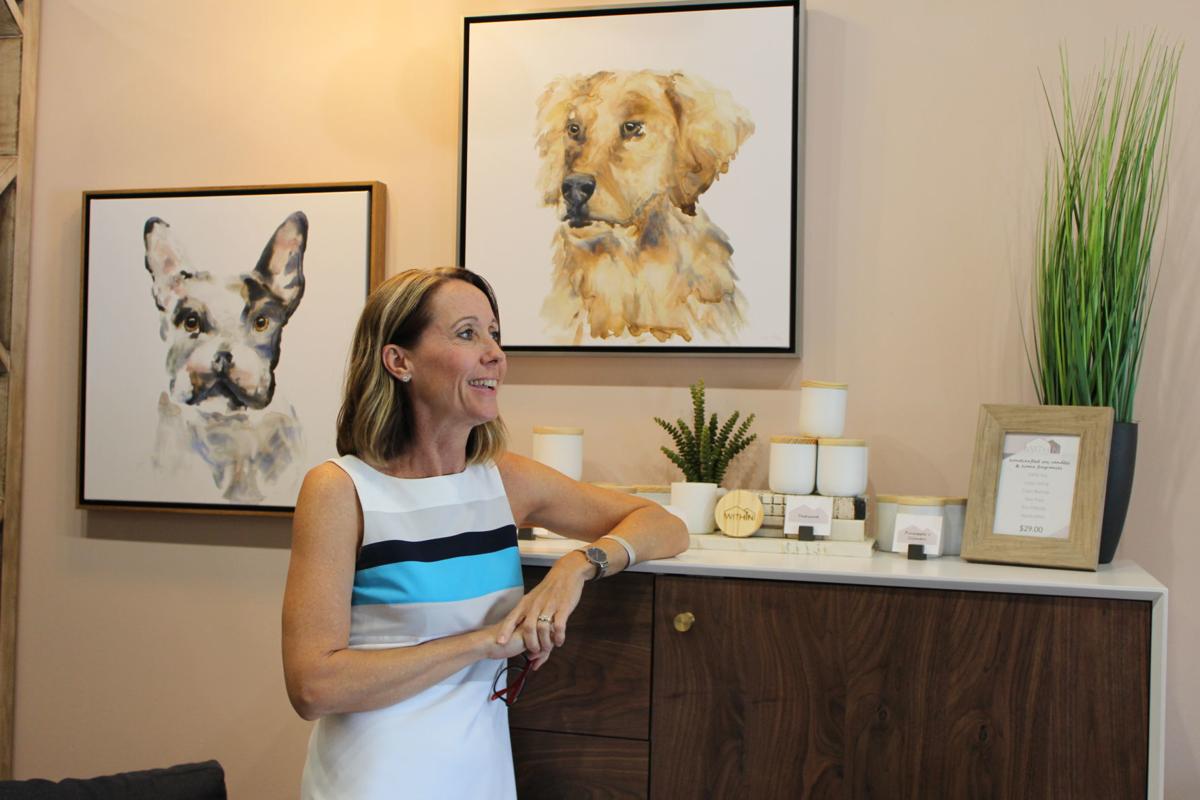 A walk through WITHIN, Bettendorf's newest interior design studio, is a sensory experience.
Buttery soft leather chairs and overstuffed pillows with pops of color invite you to sit down. Unique wall treatments and lighting prompt you to pause and examine. Occasional tables of various sizes and materials draw you to explore their design.
It's an experience – and a look -- that owner Michelle Blunk and her team of talented interior designers would like to replicate in your own home, condo or apartment.
"There's nothing we can't do within your four walls," said Blunk, a well-known force in interior design in the Quad-Cities since launching Conceptual Designs, a commercial interior design firm, in 2004. WITHIN is an extension of Conceptual Designs (its official name is WITHIN by Conceptual Designs).
In some ways, WITHIN represents the evolution of State Street Interiors and Interiors by the Sewing Room, a longtime businesses owned by Blunk.
"The Quad-Cities market was ready for those two businesses to be rebranded, updated and refreshed," she said.
While the proud history and excellent customer service of both companies live on in WITHIN, Blunk emphasizes there is a fresh, hip feel to its successor, located at the River's Edge plaza.
That even extends to a signature scent created specifically for WITHIN on a line of candles sold at the store. The scent exudes the aura that Blunk says represents her philosophy and that of the WITHIN brand: crisp, clean, cool and unique.
"I want people to feel comfortable coming here," Blunk said.
The sign on the door at Within's location at the River's Edge plaza says it all: "HI … NICE TO MEET YOU. WELCOME TO WITHIN."
You have free articles remaining.
Blunk invites those who peer into the windows as they shop at other businesses in the plaza to stop in and experience what WITHIN has to offer.
Appointments can be made with a designer to plan the transformation of any room from basement and kitchen/bath remodels to updating rooms with rugs, furnishings, window treatments and accessories. Any of the furnishings or accessories on the floor at WITHIN also can be purchased on the spot.
"Once a project comes in here, it becomes a part of us," Blunk said. "Our job is to talk to you and understand what you envision, what you want to convey, and what you want to spend."
Blunk, who has a Bachelor of Fine Arts degree from Iowa State University, stresses the conversations her designers have with their clients are a crucial component of a successful project.
There's a distinct advantage to working with a knowledgeable designer at a local business as opposed to ordering furnishings or implementing styles seen on the Internet, she said.
"We want you to come in here to be inspired from a touchy-feely perspective," she added. "We've seen your space, we've built a relationship with you, and you've seen and experienced the products. It's peace of mind."
The WITHIN team plans to change up its interior vignettes twice a year.
"We want people to come in every six months and see something new and be inspired," she said.
The next transformation will come in the fall.
"Come September-October, this entire floor will change," she said. "The colors will change. You will come in and it will feel like a completely different space."
WITHIN is a one-stop experience that Blunk invites residents to check out, whether they are empty-nesters leaving a traditional home for a trend-setting condo, or a young couple furnishing their first loft apartment.