Humanities Iowa to Sponsor Walt Whitman Live at the Bettendorf Public Library
The Bettendorf Public Library will host a presentation of Walt Whitman, portrayed by Dr. Bill Koch 1:30 p.m. Thursday, May 16 at the library as part of the free Community Connections series.
During this one hour program, Walt Whitman, portrayed by Koch, will highlight major poems from the poetry collection, "Leaves of Grass." In addition, Whitman will pay tribute to Abraham Lincoln with a description of the nation's obsequies and recitations of the Gettysburg Address and, "O Captain, My Captain."
June 11: Networking event, 129 Coffee and Wine Bar, 129 N. Cody Road, LeClaire, 5:30 p.m.
July 9: Networking event, Mississippi River Distilling Company, 303 N. Cody Road, LeClaire, 5:30 p.m.
American Pickers coming to LeClaire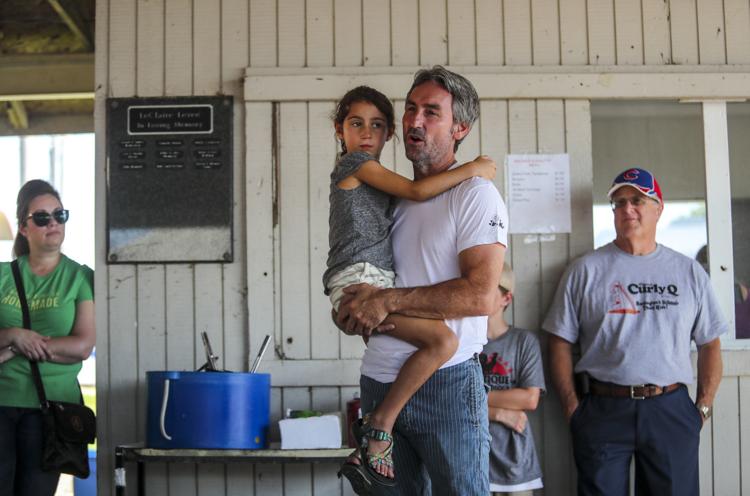 Mike Wolfe and Frank Fritz from, "American Pickers," plan to return to the LeClaire area to film episodes of the hit series from Monday, May 27 through Sunday, June 9. The hit show follows Mike and Frank, two of the most skilled pickers in the business, as they hunt for America's most valuable antiques.
American Pickers is looking for leads and would love to explore your hidden treasure. If you or someone you know has a large, private collection or accumulation of antiques that the Pickers can spend the better part of the day looking through, send your name, phone number, location and description of the collection with photos to: americanpickers@cineflix.com or call 855-OLD-RUST. facebook: GotAPick.
The Bettendorf Public Library to offer free resume assistance in May
The Bettendorf Public Library, 2950 Learning Campus Drive, will offer residents the opportunity to tune-up to a resume at an event in May.
From 3-7 p.m., Thursday, May 16, Dr. Storey from Black Hawk College Career Services will provide one-on-one resume writing assistance. An appointment is required and includes a half hour session. Call the Information Desk at 563-344-4179.
Participants are asked to bring a resume or list of employers, dates and job titles, as well as a flash drive. Flash drives will be available for purchase for $8. For more information, call 563-344-4179 or visit bettendorflibrary.com.
Friends of the Bettendorf Parks Foundation to hold For Sale by Owner Event
Friends of the Bettendorf Parks Foundation will present a For Sale By Owner event 8 a.m. to 5 p.m. Saturday, May 18 and noon to 5 p.m. Sunday, May 19 at Faye's Field, 2850 18th St., Bettendorf.
It's an opportunity for owners of motorized vehicles such as cars, trucks, vans, motorcycles, boats and motor homes (including 5th wheels and other pull behind campers) to sell these vehicles at one community-wide sale. All transactions are private.
Space rental is $25 for one and $10 each for each additional space.
This event is a fundraiser for the Friends of Bettendorf Parks Foundation. Proceeds will be used to provide funding for educational and recreation programs as well as special projects sponsored by the Foundation.
For more information contact the Bettendorf Parks and Recreation Department at 563-344-4464.
Bettendorf to host annual Public Works Day
The Bettendorf Public Works Department will host the annual Public Works Day Open House 9 a.m. to 1 p.m. Saturday, May 18 at the Bettendorf Maintenance Center, 4403 Devils Glen Road.
Public Works/Parks trucks and equipment will be on display. Participants can learn about single-stream recycling and other solid waste programs. Other activities will include face painting, Master Gardeners giving tips on gardening, prizes, free loose bulk compost and free coffee, soda, popcorn, ice cream, hot dogs and bratwurst. For the compost, residents should bring containers to put the compost in, limited to a 35 gallon trash can.
Senior Golf Cart Tours of Duck Creek Recreation Trail
The Friends of the Bettendorf Park Foundation will host these tours of Bettendorf's recreation trail on Monday, May 20, 2019. The event will consist of two tours of Bettendorf's Duck Creek recreation trail from Palmer Hills Golf Course to Duck Creek Park and back.
Golf carts are provided by Palmer Hills Golf Course. Participants can drive the carts or operators will be provided. Stops will be made at several sites along the way. The tours will be approximately two hours round trip and will depart at 10 a.m. and 1:30 p.m. Parking is located at Palmer Hills Golf Course parking lot, 2999 Middle Road. There is no fee and liquid refreshments will be provided.
The tours are limited to no more than 70 people per tour. Reservations are required. To register, go to bettendorf.org/register. Deadline for registration is 4 p.m. Friday, May 17 or until full.
The rain date for the event will be Tuesday, May 21.
For more information, call Bettendorf Parks and Recreation at 344-4113.
Bettendorf to hold celebration for Jackson Retirement
A party to celebrate the retirement of Paul Norton Elementary school counselor Joyce Jackson will be held 4:30-6:30 p.m. Thursday, May 30 at Paul Norton Commons, 4485 Greenbrier Drive, Bettendorf. 
Jackson is retiring after 59 years of service.
Quad-City Arts to host 3rd annual Chalk Art FEST
Quad-City Arts will host this free two-day street painting festival from 10 a.m. to 7 p.m. Saturday, June 8 and 10 a.m. to 4 p.m. Sunday, June 9 at Ascentra Credit Union's headquarters on State Street, Bettendorf.
A celebration of art, music and community, this family-friendly event also will feature live outdoor music, craft beer tastings, food vendors, a K&K Family Fun Zone with bounce houses, a dunk-tank and more.
​Artists will compete for over $1,500 in cash prizes, by transforming the plain cement pavement of the parking lot into works of art. Cash prizes will be awarded including a new youth category for students 12-17 years as well as a people's choice award.
The community also can participate by taking part in a collaborative community piece, where for a $5 donation, participants are given a set of pastel chalk to create a smaller square portion of a larger image.
Judging will take place at 2 p.m. on Sunday with an awards ceremony 3 p.m.
Registration is free to all artists and includes a 48-ct box of pastels, lunch vouchers for both days and a free t-shirt. Deadline for registration is May 24. For more information or to register as an artist, visit quadcityarts.com/chalk-art-fest.