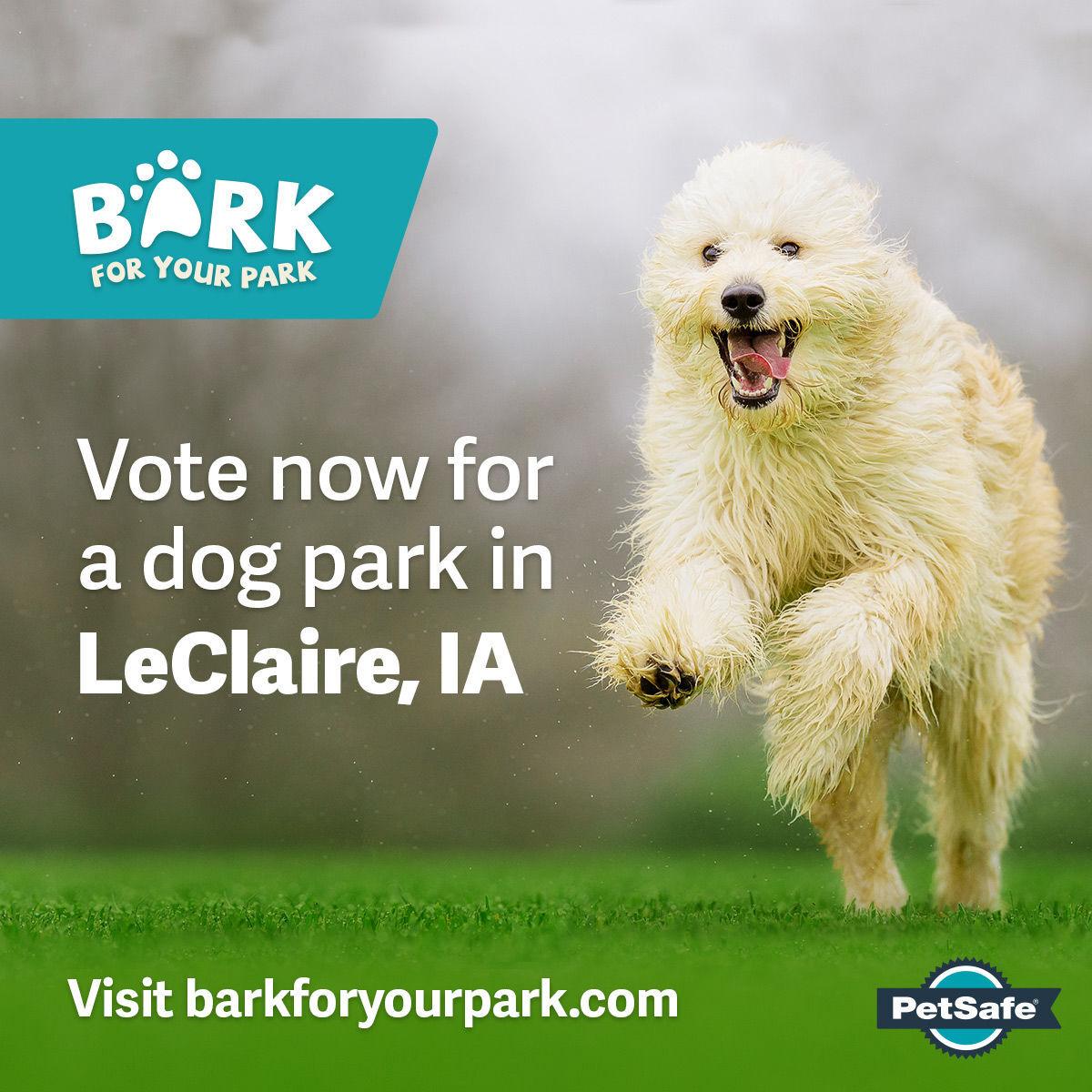 Family Museum to hold foundation fundraising event
The Family Museum invites patrons to enjoy an afternoon of family fun at the new 18-hole putting course, The Forge located at Palmer Hills Golf Course, 2999 Middle Road, Bettendorf, during the Hole Lot of Fun fundraising event.
On Saturday, Aug. 14, family foursomes can experience all 18 holes at the brand new, one-of-a-kind putting course. Silent auction items, Family Museum facilitated activities, balloon animals, a cash bar and more also will be featured.
There will be shotgun starts at 2 and 5 p.m. and the course will take approximately 60-90 minutes to complete all 18 holes.
$100 for each family foursome, 5 years and older, includes one round of golf (18 holes) and a hot dog or hamburger basket for each participant. Space is limited.
Proceeds go to the Family Museum Foundation.
LeClaire selected for a chance to win dog park grant
LeClaire has been selected for a chance to win funds for a new dog park in the PetSafe Bark for Your Park grant contest. LeClaire is one of 30 finalists in the popular contest. To celebrate 10 years, PetSafe, a global leader in pet product solutions, will award prizes totaling $150,000 to 10 deserving communities.
Since introducing the program in 2011, the company has donated more than $1.5 million to support more than 70 off-leash dog parks in the United States.
Finalists were chosen by a panel of judges that scored each submission on the level of enthusiasm and support for a dog park project within the community and the impact that a dog park project would have on the community. Participants entered to win funds for either a new park or to improve an existing dog park.
Now through Aug. 31 anyone over the age of 18 years, who lives within the U.S., can vote once per day, every day for a favorite community. Following the contest voting period, the five communities with the highest votes will receive $25,000 for the construction of a new park and five will be awarded $5,000 to enhance local dog parks.
For more information on the 2021 Bark for Your Park grant contest or to vote for LeClaire, visit barkforyourpark.com.
Bettendorf library job opening
The Bettendorf Public Library is currently looking for a part-time circulation services clerk.
I-74 construction update
Work continues on the I-74 structures over Grant St/US 67, which will require some overnight lane closures between Kimberly Road and 18th Street during the month of August. Drivers should be on the lookout for changing traffic patterns. The lane closures will begin each night at approximately 7 p.m. and go through 6 a.m.
For questions concerning the project, call the I-74 Project Hotline at 866-474-4255.
23rd Street reconstruction: Grant street to State Street
This project has begun and will continue for approximately three months. during reconstruction 23rd Street will be closed to traffic between Grant Street and State Street. State Street and Grant Street will remain open to traffic at all times. Drivers should follow traffic control for the detour route around this area during construction. For more information, contact the Bettendorf Public Works Department at 563-344-4055.
Middle Road rehabilitation from Crow Creek Road to 53rd Avenue
Continuing through mid-August, Middle Road will be under construction between Crow Creek Road and 53rd Avenue. The work will consist of removing the existing asphalt overlay, cracking and seating of the underlying concrete pavement and constructing a new asphalt overlay. During this time, northbound traffic will be maintained with reduced speed. southbound traffic will be detoured for the duration of the project. The detour route will be west along 53rd Avenue to Devils Glen Road, south along Devils Glen Road to Tanglefoot Lane and east along Tanglefoot Lane to Middle Road.
For more information, contact the Bettendorf Public Works Department at 563-344-4055.
Indiana Avenue road closure begins
Continuing for several months, Indiana Avenue will be closed to all thru traffic, just east of 230th Avenue, for a bridge replacement over Spencer Creek. Local access for residents along Indiana Avenue will remain open at all times. Traffic will be detoured via Middle Road, Forest Grove Drive and Wells Ferry Road.
For more information, contact the Bettendorf Public Works Department at 563-344-4055.
Part III of the Forest Grove Drive Reconstruction Project is in the design phase
The city of Bettendorf is in the design phase of Part III of the Forest Grove Drive Reconstruction Project.
This phase, which is being designed by HDR, will extend along Forest Grove Drive from just east of International Drive through the Middle Road intersection and will also include the reconstruction of Middle Road from north of Competition Drive to south of Forest Grove Drive.
The project is intended to bid at the end of 2021 with construction beginning in early 2022.
The estimated construction cost is $9.5 million with funding being provided in part by a Federal Surface Transportation Block Grant in the amount of $5.96 million. The remaining funds are being provided from within the City of Bettendorf's Community Improvement Program.
The City and HDR have also developed a project website that can be found at www.forestgrovedrive.com. The website will serve as the primary source of information for the public during both design and construction. Items such as project plans and renderings, meeting dates, construction schedule, traffic staging and other related information will be provided as they become available.
For more information call 563-344-4055.
Asbury Street Reconstruction
Continuing for approximately three months, Asbury Street between Tanglefoot Lane and New Lexington Drive will be reconstructed.
This area will be closed and constructed in two stages. During each stage of closure it will be necessary for residents on the affected stage to park outside of the construction zone.
The start date and duration of the project is dependent on weather.
For more information, contact the Bettendorf Public Works Department at 563-344-4055.
BCSD 2021-2022 kindergarten registration open
The time to register kindergarten students in the Bettendorf Community School District for the 2021-2022 school year has officially begun. Families living in the district with children who will be five years old on or before Sept. 15, 2021, are invited to fill out the BCSD Kindergarten Registration form available on the district website www.bettendorf.k12.ia.us. Parents who don't have technology access are welcome to call the neighborhood school office for support.
BCSD kindergarten teachers use the workshop model to present grade-level curriculum. In the workshop model, the teacher presents a mini-lesson to model a learning strategy. Social skills are modeled and practiced during academics and playtime. Teachers provide opportunities for students to build social skills during math and literacy partner games. Students also learn teamwork as they design and build in science and social studies units. Snack, lunch, recess and centers are opportune times for students to interact with peers learning how to work together and compromise.
Before the first day of school, parents or guardians are required to provide:
* Physical and Lead Testing Results
Rivermont Collegiate announces tuition reduction
After serious research and discussion with families, outside community members and the board of trustees, Rivermont Collegiate, Bettendorf, has decided to reduce K-12 day student tuition to $12,290. Current tuition runs from $14,730 to $15,990. The hope is that this reduction in tuition will make a Rivermont education possible for more community members. The financial assistance program, helping qualified families beyond the tuition reduction, will continue to be in place.
The tuition reduction will not affect the quality of a Rivermont education. There will continue to be improvement on and expansion of offerings. Next year a dedicated K-5th-grade MakerSpace, a grades 6-12 maker shop, a competitive gaming club, an Academic Success Center, an Academic Coach and more high-interest electives in grades 6-12 will be added.
BCSD accepting applications for preschool program
The Bettendorf Community School District is now accepting preschool applications for the 2021-2022 school year. Children who will be four years old on or before Sept. 15, 2021, are eligible to participate.
Funding provided by the State of Iowa in support of the Statewide Voluntary Preschool Program allows children four years of age to be placed in local preschool programs. Families of preschoolers can receive preschool education at no charge for 10 hours per week with parents paying for the balance of the attendance time. The local preschools participating include Ready Set Grow Preschool, KinderCare Learning Center, Lourdes Preschool, Redeemer Preschool, St. John Vianney Preschool and Skip-A-Long Child Development Services.
Bettendorf Community School District provides preschool classrooms at Grant Wood Elementary School, Mark Twain Elementary School and Neil Armstrong Elementary School. Children that meet economic eligibility criteria are given preference in the BCSD public school preschool classes. For more information or to request an application, call Joyce Meyer at 563-359-3681, email jmeyer@bettendorf.k12.ia.us or download a preschool application form at bettendorf.k12.ia.us/services/student-services/preschool.