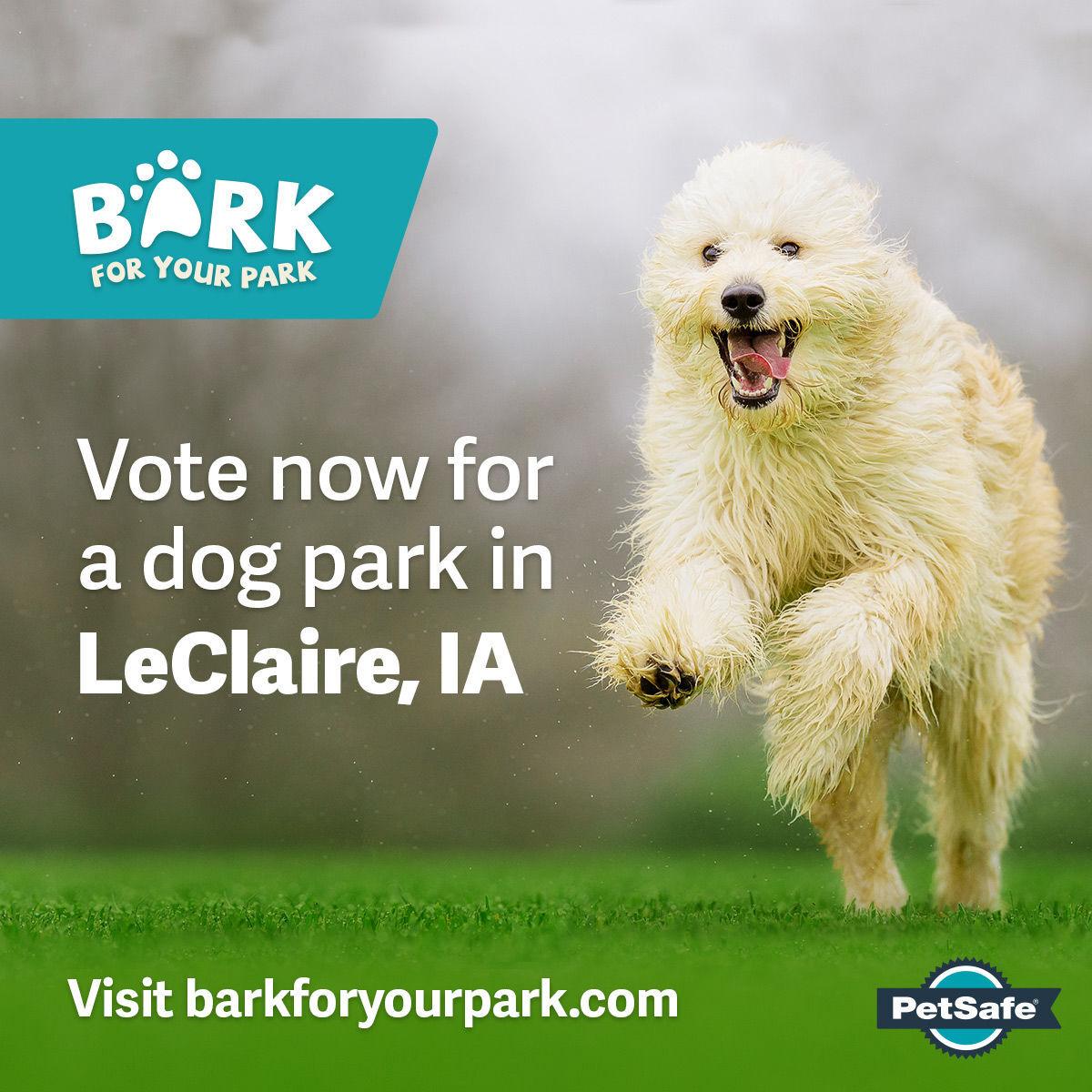 Library hosts food drive
In celebration of Library Card Sign-Up Month, the Bettendorf Public Library is hosting a food drive to benefit the local Bettendorf Community Food Pantry.
During the month of September, the library will accept donations of non-perishable food items and household supplies in lieu of cash payments for fines. Each item will clear $1 of overdue fines. Food for Fines cannot be used to clear other fees, such as for lost materials, printing, etc.
The pantry's most wanted items include:
Bar soap (Dove, gentle types, and deodorant varieties)
Canned meat/protein (like SPAM)
Canned pineapple
Chili beans/seasoning packets
Cranberry sauce
Fruit and vegetable juices
Fruit pie filling
Hand lotion
Pancake mix/syrup
Peanut butter/jelly
Tomato paste
Stewed tomatoes
Spaghetti seasoning packets
For more details, call the library at 563-344-4175.
The City of Bettendorf announces Halloween event dates
The City of Bettendorf has announced that the city's annual trick-or-treat will take place 5-7:30 p.m. Sunday, Oct. 31.
In addition, the 2021 Halloween Parade will begin at 6 p.m. Saturday, Oct. 30. The parade will begin at the intersection of 23rd Street and Middle Road, then continue onto Spruce Hills Drive. The procession will travel to 18th Street, turning left onto 18th Street, continuing to Middle Road, turning left on Middle Road, and finishing at the entrance of the Life Fitness/ Splash Landing parking lot.
Entry forms to participate in the parade are now available at City Hall, 1609 State St. or at bettendorf.org/register with keyword Parade.
for more information about the parade, call Family Museum Director Kim Kidwell at 563-344-4106.
Bettendorf Rotary seeks grant applications
The Rotary Club of Bettendorf is seeking applications for grants of up to $2,500 from qualified non-profit organizations in the Quad-Cities.
The grants' committee accepts applications once a year from non-profit organizations that provide basic human services, serve youth or meet local community needs. Previous grantees are encouraged to apply, as well as those who have not received a grant previously.
The rotary generated funds for philanthropic purposes primarily from the recent, "Lobster Rock 'n' Roll," fundraising event. Local not-for-profit organizations have received more than $275,000 in grants thanks to the generous support of sponsors, donors and attendees of the club's annual fundraising activities.
To be considered for a grant, an organization must complete the online application form by Nov. 1, 2021. The form can be found by visiting bettendorfrotary.com.
Grants are not awarded to groups for annual fundraising, organizational endowments, deficit financing, grants to individuals, scholarship funds, political groups or activities, Rotarians and their families, or for sectarian purposes.
The Bettendorf Rotary Club was chartered on May 22, 1957 and now has approximately 100 members. The club lives the Rotary motto of, "Service above Self," by funding and participating in projects locally, nationally and internationally. The club meets at noon every Wednesday at the Tanglewood Pavilion, 4250 Middle Road, Bettendorf.
Trax in the Stax returns to live events
The Bettendorf Public Library's, Trax in the Stax program is returning to in-person programming on Thursday, Sept. 23 at 7 p.m. at the library located at 2950 Learning Campus Drive.
The September Trax in the Stax will embrace the library's Global Gathering World Tour theme, giving participants the opportunity to experience a little sonic globe-trotting.
This unique music listening event will feature librarian, Lucas Berns, as he offers attendees a brief introduction to the popular, ""Rough Guide," cd series. Since the mid-nineties, this series has highlighted music, contemporary and traditional, from around the world.
The event will be free with no registration required.
Trax from the Stax, takes place on the third Thursday of the month at 7 p.m. and is a part of the 2021 Global Gathering World Tour.
Bettendorf Public Library to host Craft-Tea
Crafters and makers of all types are invited for conversation, tea and craft time at the Bettendorf Public Library from 7 to 8:30 p.m. Tuesday, Sept. 28.
During this free Craft-Tea event, crafters 16 years and older can bring projects to work on in addition to enjoying a beverage and the opportunity to socialize with other area crafters. Craft-Tea offers makers a place to share ideas while giving them committed time to create. Those not currently working on a project need not stay away. The library will have colored pencils, paper and other crafting supplies available.
Complimentary tea and water will be available. No registration is required.
Figge Art Museum Presents: Art of Haiti event at the library
In celebration of the Bettendorf Public Library's Global Gathering 2021 World Tour, the Figge Art Museum will offer a presentation on the art of Haiti at 7 p.m. Wednesday, Sept. 29.
The Figge houses one of the world's largest collections of Haitian art outside of the country of Haiti. There will be a brief talk about the basics of Haitian art and the accumulation of the expansive Figge collection. The presentation will be followed by a hands-on related art activity. A series of Haitian flags from the Figge outreach's personal collection of objects also will be on display during the program to allow attendees a close-up, physical experience with the art.
No registration is required to attend this free event, which will take place at the library located at 2950 Learning Campus Drive.
For more information, call 563-344-4175.
Rivermont Collegiate announces Tour Tuesdays
Families who are interested in learning about the educational opportunities at Rivermont Collegiate, 1821 Sunset Drive, Bettendorf, can now attend Tour Tuesdays. During these tours prospective students and their families can see the school and ask questions. The free tours will run 4-5 p.m.
To register for a tour, visit RivermontCollegiate.org and click on the "Tour Tuesdays" link at the top of the page.
5K Walk and Run to raise funds for Mississippi River Trail
Princeton Recreation Trails will host their 8th annual 5K Walk and Run at 6 p.m. Friday, Oct. 1.
This year the group is partnering with Community Visioning volunteers to encourage residents and visitors to provide input on concept designs. Scouts also will be downtown selling ice cream and popcorn.
Princeton Recreation Trails, Inc. improves pathways to increase safe and healthy opportunities for all.
The course features 3.1 miles of out and back on city roads beginning and ending near Go Fish Marina Bar and Grill in Princeton. Water will be available on the course with post-race refreshments also provided.
Runners, walkers, and trail lovers are encouraged to sign up on GetMeRegistered by searching Princeton 5K.
The $30 registration fee includes a race t-shirt, medal and post-race refreshments.
Follow Princeton Recreation Trails, Inc. on Facebook for more information.
Bettendorf seeks proposals for the Herbert Goettsch Community Center and Sunnycrest Park site
Bettendorf has issued a RFP for a development and implementation plan for the Herbert D. Goettsch Community Center and Sunnycrest Park.
The City of Bettendorf is seeking proposals from qualified bidders for the redevelopment of the property located at 2204 Grant Street. The site is 4.48 acres in total. Future development of this site should be indicative of what is traditionally found in a high traffic urban setting. Only qualified submissions from local developers with an established business entity in the Quad-Cities metropolitan area will be considered.
All submissions shall be addressed as specified in the RFP and received no later than 9 a.m. Thursday, Oct. 21, 2021.
City offices are open Monday through Friday, 8 a.m. to 5 p.m., excluding holidays.