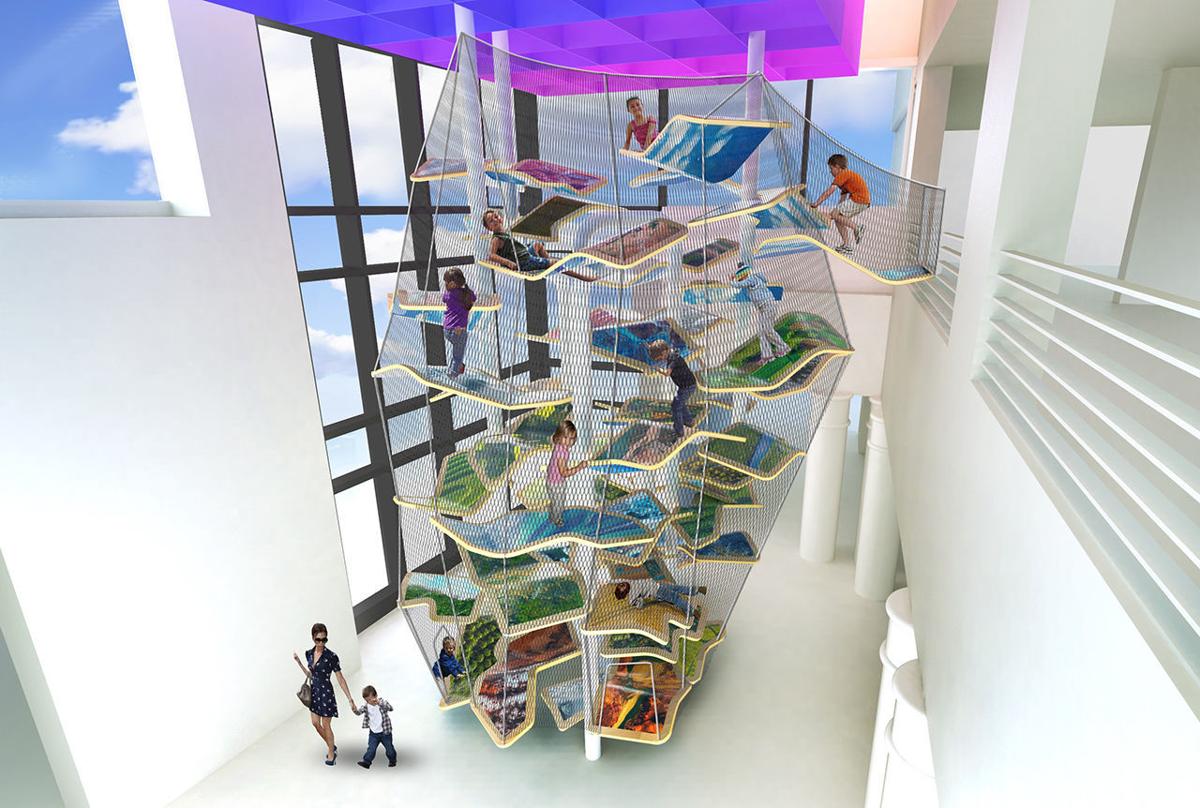 Family Museum completes installation of Luckey Climber
On June 11, the Family Museum held a ribbon cutting ceremony to celebrate the opening of the Luckey Climber presented by Genesis Birth Center.
This two-story climber, located in the Great Hall of the museum, is made up of large climbing platforms and is surrounded by a secure vinyl-coated cable netting. This artistically stunning structure allows museum guests to climb from the first floor to the second floor while observing photographs of clouds on the platforms on the climb up and aerial photographs on the way down. The climber is designed in such a way that there is no fall greater than 18 inches making it safe for younger visitors. While intended for young children, all ages are welcome to climb.
Museum guests also will notice changes to the second floor balcony. The museum has combined the art studio, clay studio and ThinkShop into the Imagination Studio where visitors can create with art supplies, work with clay and build with tools to bring ideas to life. Imagination Studio is included with general admission and is open 9 a.m. to 4 p.m. Mondays-Saturdays and noon to 5 p.m. Sundays.
Bettendorf begins to reopen
The city of Bettendorf has begun the process of reopening some of the city departments, amenities and facilities. As places start to reopen, please remember that it is important to keep practicing social distancing, washing hands for 20 seconds, consider wearing a mask when in close proximity of others, and if you are not feeling well, please stay home.
Even though some facilities and buildings are reopening, it won't be the same as before COVID-19. Please read the guidelines for each department as there are a separate set of rules for each department and it is important that citizens follow these rules when visiting city buildings or taking part in city events.
Bettendorf City Hall, located at 1609 State St., has reopened. The city continues to encourage individuals to do as much business as possible online, by phone or through the drop box. Staff is happy to help citizens with questions or service changes at 563-344-4000, from 8 a.m. to 5 p.m., Monday-Friday. Check payments for city utility bills can be placed in the drop box in the City Hall parking lot, 1609 State St. Credit card payments also can be made 24 hours a day by phone at 563-344-4000 or online at municipalonlinepayments.com/bettendorfia.

Bettendorf Public Works/City Hall Annex, located at 4403 Devils Glen Road, has reopened to the public. Hours of operation are 7 a.m. to 5 p.m. Monday–Friday.

Day Camp, Sports and Games and Tot Lot summer programs will be held, in adherence to CDC and Iowa social distancing guidelines. Registration is now open at bettendorf.org/register. For more information, or to inquire about funding assistance, call 563-344-4113.

The Bettendorf Public Library has reopened for limited onsite public services.
The Family Museum will be open Monday through Saturday 9 a.m. to 5 p.m. and Sunday from noon to 5 p.m. with restrictions.
The Life Fitness Center is now open to all members and non-members with restrictions.
The Community Center has reopened. Only groups of 50 percent or less of the room's capacity will be allowed per rental party. This policy will be strictly enforced. Renters who do not abide by this policy will be asked to cancel the rental and leave the premises without refund or credit. No exceptions will be made.
Palmer Hills Golf Course is open, with limited tee times. The course will continue to allow single rider carts upon request at no additional cost. Reservations are required. Palmer Grill is open for dine-in or carryout.
Crow Creek Dog Park, Crow Creek Skate Park and all city playgrounds as well as, parks and trails are open, this includes pickleball and tennis courts. All patrons must adhere to CDC social distancing guidelines and remain 6 feet apart.
The city will now allow garage sales, yard sales and other substantially similar activities as long as guidelines are followed.
The door-to-door solicitation restrictions have expired. Door-to-door marketing, door hangers, distribution of flyers and/or soliciting are now allowed in the City of Bettendorf.
Closures
Bettendorf's 4th of July parade and festival have been canceled for this year. Fireworks have been postponed. There will be no fireworks on the 4th of July.
Bettendorf Police Department continues to be closed to the public until further notice with the front lobby area remaining open 24 hours a day in the event of an emergency or if there is a need to speak to an officer. Citizens can simply pick up the lobby phone to be connected to police dispatch. For more information or routine police business, call the non-emergency number at 563-344-4015 ext. 9.
Splash Landing and the LaMar Spray Pad will not open for the 2020 summer season.
The Playgrounds program will not take place this summer.
Food pantries continue to be offered
Churches United of the Quad-Cities Area is offering two food pantries within the city of Bettendorf.
St. James Lutheran Church Food Pantry, located at 1705 Oak St., Bettendorf, serves residents living west of 18th Street to the Davenport border, from the river to I-80. The pantry is open Wednesdays 6-8 p.m. and Thursday mornings 9-11 a.m.
Bettendorf Ecumenical Food Pantry serves residents living east of 18th Street to the LeClaire border, from the river to I-80. The pantry is open Mondays, Wednesdays and Fridays 9-11 a.m. and Tuesdays 6:30-8:30 p.m. The pantry is located at the back of the Bettendorf Community Center at 2204 Grant St. with the entrance located off the back parking lot.
Anyone in need of free food during this time of crisis can bring an ID to the appropriate pantry.
Continuing road construction
The following areas of road construction continue throughout the city of Bettendorf. For more information, contact the Bettendorf Public Works Department at 563-344-4055.
Middle Road Resurfacing: Middle Road will be under construction between Devils Glen Road and Belmont Road until July. The work will consist of asphalt resurfacing with construction phased in two stages. Each stage will close two lanes with two-way traffic being moved to the other two lanes.
Pleasant Drive: Reconstruction of Pleasant Drive between Hollow View Drive and Greenfield Road continues. Pleasant Drive will be closed and constructed in two stages. During each stage of closure it will be necessary for residents on the affected stage to park outside of the construction zone. Reconstruction is expected to continue for approximately three months. 
Queens Drive: Reconstruction of Queens Drive between Greenbriar Drive and Plymouth Drive continues. Queens Drive will be closed and constructed in four stages. During each stage of closure it will be necessary for residents on the affected stage to park outside of the construction zone. Reconstruction is expected to continue until the end of July.
Be the first to know
Get local news delivered to your inbox!