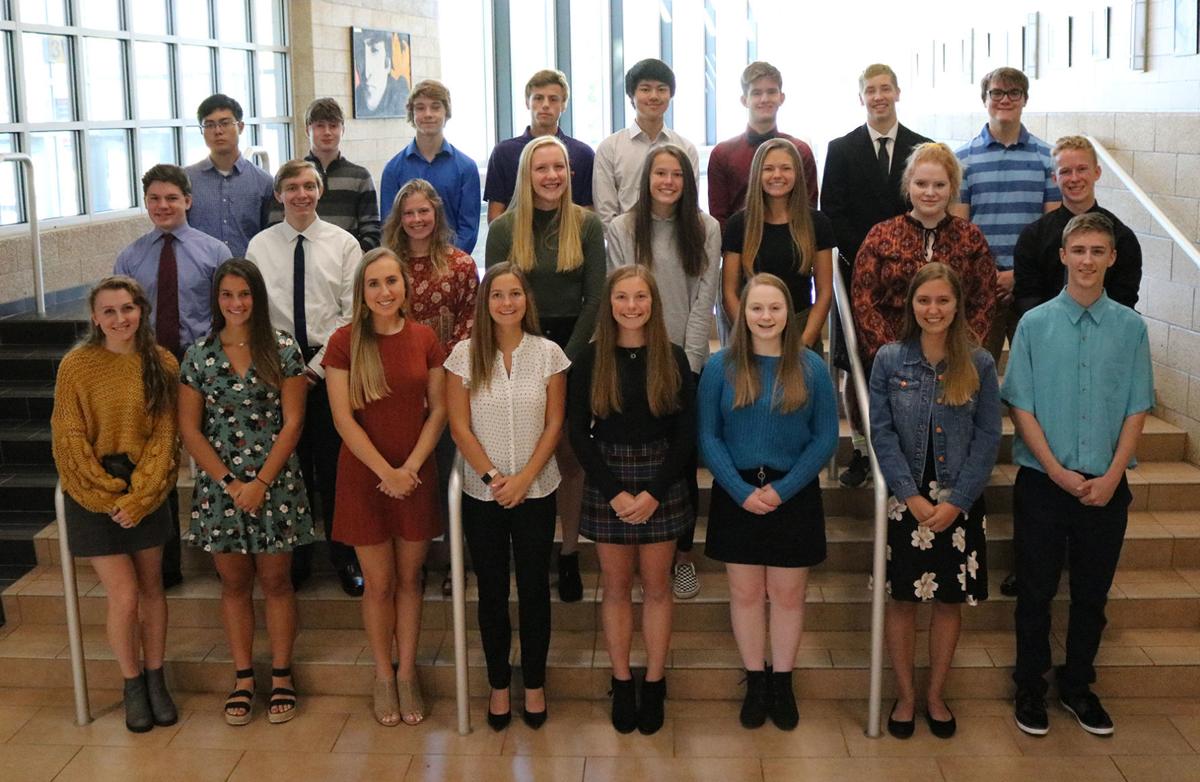 BHS Ranks 29th in the State of Iowa Top 50 Schools
Bettendorf High School recently was ranked 29th in the Iowa AP Index for the Top 50 Schools for 2017-2018 by the University of Iowa's Belin-Blank Center for Gifted Education.
It marks the 13th time that BHS has achieved such an honor since the Belin-Blank Center began rating schools in 2005.
During the past year, 52 BHS students earned AP Scholar designation for exceptional achievement on the Advanced Placement Exams. They are:
BHS National AP Scholar Recipients: Logan Quick, Yash Singh
BHS Scholar with Distinction Recipients: Eleanor Abbott, Zoe Allert, Jordan Bayles, Sheldon Deng, Emma Doyle, Bryan Hurd, Jason Jiang, Hannah Luppen, Justin Nock, Logan Quick, Yash Singh, Kejing Weng, Mizuki Wittmer
BHS Scholar with Honors Recipients: Erin Anderson, Arash Asadi, Kyler Castro, Allison Kling, Ryan Longenecker, Patrick Markovich, Elizabeth Park, Sophia Pike, Mitchell Winterlin
BHS AP Scholars: Olivia Bert, Brianna Berthiaume, Dylan Bonis, Kristin Boyler, Joseph Byrne, Ty Callahan, Sarah Canfield, Logan DeLacy, Margaret Dixon, Madison Foht, Megan Greenley, Justin Hettlage, Emma Hovey, Peter Hurd, Melanie Klein, Carson Mariman, Jessica Mouw, Christian Myers, Aaron Roehr, Brendan Scarlett, Oskar Skogman, Greta Solbrig, Madison Temple, Paige Terronez, Hannah Uhrich, Breanna VerMeer, Olivia Vincent, Kaitlyn Walter.
Iowa State University announced scholarships awarded by the College of Agriculture and Life Sciences and its academic units to undergraduate students for the 2019-20 academic year.
Local recipients include:
Sara Chanez received the College of Agriculture and Life Sciences Study Abroad Account.
Lacey Clark received the C.R. Musser ISU Agricultural Endowment Transfer Scholarship.
Emma Doyle received the World Food Prize Scholarships and the Fejervary Fund.
Ethan Hornbuckle received the Elinor L. Fehr and Walter R. Fehr Endowed Scholarship.
Mary Klingelhoefer received the Global Resource Systems Major Fund Freshman Scholarship.
Josephine Meyer received the World Food Prize Scholarships.
Grant Nickles received the the Fejervary Fund.
Bradley Melvin received the Joseph Fleming Endowment.
Brooke Corson received the Fejervary Fund.
Kyle O'Neill received the Fejervary Fund.
Katie Seeman received the Fejervary Fund
You have free articles remaining.
U.S. Air Force Reserve Airman 1st Class Alyssa S. Fox, Bettendorf, graduated from basic military training at Joint Base San Antonio-Lackland, San Antonio, Texas.
The airman completed an intensive, eight-week program that included training in military discipline and studies, Air Force core values, physical fitness and basic warfare principles and skills. She is a 2014 graduate of Bettendorf High School.
Alice Chang and Allison Folin, both of Bettendorf, were among more than 100 Doctor of Pharmacy (PharmD) students who participated in the University of Iowa College of Pharmacy's annual White Coat Ceremony in late August at Hancher Auditorium.
The event officially welcomed the Pharm D Class of 2023 into the profession and the University of Iowa College of Pharmacy. In addition to reciting the Oath of the Pharmacist, the students were "coated" by members of the UI's College of Pharmacy Genesis Board.
Joseph Field, Bettendorf, was one of the nearly 400 cadets and students awarded gold stars for academic achievements during the spring 2019 semester. Cadets and students who achieve gold star recognition also are placed on The Citadel's dean's list.
Local Mediacom employee, Cami Parks, earned a top customer service award and recognition from the company's senior managers during an awards ceremony held at Mediacom's Regional Operations Center in Moline.
Parks, of Bettendorf, earned the Payment Center Representative of the Year award for her outstanding work as a customer service representative. She has been employed with Mediacom for 19 years.
Bettendorf: Monica Hayes, Janie Stratton
LeClaire: Gabrielle Cruz, Sally Weiland
Roger Wittmer, Bettendorf, was among 30 Knox College students who were selected for the 2019 Business Intensive Seminar on the Galesburg, Ill., campus.
The four-day event included sessions on business fundamentals, ethical business decisions, emotional intelligence and communication, entrepreneurship, innovation and marketing.
Wittmer is a member of Knox College's class of 2022.
Princeton: Allison Miller, Rachele Miller