Local artists among award winners
of the 42nd Annual High School Art Invitational
Quad-City Arts has announced the winners of the 42nd annual High School Art Invitational and presented $6,000 in cash prizes to area high school students and teachers for excellence in fine art. An exhibition featuring paintings, drawings, sculpture, metals, ceramics, photography and film by the the winning artists will be on display at the Quad-City Arts Center Gallery, 1715 2nd Ave., Rock Island through Thursday, May 2. Gallery hours are 10 a.m. to 5 p.m. Mondays-Fridays and 11 a.m. to 5 p.m. Saturdays.
Senior Scholarship sponsored by the Deere Employees Credit Union and an anonymous sponsor: Maysun Sallak, Bettendorf High School
Best of Show sponsored by Judi and Kent Pilcher: Sophie Curtis, Pleasant Valley High School
Don Heggen Memorial Award for excellence in watercolor: Jei Valle-Riestra, Pleasant Valley High School
Excellence in Photography Award sponsored by Jack Wilhoit: Odin McDonald, Pleasant Valley High School
Zimmerman Honda Award: McKenzie Borden, Bettendorf High School
Quad-City Arts' Director's Award Sponsored by the Butterworth Foundation: Kaylee Cornwell, Bettendorf High School
Award for Compassion Sponsored by Sherre A. Hunter: Ashtyn Hutcheson, Bettendorf High School
Award for Watercolor Sponsored by Judy Heath: Emma Doyle, Bettendorf High School
Left Bank Art League Scholarship Awards: Emma Johnson, Bettendorf High School
The Rock Island Art Guild Members' Selections: Painting: Ashley Endorf, Bettendorf High School
Bettendorf native presents research at national conference
Jacqueline Blaum, Bettendorf, was one of 62 Iowa State University students selected to present at the 33rd annual National Conference on Undergraduate Research that took place April 11-13 at Kennesaw State University in Georgia. About 4,000 undergraduate students from across the U.S. presented research at this annual conference, the largest undergraduate research conference in the country.
Blaum, a physics major, presented, "Mining Big Data over the Entire Infrared Sky: Improved Photometric Classification of Infrared Sources through Machine Learning."
PVHS National Merit Scholarship Program Finalists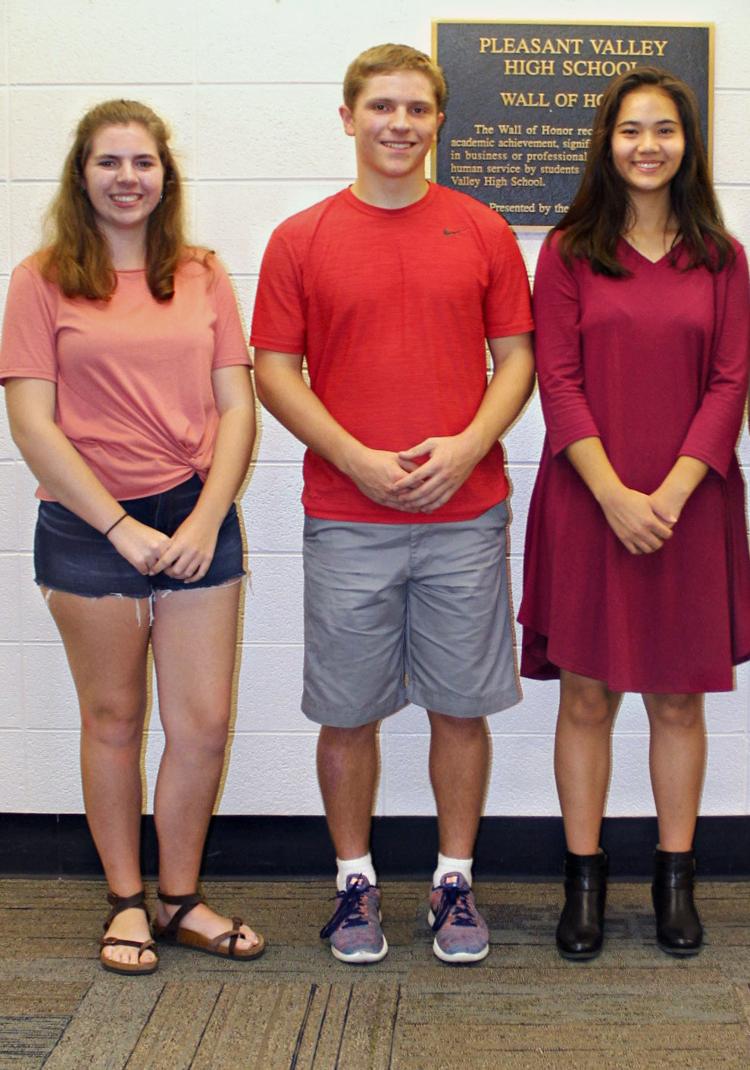 The faculty and staff of Pleasant Valley Community High School are pleased to announce that the following seniors were selected as National Merit Scholarship finalists in the National Merit Scholarship program, Kaitlyn G. Ryan, daughter of Patrick and Stacey Ryan, Bettendorf; Justin R. Sehlin, son of Scott and Christy Sehlin, Bettendorf; and Sarah A. Warner, daughter of Frederick and Lian Warner, Bettendorf.
To become a finalist, a semifinalist must have an outstanding academic record throughout the high school years, be endorsed and recommended by the school principal and earn SAT scores that confirm the student's earlier qualifying test performance. The semifinalist and a school official must submit a detailed scholarship application, which includes the student's essay and information about the semifinalist's participation and leadership in school and community activities.
All National Merit Scholarship winners will be selected from this finalist group. Merit Scholarship winners for 2019 will be announced in four nationwide news releases beginning in April and concluding in July.
Bettendorf: Anthony Warford
Palmer College of Chiropractic
Bettendorf: Mark Carlson and Morgan Lintz
Pleasant Valley: Dakota Malzewski