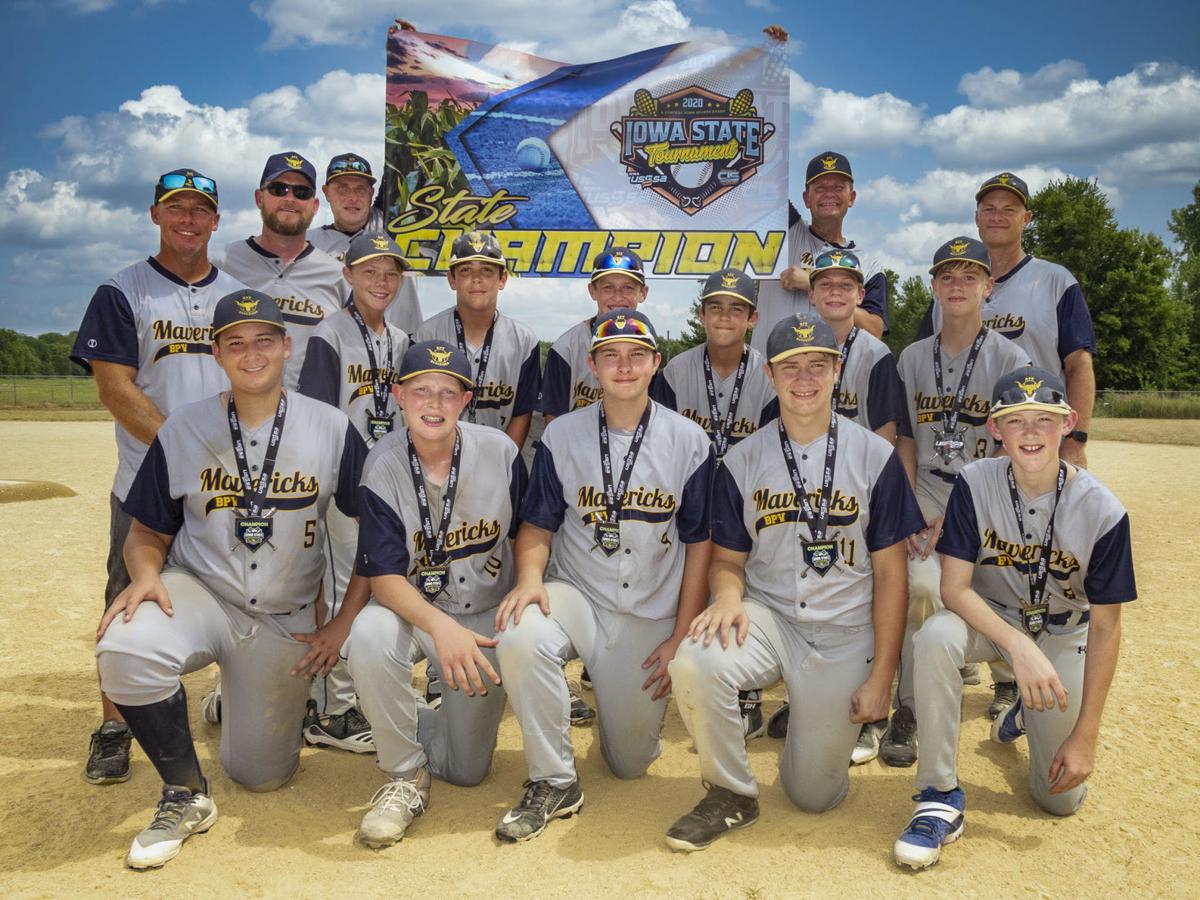 BPV team wins championship
Bettendorf-Pleasant Valley youth baseball's 13-under Mavericks team has claimed the Division III Silver Bracket championship at the USSSA Iowa State Tournament held Aug. 7-9 in Cedar Rapids.
The championship marked a comeback from an 0-1-1 pool play start for the Mavericks.
In bracket play, the Mavericks went 3-1, avenging a lone loss to the Cedar Valley Blackhawks in the division final.
Dates and times are yet to be determined for the upcoming tryouts for the BPV's 10-under tournament team, the BPV Wolfpack.
However, those tryouts will be soon, so if interested, please e-mail Matt Wood at mcw1205@aol.com with "WOLFPACK" IN THE SUBJECT LINE to be added to the tryout announcement list and you will be the first to know the tryout schedule.
To be eligible for the 10-U team, you have to be at least age 10 or under as of May 1, 2021 or in 4th grade.
The 10-U tournament rules consist of regular baseball rules with kid pitchers and lead-offs. But children younger than the traditional 10-U division are welcome to tryout if the skill set is apparent to compete at the higher level.
Additionally, BPV is looking to form teams at the 8-U (coach pitch) and 9-U levels. The same May 1 age cutoff applies.
If you have a player in those age ranges, please email mcw1205@aol.com with "8U or 9U" in the subject line. There are no coaches selected for these age groups yet and we will explore the options once we can gauge interest levels.
Interested coaches at the 8-U and 9-U levels can contact Wood at mcw1205@aol.com or 563-340-5917 to learn more about the guidelines and process to get a team going at these ages.
If interested, either as a coach or player in the 11-13 levels, please contact Steve Tappa at tappasteve@qconline.com.
PV grad receives Q-C Illini Club scholarship
Sanjiv Iyer, a graduate of Pleasant Valley High School, is one of two local students to receive a scholarship from the Q-C Illini Club. Iyer plans to study Computer Science and Economics at the University of Illinois, Champaign.
The club awards scholarships to local students attending the University of Illinois.
Bettendorf: Elizabeth Vonderhaar
Clinton Community College
Bettendorf: Megan Burns, Hailey Rice
Bettendorf: Maxwell Lunardi
St. Louis College of Pharmacy
Western Illinois University - Quad-Cities Campus
Bettendorf: Erin K Anderson, Logan L Comstock, Kara S Cosgrove, Hailey Elizabeth Duwa, Tyler D French, Emilie A Hahn, Montana M Keys, Jasmine Elisabel Lara, Christopher William Schafer, Vanessa Yvonne Scudder, Jacob D Turner, Brittany Vazquez, Owen Ward
LeClaire: Victoria Lynn Carter, David C. Pelo
Be the first to know
Get local news delivered to your inbox!