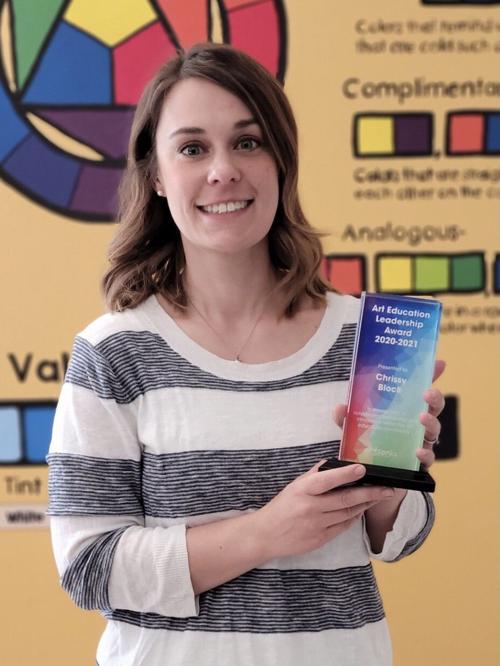 Local softball player named Midwest Conference Player of the Week
Ceara Larson, Bettendorf, a senior catcher for Lawrence University, Appleton, Wisconsin, hit .818 in four games and drove in eight runs earlier this month to earn the third MWC Player of the Week award of her career. She went 9-for-11 with two doubles and a home run.
In addition to the nine hits, Larson walked twice and was hit by a pitch for an .857 on-base percentage. She had a 1.273 slugging percentage and put together a 2.129 OPS (on-base plus slugging) for the week.
Through six games this season, Larson has a .611 batting average with nine RBIs. She has an .889 slugging percentage and 1.556 OPS.
PVHS student wins Quad-Cities Holocaust Essay contest
The winners of the Ida Kramer Children and the Holocaust Essay Contest and the Meyer and Frances Shnurman Holocaust Visual Arts Contest have been announced.
Lila Teitle, 11th Grade, Pleasant Valley High School, placed first with the essay, "Never Forget: A Story of Hope and Forgiveness." Her winning essay was read during the annual, local Yom Hashoah: Holocaust Remembrance Service, which was held on Zoom on Sunday, April 11.
The essay contest is sponsored by the Yom Hashoah Committee and the Holocaust Education Committee of the Quad-Cities.
Teitle received a $500 prize and if there was a sponsoring teacher, the teacher received a gift of $100 to support classroom needs.
For additional information, please visit the Holocaust Education Committee of the Quad-Cities' web site at www.hecqc.org or the Jewish Federation at aross@jfqc.org.
Local student receives Alfred P. Kehlenbeck Scholarship
Olivia Adams-Moulton, Bettendorf, was awarded the Alfred P. Kehlenbeck Scholarship by the Department of World Languages and Cultures at Iowa State University, Ames, during the virtual 2021 Awards Ceremony.
Bettendorf educator nominated for the National History Day Teacher of the Year award
Leigh Ann Schroeder, a teacher at Rivermont Collegiate in Bettendorf, has been nominated for the Patricia Behring Teacher of the Year award in the senior division of the National History Day (NHD) National Contest. The award is sponsored by Patricia Behring in recognition of the pivotal role teachers play in the lives of students.
Each of the 58 National History Day affiliates may nominate one high school teacher for this award. Schroeder was nominated in the senior division for Iowa. All nominees will receive $500.
The national winner of the $10,000 award will be selected by a committee of experienced teachers and historians, and announced on Saturday, June 19 at the National History Day National Contest Awards Ceremony to be held virtually this year. Nominees' work must clearly illustrate the development and use of creative teaching methods that engage students in history, and help them make exciting discoveries about the past.
Neil Armstrong Elementary School teacher honored
Neil Armstrong Elementary School art instructor, Chrissy Block, is one of the recipients of Artsonia's 2021 Art Education Leadership Award. The award honors pioneers in the art education community who continuously inspire peers and engage students.
Block was recognized as a pioneer in the professional community by student art and education platform Artsonia.
Block's peers and Artsonia selected her from among thousands of instructors as one of 15 national winners of this award.
She is in her eleventh year as an art instructor. She has been teaching in the same classroom at Neil Armstrong Elementary School for her entire career as an art educator. Block credits her students for inspiring her passion for art education.
Artsonia's 2021 Art Education Leadership Award serves as a way to honor the passionate, dedicated instructors who teach students to create and value art, produce innovative lessons and continually motivate peers on Artsonia.
Local student inducted into the Honor Society of Phi Kappa Phi
Sarah Yoerger, Bettendorf, was recently initiated into the Honor Society of Phi Kappa Phi, the nation's oldest and most selective all-discipline collegiate honor society. Yoerger was initiated at Coe College.