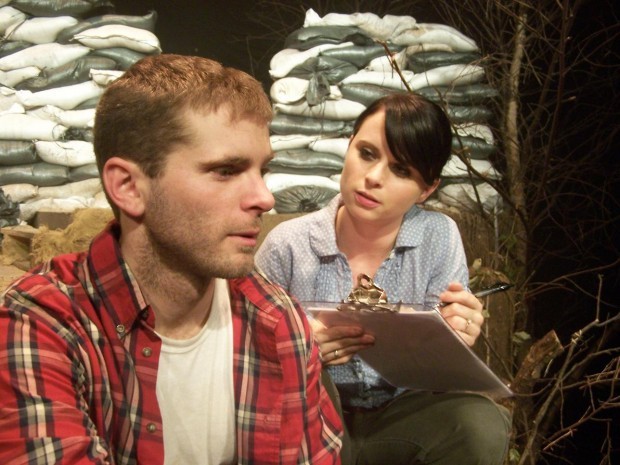 At the onset of opening night for the Q-C Theatre Workshop's new drama, "A Green River," playwright Aaron Randolph III and producer Tyson Danner talked about the immense amount of work put into the original production.
More than the 90 minutes after that introduction, they had backed up those words with action.
"A Green River" is a magnificent production on all levels, showing an intense amount of passion, skill and craft in its execution. It's a fantastic show, original in its execution, if not its subject matter, and possessing a brilliant daring and creativity that, for me as a writer and former head of a theater company, was thrilling to experience. I would bet that regardless of your background, you will find it fresh and compelling as well, but I think those in the local theater community  particularly will be exhilarated by its obvious craftsmanship and boldness.
"A Green River" treads upon sadly familiar ground: delving into the psyche of a former soldier named Erik (Thomas Alan Taylor) as he attempts to re-assimilate into his routine life after a traumatic stint in the military. I say "sadly familiar ground" not as a slight to the cause, but rather as a commentary that those who serve our country all too often end up in this purgatory of despair rather than getting the help they deserve. It will be a triumphant day when shows like this are no longer needed to remind society of its responsibilities to those who serve.
As with other tales of this ilk, Erik finds himself ill at ease while attempting to fall back into his pre-service life, trying to reconnect with his family and wife, to relax and enjoy his time as a husband and father — and to forget the battlefield and deaths that still haunt him. It's a story that's been told many times before on TV, film and stage. However, what invigorates this particular production is the out-of-the-box construction and sharp technique deployed by Randolph.
The show is structured in a rapid-fire, quick-cut manner in which Erik is flung back and forth in time between scenes of his military life, his present, his teenage years and his childhood, and it's done so in a way that's disconcerting and brutal, offering no warning or easy stage segues. It's a very daring move to risk constructing a show in this way because it chances alienating and losing the audience, but I loved its guts in doing so, and it perfectly fits the psyche of the lead character, whose disorientation and lack of ability to discern between past and present are brought to life superbly through this technique.
Likewise, another daring move is using a small cast of actors to portray different characters along the same tonalities. (For example, Mike Schulz is used to play Erik's dad and sergeant, both of whom fulfill similar roles in his life as relentless taskmasters, Jessica Denney is the mom and a counselor who are both help figures, etc.) In theory, this is a fantastic technique and I admire its attempt. In execution, it doesn't work as well because it's sometimes difficult, even with the actors making laudable attempts, to accept them in roles that are highly dichotomous to their physical appearance. For example, it's tough to see Denney as Taylor's mother when she looks younger than he does. However, one also could argue that that dissonance adds to the overall disconcerting tone of the show, so I'd file it under a minor quibble.
In general, the cast does an excellent job treading deep waters, from Taylor, Denney and Schulz to Joe Goodall (in the "buddy" slot as Erik's brother and military friend) and Jessica Sheridan (the only thespian with a solitary part, as Erik's wife, Amy).
The set is absolutely gorgeous, lighting and direction are sublime, the sound work is magnificent and, as mentioned, I loved the script and original music by Randolph.
"A Green River"  is risky, passionate and vital. It's not the kind of theater that should be made in the area, it's the kind of theater that has to be made in the area for the art form to evolve. It's one of the best shows you'll see all year on the local stage. And the admission is "pay whatever you'd like," meaning you pay whatever you feel the show is worth. You really cannot pass it up. So don't.