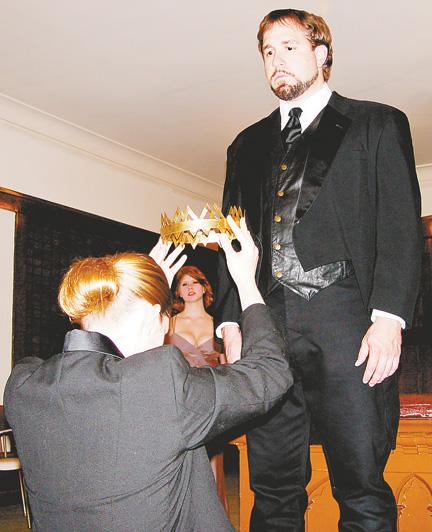 While the general public may not have any real idea exactly what "The Henriad" is — and possibly many may not have even heard the term prior to this fall — it is still true that the very decision to produce this cycle of three Shakespearean plays in a single season is an amazingly brave thing.
The Prenzie Players, a local theater company that specializes in what some might call a guerrilla theater style of Shakespeare, kicked off what they describe as their "Most Ambitious Season Yet" last weekend with "Richard II," the first of the three plays in the Henriad cycle.
Given the extremely high quality of this first production, the gamble of connecting these shows will surely pay off, as I suspect that ever-growing audiences will barely be able to wait to "see what happens next."
All three shows are classed as what are sometimes called the "war plays," as opposed to the comedies or the tragedies — which might be more familiar material to many readers — and these dramatic works deal with a particularly volatile time in English history. Though not written as a trilogy, the connections between them include featuring a number of the same characters and covering roughly sequential periods of time. Each is very different in style and tone, however, which only makes the total project more difficult (and more interesting).
"Richard II," the first work, has just three remaining performances this weekend, and it is likely that audiences for these shows will arrive early as much to assure a seat as to experience the preshow — though I think many will not want to miss that as well. Like all Prenzie shows, this work is lean on production budget and rich in scholarship. These folks understand theater as essence rather than spectacle, and when they do have broad, showy scenes in a production, these moments are built on the emotional intensity and dramatic possibility inherent in a scene rather than on lavish costuming and big sets.
In "Richard II," that focus on the essence of a scene pays off in a major way. In an early scene, two political rivals face off in the court with accusations of treachery and treason, eventually challenging each other to a duel as a way of settling the dispute.
Much honor and several political fortunes are at stake, and the mounting tension is a palpable thing. Later, near the show's close, another scene in the court is eerily similar for a time, when two new rivals accuse each other in much the same way. When the scene later explodes with more accusations and challenges to duels —  as individuals split off in a variety of allegiances and counter- challenges — the obvious message that unchecked violence breeds more violence is clear.
Individual performances contribute to the greater whole that is this excellent show. In the title role, Stephanie Burrough is excellent, giving life to a weak king whose sense of responsibility outstrips his ineffectual attempts at maintaining power — and she, like the other actors here, manages the verse form employed by this entire script with plenty of grace and ease.
Maggie Woolley is an intense Mowbray, defending her honor with honest outrage, and she also makes a tragic, emotional Queen Isabella. Linnea Ridolfi gives a regal, deeply felt performance as Edward of York, and Aaron E. Sullivan is a rough-hewn, meticulously observant Northumberland. As his son, Hotspur, J.C. Luxton is vibrant and full of raging emotion barely held in check, and even without knowing the stories that follow, it is clear that these two will be heard from again.
As the Duke of Herford, Jeremy Mahr is also very good, playing not-so- bright and yet
somewhat politically savvy with a believable blend.
Brian Woods makes a good John of Gaunt, but his hot-blooded Owen Glendower is an even better portrayal. I pass on detailing even more really effective performances here in order to have space to write about another important issue.
The Prenzie Players often cast roles without regard to gender, so many of the male roles in this production are played by female actors. Of course, the potential for some confusion — and, for some, major titillation — is compounded when two male characters (played by women) have a romantic or sexual relationship. While some may attend the show primarily for the chance to see women, dressed as men, kissing each other (and quite possibly the handful of audience members who left at intermission last Sunday were motivated by the same exact reason), this is top-notch theater, done with class and intellectual honesty.
If you must, go because of the giggle factor. I guarantee you that the show is about something totally different, and that the power and vitality of the production will draw you into the story in ways you never imagined. This casting issue may get you through the door, but it is the work itself that will keep you coming back for the rest of "The Henriad." Don't miss "Richard II."
"Nickel and Dimed" is not important because of greatness as a work of theater, but because of the issues it raises.
Like the Barbara Ehrenreich book from which it takes its name, "Nickel and Dimed, on (Not) Getting by in America," this play showcases the lives of working class America, detailing just how difficult it is for limited-resource families to maintain even the barest minimum of shelter and nutrition. Just as each section of the book outlines Ehrenreich's "undercover" experiences at a particular low-wage job, each section of the play explores the same settings.
Employing many verbatim sections of the nonfiction book, playwright Joan Holden sets up each workplace scene with narrative and rhetorical sequences – generally delivered by Barbara – then intersperses scenes from the writer's experience. In some cases, other characters address the audience directly as well. The result is more talk than actual drama, but it also gets the point across in ways that an academic paper or simple lecture never would.
It's a talky show, but the material is uses and the points it makes are nonetheless dramatic. Christine Barnes stars as Barbara, and though she looks nothing like the 50ish social critic, she takes on the persona of this important social critic with such straightforward ease that you soon forget she is a college student playing someone who is doubtless at least twice her age. Barnes is articulate and shows her character's feelings well through facial expressions and body posture, which lends an extra punch to the more emotional moments in the production.
Director Cori Veverka has put together a small ensemble to play a variety of characters in Barbara's life and in the situations her "undercover" work places her in. From her editor and boyfriend to a succession of managers, assistant managers and coworkers, the half- dozen actors play them all. Justin Schaller is particularly evocative as a table busser from the Czech Republic and as Barbara's boyfriend, and he also plays a franchise owner who has no understanding of how his drive for profits affects his workers – whom he expects to be grateful for the meager raises and inappropriate attention he gives them.
Brian Bengtson does effective work as more than one manager, including one that is well-meaning and one that is a thief who blames missing supplies on his employees. As a coworker with big ideas and no way to make them happen, he also stands out. Rachel Krein and Sarah Larson
both do excellent work as a variety of co-workers who sometimes befriend Barbara — from the desperate and abused to the ill and homeless, among a number of others.
Playing more coworkers — including a woman who risks her health and her fetus to maintain a job that pays less than $7 per hour — is Katie McCarthy, who also does nice work in this show. While Kyle Roggenbuck struggles a bit with some of her portrayals, which include a plus-sized and elderly African American woman as well as a gruff Latino cook named Hector (a role where she earns many of this serious show's laughs), she comes through most powerfully as a retail coworker whose recovery includes a heavy dose of religion that keeps her subservient to an abusive husband as well as to a corporation that feeds off of her for profit.
Overall, this work is well done, and the scenes you see are ones that will provoke an emotional response in anyone with a conscience. As informative and shocking – at least for a middle and upper class audience — as the book which preceded it, "Nickel and Dimed" is perhaps more "important" than it is "great," but that does not lessen the potential of its impact in the slightest.
This show is imperative for anyone who eats in restaurants, stays in hotels, uses a cleaning service, or shops in big box retail stores.
When is the last time you walked into an eating establishment or entertainment venue and asked a manager how much their hourly workers are paid? Would you consider taking your business elsewhere based on a truthful answer?
It's a show that is also necessary for those who vote on election day, influence or make public policy, and who care about the fate of people outside our own households. Don't miss it.
What: "Richard II" by Prenzie Players
When: 7:30 p.m. today-Saturday, Nov. 4
Where: Masonic Temple, 420 18th St., Rock Island