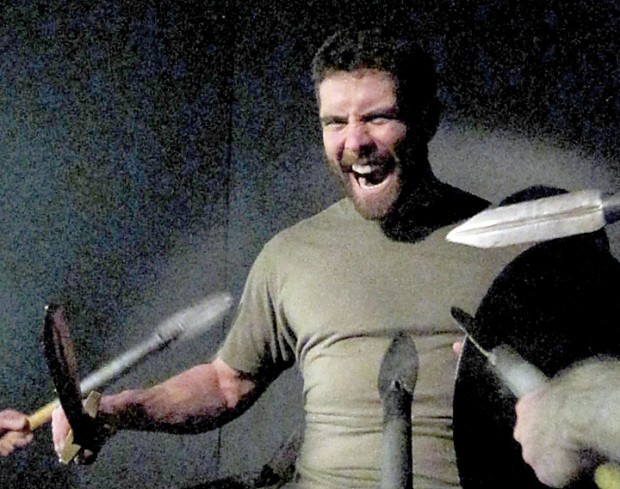 "Troilus and Cressida" features far more war and betrayal than love, but the Prenzie Players and Maggie Woolley, in her directing debut, have no trouble creating characters the audience can't help but invest themselves in, despite their dirty deeds.
Shakespeare's play is set seven years into the Trojan War, but before the infamous wooden horse is made.
As always, the Prenzie actors are on the job well before showtime, with Menelaus (Matt Moody), Helen of Troy's husband, passed out with an empty bottle of booze next to the Trojan wall, which is covered with graffiti. Eventually, the brutish character awakes from his stupor and is about to urinate on the wall when his brother Agamemnon (Patrick Flaherty) stops him.
Then, Achilles (Steve Quartell) and his Myrmidons enter the stage. They also are drunk, and Achilles is in sweats, not the desert camouflage the other Greek soldiers wear. They joke around — in today's English vernacular — and make fun of Agamemnon, Menelaus and other Greek heroes, and they call Helen a whore.
The play before the play was quite helpful in setting the stage for today's audience, which isn't nearly as knowledgeable about "The Iliad" as Elizabethans would have been. It also serves as an introduction to Achilles, who jeopardizes the Greek campaign by sitting on the sidelines but is loveable nevertheless for the comedic role he holds for much of the play.
Thersites (Stephanie Burrough), the camp whore, is also a lovable character as she manages to stay positive even though she's passed from Greek to Greek, beaten and never appreciated for the insightful, multi-layered woman she is.
Hector (David Furness) also pulls on the heartstrings of the audience, portrayed as a man who will do anything for brother and country, and who is fair in battle, even when his enemies do not show him the same courtesy.
The universal color scheme for the Trojans, Greeks and set dressing also helps to draw in the audience. The warm colors of coral, brown and sherbet are used for almost every piece of set decoration and costuming, providing a welcoming feel, even though the actions taken by the characters in the play are often quite vile.
The fight scenes are quite impressive as the actors utilize every inch of the multilevel stage while the Trojans with swords battle Greeks with short spears. Even more impressive is Furness and Quartell's ability to deliver iambic pentameter clearly and without shortness of breath when the beads of sweat dripping down their faces reveal the extent of their physical exhaustion.
The only downside to the fighting scenes is that it is difficult at times to hear the actors deliver their lines over the clanking of metal and collisions of wood, as well as the screams and grunts of battle.