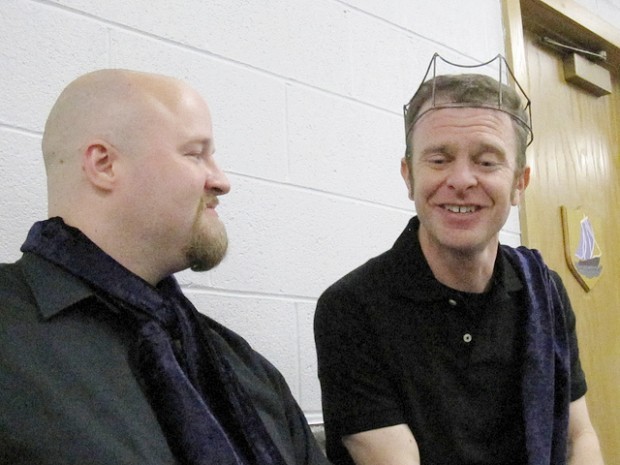 The Prenzie Players' "Pericles" has everything we've come to expect from the company, now starting its ninth season.
There's the amusing pre-show, the occasional incongruous music or reference, making the most of its found space, excellent acting and staying true to the words of (as with almost all its shows) Shakespeare.
But this show, which even the cast admits is one of Shakespeare's least-known works, also features an extremely versatile nine performers who - with the exception of J.C. Luxton in the title role - play multiple characters. The actors, all dressed in black, sometimes change character in a heartbeat, or as long as it takes them to remove one sash or scarf and put on another to differentiate various families or countries.
The Prenzies deftly handle some touchy subjects as well, including incest and rape, without sensationalizing them.
The title character in "Pericles," the prince of Tyre, sets out after his betrothed is caught in an affair with her father the king. His journeys take him around the world and across the seas - signified by a wall of moving boxes and trunks to the audience's right.
Director Andy Koski continues the Prenzie tradition of inventive staging. Its newest locale, the fellowship hall at St. Peter's Episcopal Church in Bettendorf, at first appeared to be boxy and un-stagelike, but it ended up being extremely versatile to accommodate the seven-plus locations that are needed. The acoustics are excellent, but air pressure kept alternate doors slamming when another door was being used.
Koski has each performer give part of the narration while holding a small candle which, along with exit sign lights, provide the only illumination in the room for dramatic effect. There's a nice effect from the audience that makes for one of the biggest surprises I've seen onstage in awhile.
Luxton excels in the title role, with sorrow, anger and distress showing in everything from his facial expressions to veins bulging in his head and face.
The rest of the cast members - Michael Carron, Angela Rathman, Cole McFarren, Don Faust, Alaina Pascarella and Jeb Makula - show their versatility and ability to create individual characters for each role they play.
Especially noteworthy are Maggie Woolley, especially as Pericles' long-lost daughter, and Catie Osborn as his wife, with a blonde wig I would have sworn was real hair had I not seen her in a short brunette 'do earlier in the show.
Like many Prenzie shows, and most Shakespeare works, I always get the feeling 10 minutes into the production that I'm going to get lost in all the wordage. But the fog soon lifted, turning into a compelling plot and an excellent performance.