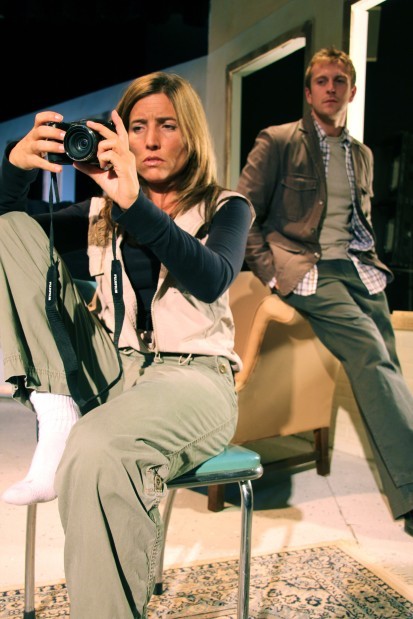 "Don't call me brave," war photographer Sarah Goodwin snaps in "Time Stands Still," the Curtainbox Theatre Company's latest excellent drama.
But how else would you classify someone such as Sarah, who is sent back to the Brooklyn apartment she shares with reporter James Dodd (Eddie Staver III) after a bomb blast that occurs while she's covering the war in Afghanistan leaves her disfigured, crippled and in a two-week coma?
Sarah's adjustment to life after the war is the crux of "Time Stands Still," in which facts are peeled away layer by layer and major life events gradually make themselves clear to the audience, thanks to Donald Marguiles' intelligent script and Tyson Danner's smart direction.
Furness plays Sarah as hard-edged and bitter, with a biting wit and eventual vulnerability. She doesn't want sympathy in the role, and we see a physical and emotional progression during the drama's eight-month time span.
In Staver, we see the transition he makes from war correspondent (and frequent collaborator with his live-in) to someone beginning to enjoy a life of domesticity while pouring all of his energy into movie thrillers as a social allegory. A solid Staver performance shows James as a comforting beau turned into a lethargic and jealous companion.
In contrast to them are Richard (Mike Schulz) and Mandy (Jessica Denney), a May-December romance that both deny is his mid-life crisis. He's a longtime friend of the couple, their magazine editor and a former flame of Sarah's.
Schulz is incredibly comfortable in his skin as Richard, exchanging rat-a-tat dialogue with James at their reunion and providing expert reaction to his friends' wavering relationship.
Denney cheerfully plays the overly perky party planner, whose naivete leads to heated debates about journalistic ethics and practices, which is among much of the editorializing in the script.
Danner's direction makes the characters natural, achieving a level of comfort in a series of uncomfortable situations.
I don't know whether it was the script, the direction or the actors, but I was expecting more of a boiling point from the penultimate scene that didn't arrive. It peaked at 210 degrees when it should have been 212. That may, however, have been intended by all parties.
"Time Stands Still" is a powerful, contemporary drama (including f- and s-bombs aplenty) with a handful of laugh-out-loud moments that show us the wounds of war, even for non-soldiers, can hit both the body and the soul.