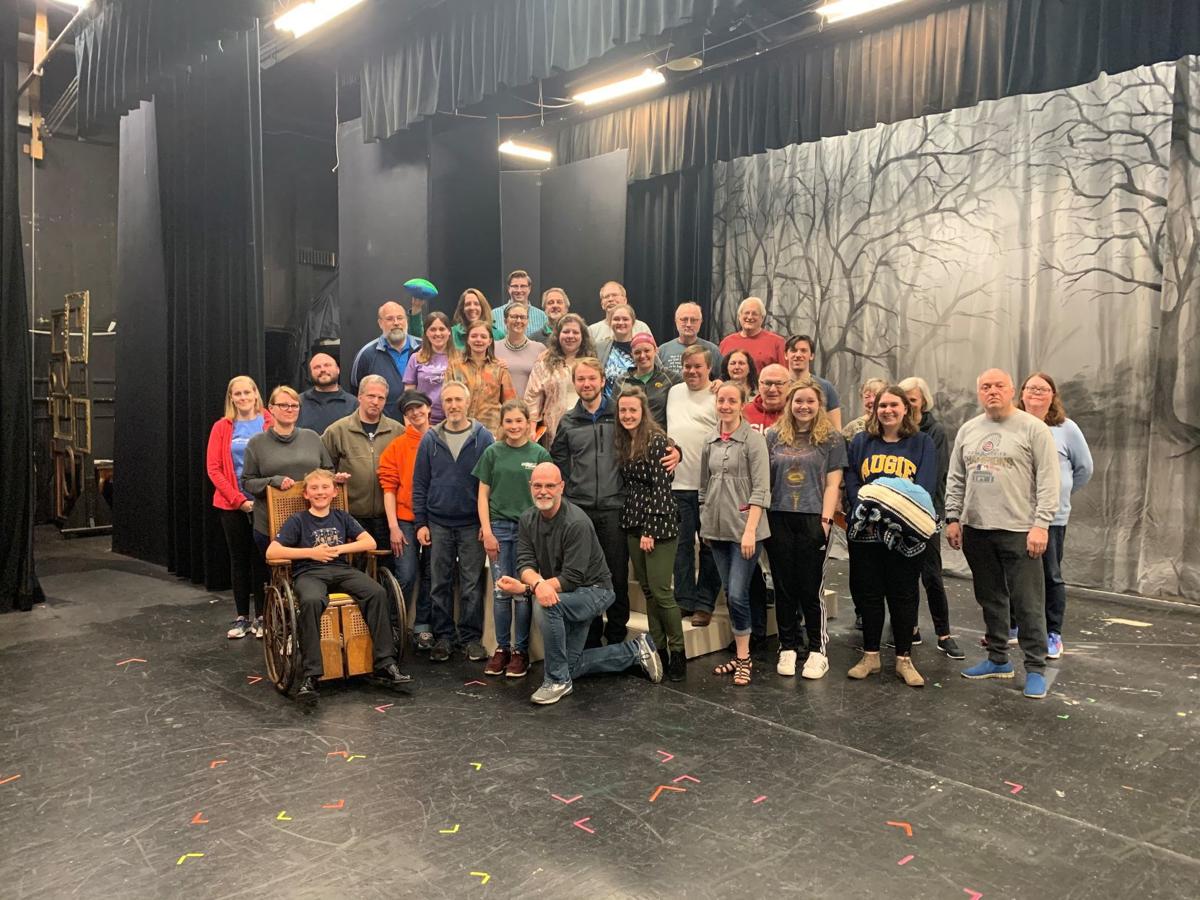 Area theaters are being forced to postpone or cancel rehearsals and productions in the wake of the COVID-19 outbreak, scrambling to make decisions about the future when no one is certain of what it will hold.
Quad-City Music Guild in Moline called to a halt its spring production of "The Secret Garden," which was scheduled to open March 27.
"The board of directors was heartbroken to have to make this decision, but ultimately, the safety of our patrons, cast, pit and crew members and volunteers is always our priority," Troy Stark, Music Guild president, said.
"We are a community musical theater, and it is up to organizations such as ours to protect the community we live in."
Stark said the board discussed a number of possible solutions to the problem, including postponement, but "we have no idea how long these recommended restrictions will last. It didn't seem fair to keep moving the goalpost for the members of the production."
Stark said volunteers called ticket holders to offer a refund or exchange.
"Most people donated their ticket back to Quad City Music Guild," he said. "We are so humbled by the community's generosity."
Stark said COVID-19 and everything that had come along with it very well could impact Music Guild's entire season, as June productions typically begin rehearsals in April.
"It all depends on how long this pandemic lasts," he said. "The impact on the theater community nationwide will likely be devastating."
SPOTLIGHT THEATRE
The Spotlight Theatre in Moline is facing a similar reality.
"It's a very scary time for sure. When your revenue as a theater is based on having events and ticket sales, and the government says you can't do that, it definitely becomes a new challenge," co-owner Brent Tubbs said.
Its next major show, "Oliver," was slated to open April 17. "However, we have been forced to not have rehearsals, so we can't really prepare for a show. ... We're basically taking things every hour at a time right now," Tubbs said.
Currently, the plan is to postpone rehearsals for two weeks, he said, "and we are working with the rights holders to hopefully allow us to move the performance dates back. ...
"Having to cancel the performance completely would (be) completely devastating to us not only emotionally, but financially as well. Just like anything else, though, we are learning how we can adapt and move forward."
While the schedule is in the air, Tubbs said people buying tickets in advance would help "immensely. Once we know for sure performance dates, we will just be moving people that have bought tickets into their desired date."
CIRCA '21
Pressing pause on Circa '21 Dinner Playhouse's production of "Saturday Night Fever" in Rock Island also was a difficult but necessary decision, managers said. Circa's most recent plan was to return to the stage on April 1, but "I think our plans have changed at least three times since Saturday," producer Denny Hitchcock said.
Staff members called more than a thousand people who had tickets to see the show in its first week to reschedule attendance dates.
"We are doing the best we can" to accommodate everyone, Hitchcock said.
Hitchcock hopes that restrictions soon will be lifted. "The show is fabulous," he said. "It's just that nobody saw it except us."
Other upcoming shows on the docket currently for Circa are the children's show "Grace for President," scheduled to open in April, and Disney's "Beauty and the Beast," slated to open in May.
The Black Box Theatre in Moline also had to cancel the first week of its production of "The Turn of the Screw," making plans to instead open on April 2.
"Our biggest hope is that as this passes, audiences will make sure to buy tickets to the many entertainment venues we have right in our own backyard," said Lora Adams, Black Box co-founder and artistic director.
"I think every theater, whether they are nonprofit like us or for-profit, rely on ticket sales to keep the doors open," she said. "We can probably handle one month of being closed, but after that, we could be closed forever."
Canceling shows is heartbreaking, she said. Not only are those involved not getting paid, "everyone involved who (poured) their hearts into a production wants an audience to experience it with them," Adams said.
"Places like Circa, where waiters, cooks, box-office people work — this is how they pay their bills. Actors, who already don't make big bucks, have to find other ways to support themselves, and with this virus and everything closed, their options are scarce."
In the interim, Adams said, she set up a fundraising page for her birthday on Facebook "for donations for the theater to help me 'celebrate.'"
Across the river in Davenport, the folks at the Village Theatre — home of New Ground Theatre, The Village Idiots sketch comedy troupe, SUYP improv troupe and Crystal Crown Cabaret — are experiencing much of the same.
"We decided at a recent meeting to postpone our next several shows and rentals," said Matt Moody, general manager of the Village Theatre. That includes May's New Ground show and comedy shows.
"It's a terrible feeling," he said. "We work really hard at putting together shows and working events for our renters to put money back into this great old theater and produce high-quality entertainment."
The theater has set up a GoFundMe page at tiny.cc/txvklz.
"Every little bit helps," Moody said. "This will help us with lost income and assist us (in) covering our expenses during the shutdown. New Ground Theatre is a nonprofit and is staffed entirely with volunteers; all profits go into productions and maintenance of our building."
In the meantime, theater managers said it's important to remember that everyone is stressed and anxious to reopen.
"Out of these crazy-hard times, we will see a surge in the arts afterward when this is all over," Tubbs said. "Once everything is lifted and people are free to go experience live theater, we plan to be there to offer some amazing theater for people to escape to."
Until then, keep tabs on area theaters' Facebook pages and websites for updates.
Concerned about COVID-19?
Sign up now to get the most recent coronavirus headlines and other important local and national news sent to your email inbox daily.