The fact that it took four writers to pen this unfortunate script boggles my mind.
Watching "Arctic Dogs," a misleading title that would not lead one to think this is about an Arctic Fox, took me back to 2016, when I endured the awful "Norm of the North."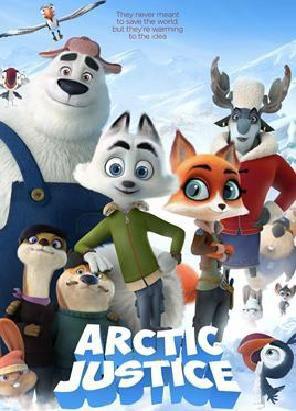 With characters aimed squarely at little kids, the script is full of adult-centric humor. What little kid wants to see a movie about fracking or job dissatisfaction?
Swifty the Arctic Fox (Jeremy Renner) is a mail-room worker at Arctic Blast Delivery Service, where the "Top Dogs," the sled-pulling husky couriers, are  superstar athletes.
Swifty longs to be among the chosen, but he is small and no one, especially his boss (Anjelica Huston) takes his dream seriously, try though he might for a promotion.
He decides to take matters into his own paws, swipes an old sled and delivers a package with unknown contents to a mysterious destination where he meets the evil genius Otto Von Walrus (John Cleese) and his puffin hench-birds.
Otto, of course, has a dastardly scheme to melt the Arctic ice (it's fracking, essentially) and he has enlisted the help of the unwitting engineer Jade Fox (Heidi Klum,) Swifty's kinda/sorta love interest.
You have free articles remaining.
Once Swifty realizes what's going on, with the Top dogs being held captive, he asks his friends PB (Alec Baldwin), a polar bear and goofy Lemmy (James Franco), an albatross,
This movie really isn't about Arctic dogs. It's about Swifty, the fox. Oddly, this is the second title for the film, which previously was "Arctic Justice."
The title isn't the worst of its woes. At the beginning, we see a wild, lengthy slide through the snow involving Swifty and PB, who loudly throws up off-screen. Flatulence is referenced throughout. At one point, an object hits Swifty below the waist. Triple ick.
The movie does have some positive aspects:
Swifty's ears are cute and move realistically (just as another character's did in "Norm of the North")
The voice talents are all enjoyable, at least to adults who will recognize them. Cleese had a grand time doing the walrus voice, and is fun to hear.
There's a seconds-long reference to The Beatles.
Also, a  clever moment at the very end is fun. Had the rest of the script contained this much wit, "Arctic Dogs" would have been a solid film.
A comparison with another animated family film is inescapable. Down the hall from this movie, "Abominable," one of the best movies of the year, is playing. It's smart, with gorgeous imagery, outstanding music and characters that will win your heart.
It's up to you grownups to decide which movie the little ones in your life deserve to see.