The Bettendorf filmmakers were among the most sought-after stars at the 24th annual Critics' Choice Awards.
For a moment, a trio of Quad-Citians met on the blue carpet, where cast and crew members from nominated films of 2018 made their way through interviewers and photographers.
Scott Beck and Bryan Woods, of Los Angeles, graduated from Bettendorf High School in 2003, and from the University of Iowa, with degrees in communication studies, in 2007. Along with actor/director John Krasinski, they wrote the screenplay for "A Quiet Place," a science-fiction thriller that earned Best Science-Fiction/Horror Movie at the awards.
I was on hand for the 24th annual awards show, televised live Sunday night from the Barker Hangar. Through my regular appearances on "Paula Sands Live!" on KWQC-TV, I meet the criteria to be a member of the Broadcast Film Critics Association, which began as a luncheon and now is a premier black-tie ceremony that is televised live (on Sunday it was broadcast on The CW).
I have been a member for many years, and originally attended the event when it was a luncheon. Over time, association president Joey Berlin moved the ceremony to a huge venue and transformed it to a black-tie event that is televised live. Because our votes often reflect what will happen at the Academy Awards later in the year, our nominees and winners are scrutinized by people in the industry and film aficionados alike.
On the way into the event, everyone passed through a metal detector — much like the process you would encounter at an airport. Right behind me was Ken Jeong (you'd recognize from "The Hangover" movies.)
Just past the metal detectors was the blue carpet. The blue-carpet entrances were broadcast live, too, at 2 p.m. Pacific Time. It was great fun to watch the stars come in to have their photos taken and to talk with interviewers.
I happened to be on hand toward the end of the row of journalists when I saw Beck and Woods being interviewed. After we hugged, I had my "I told you so!" moment — I told them immediately after I saw the movie in 2018 that I would see them at the awards show in January.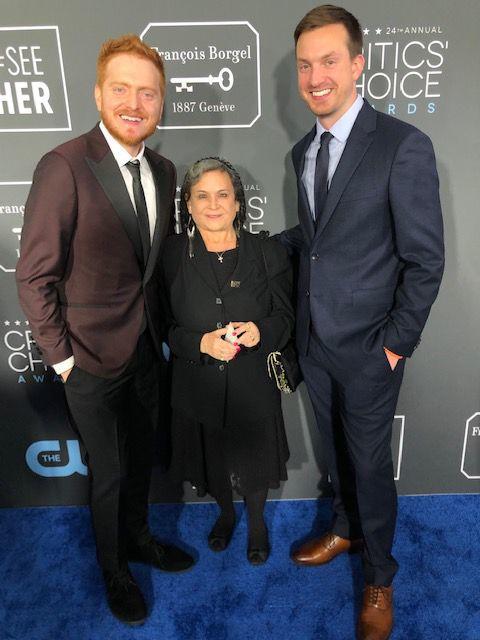 This year, I sat up front, across from Lakeith Stanfield, the star of "Sorry to Bother You," and several other film-industry professionals. Our table was a popcorn kernel's throw from the stage, so we were just feet, and sometimes inches, away from the stars and filmmakers who climbed the stairs to retrieve their awards.
I spoke with Woods and Beck right after the ceremony. Beck thanked everyone in the Quad-Cities "for fostering our film-making when we were teenagers out of Bettendorf, out of Davenport, Rock Island and Moline — all of the Quad-Cities there," Beck said.
"We miss our home very much, and we can't wait to go back to go back … to the Quad-Cities and make movies there forever. That's what we want to do. That's our dream," Woods said.
It was also great to see Glenn Close ("The Wife") and Lady Gaga ("A Star is Born") take the stage together when they tied for the critics' Best Actress award.
One of my favorite moments was a conversation with Giancarlo Esposito, one of my favorite actors (if you've watched television's "Breaking Bad" or "Better Call Saul," you've seen him as the owner of a restaurant chain).
Next year will be the 25th annual show, and I plan to be there. Meanwhile, Beck and Woods are working on a project they can't tell me about yet, as well as an adaptation of the Stephen King short story "The Boogeyman."