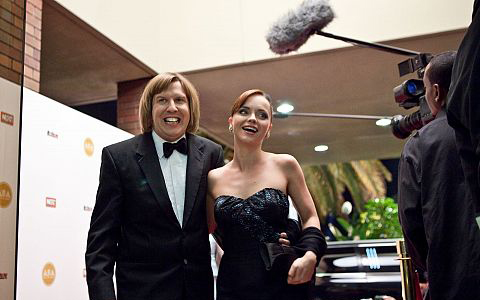 Putrid and completely unfunny, "Bucky Larson: Born to Be a Star" is a torturous exercise for a viewer.
I can't count the times I wanted to walk out of this ghastly excuse for a movie. Still, I stayed with it. I just couldn't bring myself to leave.
Over the years, I've said time and again that Adam Sandler has a vicious streak that spews forth into the dialogue of his movies. This one, from his Happy Madison production company, could be construed as a cruel prank on "star" (and I use that term loosely) Nick Swardson, a buddy of Sandler's who appears in lots of cameos in Sandler's other movies. It's almost as though Sandler is saying, "Yeah, you still can be my friend, but you have to star in this repulsive, humiliating script that's too horrible for me to make an appearance."
Swardson is Bucky Larson who, along with his parents (Edward Herrmann and Miriam Flynn), has a "Midwestern" - more or less Minnesotan - accent. They are supposed to live in Iowa, much to my dismay, in a setting that looks like it's from the 1980s, but is, I guess, supposed to be contemporary. Bucky bags groceries at a supermarket until he gets fired.
Soon afterward, Bucky joins his friends to "watch movies," which happen to be adult films from the 1970s. That's when, in an extremely awkward, disgusting moment, Bucky discovers that his parents were well-known porn stars from that era. He confronts them and they admit that they were indeed involved in the adult film business. ("We were going to tell you when you turned 50," they tell him.)
Now, Bucky thinks that being in this sort of movie is his destiny, so off he goes to Hollywood, where he meets a kindly waitress (Christina Ricci), his mean and nutso roommate (Kevin Nealon), a famous porn star (Stephen Dorff) who mocks Bucky and an old-time adult-film producer (Don Johnson) who tries to use Bucky in a scene that, well, doesn't work out. (There is so little I can write about this movie because of its content.) But the video becomes a national sensation when it's placed on the Internet.
The movie is swill, the worst of the worst. Don't even think about wasting your money on this garbage, which made me so angry I can't think of a clever line to close this review.