You could do worse than getting into "The Intruder."
That's intentionally faint praise for this average thriller. Not much will surprise you. Some of the audience members producing knowing giggles during certain scenes.
The movie goes to great lengths to make everything predictable and obvious, with characters making ridiculous choices that require suspension of disbelief from the viewer.
Still, throughout the corny, cliched carryings-on, Dennis Quaid has a field day with his maniacal character. His psychotic grin is so over-the-top it might make you smile in this Lifetime movie dressed up like a feature film.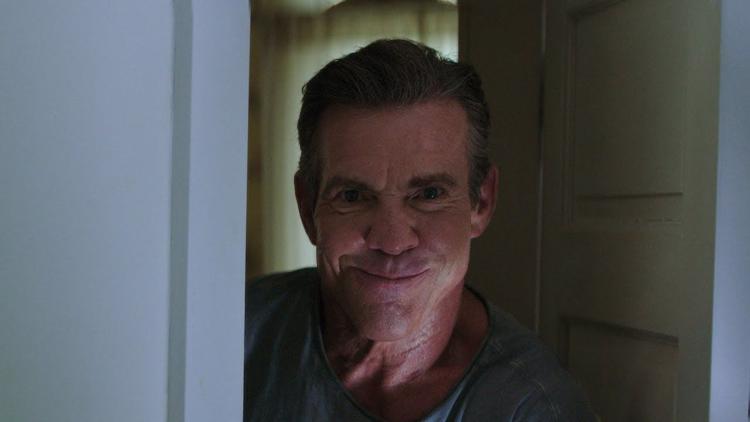 Annie Russell (Meagan Good, "Think Like a Man") and her husband Scott (Michael Ealy, who also starred in "Think Like a Man") seek their dream home.
They visit a Napa Valley home listed at $3.5 million. The owner, Charlie Peck (Quaid), scares the daylights out of them when he shoots a deer in front of them.
His great-grandfather built the house, so selling the house is an emotional challenge to Charlie. But he likes the couple, and offers to lower the price. Now he can sell the house and move to Florida, where his daughter is waiting for him.
The place is pretty rustic for Scott, who prefers the big city. But Annie loves the property. Now they can enjoy some romantic time together and start a family.
You have free articles remaining.
Register for more free articles
Stay logged in to skip the surveys
Problem is, Charlie appears at every turn. First, he's cutting the grass, and he has a lecture about keeping the property tidy.
He seems to want to arrive with advice or assistance nearly every day. Scott thinks Charlie is crazy, but Annie doesn't see that: She sees a well-meaning widower who has trouble letting go of the past.
Scott and Annie begin to argue about Charlie's presence in their lives. Charlie shows up to help Annie hang Christmas lights. In the meantime, Scott is having a very, very friendly drink with another woman.
Screenwriter David Loughery wrote "Lakeview Terrace," which is a close relative of this screenplay.
You'll feel sorry for the young couple, but you'll be glad to see Quaid while he grows ever more out-of-control. His against-type performance is a standout in this lesser film. It won't get him nominated for anything, but his wonderful holistic performance – watch him tense his muscles as his mind continue to unravel – will earn him street cred.
This is the kind of movie you take in when you want to be entertained but don't want to think too much, better suited for a matinee or an upcoming rental than it is a night out.
You'll want to make sure the door is locked when you get home.