I must confess this upfront: You could show me a documentary about penguins without narration or great cinematography and I'd be perfectly happy. I'd sit there for an hour and a half and happily watch these adorable creatures brave the elements and raise their young.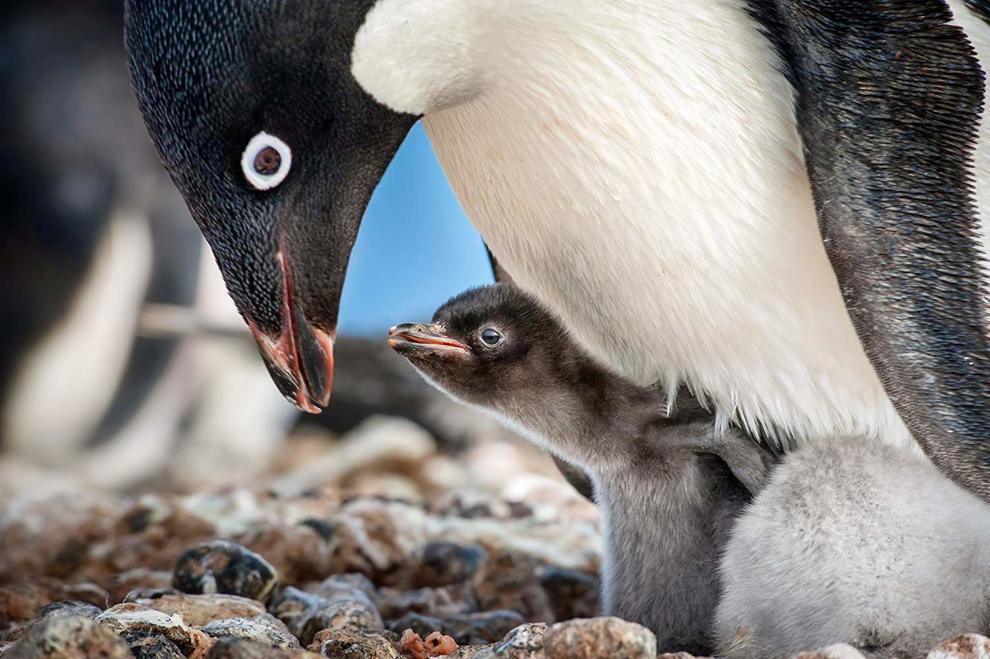 The new "Disneynature Penguins" documentary gives us about 77 minutes of that, and so much more. Directors Alastair Fothergill and Jeff Wilson, along with screenwriter David Fowler ("Born in China" and "Growing Up Wild") have created another wonderful look at delightful part of nature: Adélie Penguins.
One particular penguin, a clumsy Everypenguin named Steve (voiced by Ed Helms) is among hundreds of other penguins who seek mates in Antarctica. He's presented as an uncertain kind of character who is courageous but far from aggressive.
Nothing is easy for him, from the rock collecting – other birds keep stealing his treasures – to catching the eye of a female penguin.
Steve eventually attracts a mate, and they fall in love in a sort of dance to the tune of REO Speedwagon's "Can't Fight This Feeling" before they raise two children together. The adolescent birds are a sight to see: Their comical appearance reminds me of the appearance of the gremlin on the wing of the plane in the famed "Twilight Zone" episode "Nightmare at 20,000 Feet."
Sometimes his meanderings take him on a solo journey that puts him in peril. His mate and their children have their travels to make, too.
It's impossible not to compare this to the crowd-pleasing and critics' favorite "March of the Penguins," which takes a more serious look at these amazing creatures.
This is rated "G" with nothing offensive for any audience. But there are predators lurking about, and, although the scenes aren't bloody, some of the penguins succumb as prey. Additionally, predatory birds lurk near the young, so Steve and the other penguin parents must remain ever-vigilant.
The photography is incredible. I always marvel at how cinematographers capture certain sequences, from hundreds of penguins waddling toward a feeding ground to intimate shots of eggs hatching. spacious and exceptional. The footage took multiple cinematographers 900 days to shoot, and does it ever show, from the gorgeous views of the icy environment to mating rituals of the birds themselves.
My favorite part of the film is after the show, when the credits begin. That's when you'll get a sense of what the crew endured to get the wonderful scenes you've just seen. You get to see more penguins, too, while they interact – sometimes to hilarious effect – with the film crew.