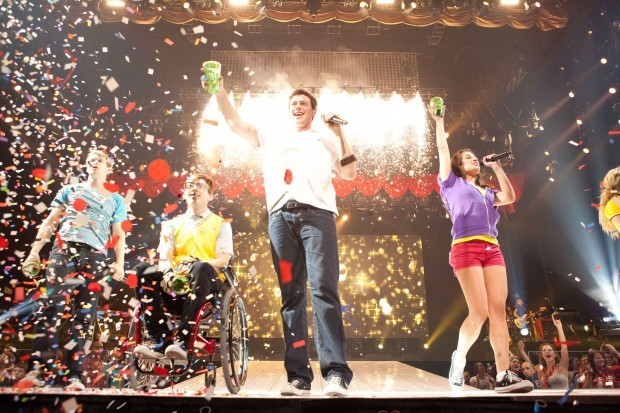 Time to get your Gleek on!
If you understand that sentence, you'll probably want to see this show. If you're scratching your head, maybe it's time you became acquainted with a television series that's a bona fide phenomenon.
The TV show "Glee," a mostly musical about performers in a student glee club, has captured the hearts of millions because it respects the differences of its characters. The show has been embraced by many viewers as a source of encouragement and strength.
"Glee: The 3D Concert Movie," a concert film and documentary, spotlights several Gleeks who discuss the profound effect that the show has had on their lives and how the show has helped them accept themselves for who they are.
Many of the performers, still in character, provide "backstage interviews" between performances of a variety of 24 tunes and dance numbers. Songs include "Don't Stop Believin' " and "Empire State of Mind." "Happy Days are Here Again" and "Get Happy" are performed by Rachel and Kurt (Lea Michele and Chris Colfer), Artie (Kevin McHale) sings the Michael Jackson hit "P.Y.T. (Pretty Young Thing)" and Mercedes (Amber Riley) performs "Ain't No Way."
You have free articles remaining.
The Warblers from Dalton Academy deliver several numbers, including "Silly Love Songs" and the Katy Perry hit "Teenage Dream."
Although I admit that I don't watch the show regularly, I have enjoyed what I have seen. So many viewers, particularly young people of junior-high and high-school age, identify with the characters, who carry forth an underlying theme about believing in oneself and being proud of who you are.
Among the fans who are interviewed is Rock Island native Trenton Thompson, who talks about what happened when his journal, which detailed the crush he had on another boy, was left for others to read. Now he is comfortable with identity, and he credits "Glee" for helping provide that confidence. A high-school girl who is a little person talks about the way "Glee" inspired her, as does another young woman who has been diagnosed with Asperger Syndrome.
Their stories are uplifting and easily could have provided material enough for another documentary: "A Glimpse at Real-Life Gleeks," or something to that effect. And then there's the adorable little boy, depicted at the end, who performs an entire Warblers performance right down to each dance move.
My only criticism is that the 3D is unnecessary - the show would have been just as entertaining without it and the higher admission price. But it does showcase a phenomenon and its fans - a sight that's worth seeing in any dimension.
Stay up-to-date on what's happening
Receive the latest in local entertainment news in your inbox weekly!