I used this picture of action star Jason Statham because, hey, I have a picture of Jason Statham and me.
Staham and Dwayne Johnson star in a new buddy cop flick. But because it contains these two action icons under the "Fast & Furious" brand, it's good fun – even when our heroes defy the laws of gravity in "Fast & Furious Presents: Hobbs & Shaw."
The characters of Hobbs (Johnson), an agent of the U.S. Diplomatic Security Service, and British Shaw (Statham), who previously was a military elite operative, met in an earlier film of the franchise.
Their outward dislike for each other conceals a grudging mutual admiration. But now they have to team up to … you guessed it … save the world from the genetically enhanced villain Brixton (Idris Elba) and his bio-threat.
I love the way director David Leitch ("Deadpool 2" and "Atomic Blonde") uses a split screen to depict the leads in their vastly different environments, right down to their clothing and choice of drinks - and approaches, then finally brings these opposites face to face so their bickering can continue.
A rogue agent named Hattie (Vanessa Kirby,) who injected herself to keep it out of Brixton's hands, is carrying a deadly virus that will wreak havoc within 48 hours when it becomes airborne. That is, unless our heroes can figure out a way to stop it.
Brixton, in the meantime, is a kind of cyborg with colossal strength and agility. It's going to be tough for the seemingly invincible Hobbs and Shaw to take him down.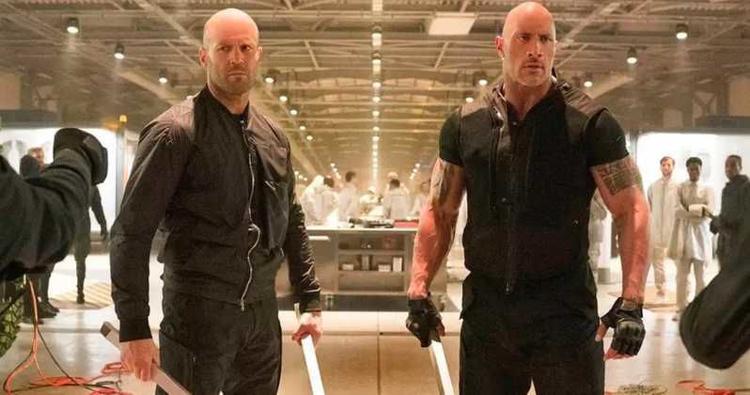 You have free articles remaining.
Register for more free articles
Stay logged in to skip the surveys
The movie takes the audience all over the world, including Russia, England, the United States and Samoa. Along the way, the characters learn important lessons about what really makes a family and how important family really is.
Of course, the air is thick with testosterone as Hobbs and Shaw duke it out and shoot it out with various bad guys. Hattie (Vanessa Kirby, Netflix's "The Crown") keeps the machismo from becoming too intense and demonstrates Hobbs and Shaw aren't the only tough cookies who know how to fight.
The action, especially when it comes to the Samoan setting, is thoroughly enjoyable, with fights that involve weaponry and others that do not, incredibly hot cars and a scene involving a helicopter that's an absolute hoot.
Some cameos – it wouldn't be fair to say more than that, or it'll ruin the surprise – add to the comedy.
Vin Diesel does not make an appearance here; instead, he is a producer. Maybe he'll return in another spin-off or the next "Fast & Furious" production.
Yep, another "Fast & Furious" is on the way. Like the action that makes these films so likeable, they show no sign of slowing down.
P.S. Stick around for the extra scenes during and after the credits.