I'm not talking only about the third and final installment in the "How To Train Your Dragon" franchise. I'm talking about the entire series – its characters, dialogue, artwork and music.
This is a fitting finale to a trilogy that will be beloved for many years to come.
Director and writer Dean DeBlois once again focuses on the relationship between Hiccup (voice of Jay Baruchel) and Toothless, his Night Fury dragon who also acts as his transport.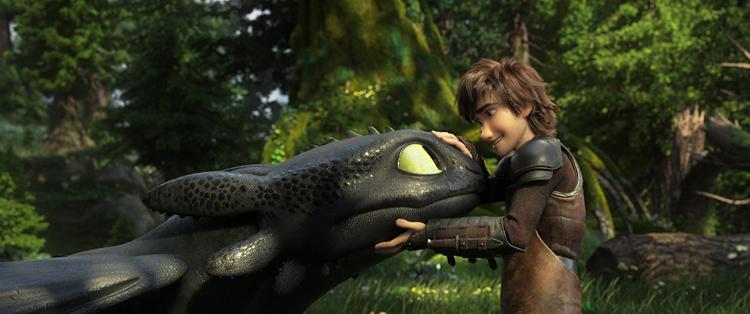 The region of Berk teems with dragons that live happily, and sometimes comically clumsily, with their human hosts. Hiccup now is the leader of the residents that include his girlfriend Astrid (America Ferrera) and mother Valka (Cate Blanchett.)
Astrid and Hiccup make quite a team, so it's no wonder those around them encourage them to wed. Hiccup has a love interest, too: A sparkling female Light Fury appears.
Unfortunately, there's another newcomer, too: A dragon slayer named Grimmel the Grisly (F. Murray Abraham.)
Hiccup decides to find a place where the dragons and human can live hidden away from the rest of the world. That solution may not be as simple, or even as possible, as it appears.
I like the way the characters have developed, with their personalities true to the people and dragons we encountered in the first film. They still present quirky situations and scenes that are lovably comical.
It is a beautiful sight, from the array of colorful dragons that range from wee dog-sized versions to lumbering, goofy critters. The look of the environments is incredible. Believe it or not, one of the most romantic sequences you'll ever see involves Toothless and the Light Fury engaging in a breathtaking ballet of flight that takes them through the skies.
And the music …. Oh, the music. Anyone who loves choral music and ethereal vocals will be pleased simply by the lush sound of this score.
Grammy winning composer and conductor Eric Whitacre and his singers teamed up with composer John Powell for the score, and the result is superlative. Throw in the shimmering vocals of Jónsi (Sigur Rós) and you have a score that is sure to be among the finest, if not the finest, of the year.
This is a bittersweet story about the nature of humans and their predatory nature, particularly when it comes to such amazing creatures as dragons. It isn't always happy, but it always makes sense.
Children will be delighted with it, but this timeless tale will delight grownups who want to believe in dragons, too.