Pika pika! The new "Pokémon Detective Pikachu" movie is better than average and certainly worth catching.
My personal bias is showing. I'm a player and a great fan, although I'm not a lifelong Pokémon aficionado. I began to play not quite three years ago, when the "Pokémon Go!" craze swept the planet.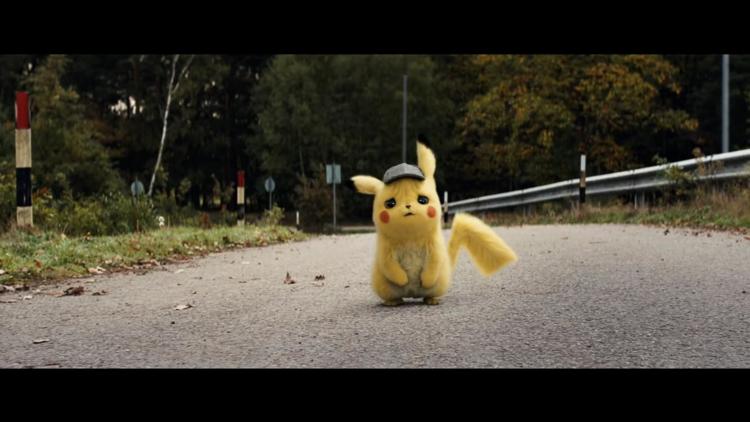 While the faddish aspect of the phenomenon died down, millions of us diehards continue to play, staggering through parks and down streets while we catch, swap and fight creatures invisible to those who do not indulge.
I discovered Pikachu many years ago in a cool comics store in Iowa City, where a bright yellow figure – I think it may have been a coin bank – caught my eye.
Pikachu has been, and always will be, my favorite Pokémon.
You don't see him right away, of course. The first character we meet is Tim Goodman (Justice Smith, "Jurassic World: Fallen Kingdom") who has an encounter with a Cubone (gamers will get a kick out of his reaction to the creature.)
Tim is the son of a detective who has met an untimely death and, although Tim wasn't particularly close to his father, he is obliged to go to his office/apartment in Ryme City.
In this region, Pokémon and humans live and work together.
He is destined to have one, though. Pikachu (voiced by Ryan Reynolds, in a kind of watered-down version of his "Deadpool" delivery) doesn't just say "Pika Pika!" At least, not to Tim's ears. He can understand the little yellow guy just fine, although no one else can.
After they meet, the movie begins a sort of buddy-cop flick in which the Tim and Detective Pikachu try to solve the mystery of the death of Tim's dad in this world where Pokémon battles are held in underground arenas.
I really liked the determined but not official reporter Lucy Stevens (Kathryn Newton, "Ben is Back") with a Psyduck as her partner.
The screenplay is fine, but it doesn't offer many surprises.
By far, the most enjoyable aspects of the film are the environments and the look of the Pokémon (the Growlithes are particularly engaging). There's a sort of a "Blade Runner" feel to the city, with its bright colors and huge populations of Pokémon and people. Pikachu and Tim make their way through a wonderful street market, where it's great fun to spot various Pokémon, which have a variety of textures that will delight those familiar with them.
The coolest moment occurred when I walked out of the auditorium after I enjoyed the entertaining credits sequence. A friend (thanks, Brian!) helped me catch a Detective Pikachu right there in the lobby, where – intentional or not - swarms of other Pokémon featured in the movie were on hand.
If you're a Pokémon fan, just go.