"Annabelle Comes Home" is more than a series of jump scares, although it certainly does feature those.
It's about loss, grief and faith, with a smart script about characters whose motivations we understand. This is the third in the "Annabelle" series, which is a spin-off of the "Conjuring" universe that also includes "The Nun."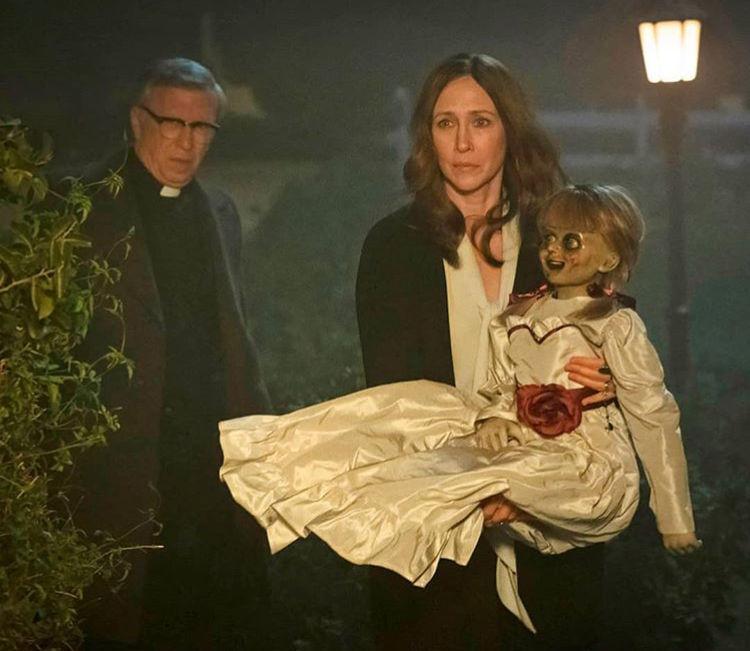 The show begins with the Warrens, who have a doll named Annabelle, in their car while they are traveling. The doll, they determine, is a kind of conduit for spirits and other paranormal entities.
After a priest blesses the doll, they lock it in a case in their museum of objects relating to cases they have investigated.
When Ed and Lorraine leave for a couple of days, their daughter Judy (Mckenna Grace, "Gifted") has a babysitter named Mary Ellen (Madison Iseman, "Jumanji: Welcome to the Jungle.") Mary Ellen stays over at the Warren home, where her best friend Daniela (Katie Sarife) insists on visiting.
Daniela keeps nosing around about the work the Warrens do — she seems a little obsessed with them. She even hounds Judy for more information.
We know Daniela is sure to head to the museum of the Warrens' artifacts, and that she will not leave the Annabelle doll alone. When we find out what's she really up to, it provides an interesting insight in Daniela's character.
Another visitor arrives, too. The good-natured Bob (the wonderful Michael Cimino) has a crush on Mary Ellen, who returns his affections. Because the Warrens aren't home, Mary Ellen won't let him into the house — but that doesn't mean he can't linger outside.
The buildup to horror is a slow one. It takes a while before the "Boo!" moments, which are worth waiting for.
The capable young performers all have back stories. They're not just cardboard cutouts that move around to face the upcoming mayhem.
There are nods to previous movies — notice the painting in one shot, and take note of the Raggedy Ann doll on a television where we see a few moments from a game show (this is a nod to the actual Annabelle, a Raggedy Ann doll in the Warrens' collection).
According to www.imdb.com, another spin-off, "The Crooked Man," based on the old nursery rhyme, may be on its way as part of the "Conjuring" universe. Additionally, perhaps the mantle will be passed along to the Judy character, who certainly could continue the work of her parents.
However it continues, I'm sure Annabelle won't stay locked up forever. And this series is far from over.
Stay up-to-date on what's happening
Receive the latest in local entertainment news in your inbox weekly!