"A Reindeer's Journey" opens just in time for your family to learn about what reindeer really are like - even while strains of a song about their famous fictional red-nosed counterpart ring through the air.
The movie was filmed across all four seasons in Finnish and Norwegian Lapland. The star is Ailo, whom we meet, in a way, before his birth.
The marvelous tones of Donald Sutherland narrate, with just the appropriate touches of whimsy and sympathy directed toward all the animals involved.
Ailo's mother is about to give birth, and leaves the herd to have her baby. The saying is, Sutherland tells us, the newborn has five minutes to learn to stand, five minutes to learn to walk and five minutes to learn to run and swim.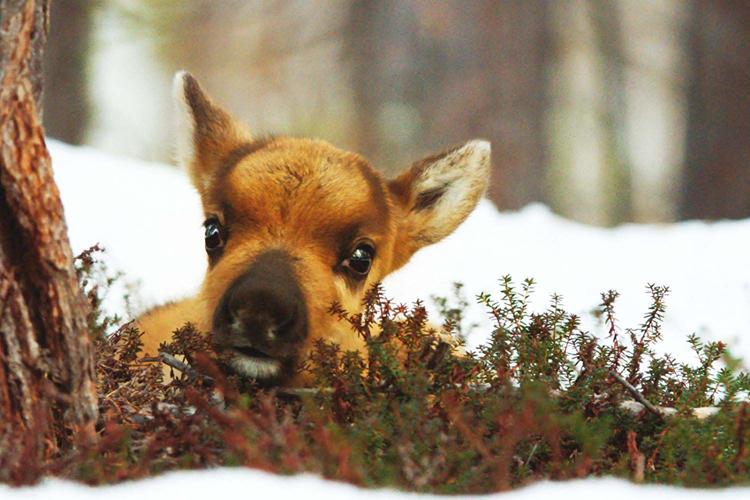 His mother must decide whether to abandon her baby and return to the herd, or nurture Ailo and try to catch up with the others later. Suspense builds while she makes her decision, but it's no surprise that she stays behind and urges Ailo to his unsteady feet.
Guillaume Maidatchevsky's debut feature follows Ailo through the first year of his life.
Every moment is fraught with danger from the elements to the presence of other creatures such as wolverines and wolves. Sutherland tells us that half of the newborn reindeer die before they reach the age of 12 months.
You have free articles remaining.
Some of the situations and characters are comical and cute. A lovely lone fox journeys in search of a mate, for example. A rabbit hops onscreen with some comic relief - talk about a Bambi and Thumper moment - and a white stoat's energetic antics are fun to see.
Then there are the lemmings, which face predators at every turn. They are referred to as "the chicken nugget of the Arctic." One loses its life to an owl.
Although the film is suitable for most ages, it is not without its tragedies, and these are not always easy to watch. Animals hunt and kill each other, although the director wisely shies away from showing us closeup deaths. Additionally, we see some dead animals.
The show displays the true cycles of life and death, particularly the fragility of survival in an environment affected by humankind's intrusion on migratory patterns of the reindeer.
The predators, while they are depicted as threatening, are not shown as villains. A wolf, for instance, is trying to feed her cubs.
The cinematography is nothing short of astonishing, from the gorgeous aerial shots to incredible closeups of the animals.
The young star is full of grit and charm, whether he crosses an icy river soon after his birth or finds his place in the herd.
This is a fine film that will be equally enjoyed by adults and children at any time of the year.