Despite the presence of those horn-tipped wings, "Maleficent: Mistress of Evil" never really takes off.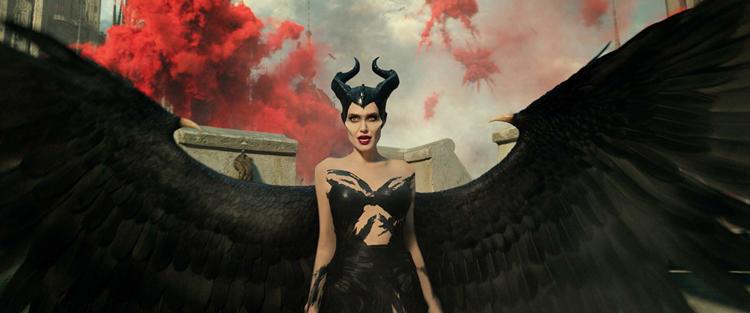 It brims with scads of CGI creatures and action, along with a bloated running time, all of which detract from the central characters and their relationships.
Once again, Angelina Jolie is Maleficent, godmother of Aurora (Elle Fanning).
When Princess Aurora appears in a beautiful outdoor setting, it turns out many creatures are on hand for a surprise (to Aurora, anyway) proposal from Prince Phillip (Harris Dickinson.)
The marriage is more than a romance, it's historic: It could unite the fairy world with that of humans.
Of course, Maleficent must come to the celebratory dinner with the prince's parents, Queen Ingrith (Michelle Pfeiffer) and King John (Robert Lindsay.)
Maleficent is accompanied by a raven who is her familiar (Sam Riley.) In an enjoyable scene, Maleficent practices being cordial, but she fails miserably at the niceties of the social occasion when the royal couple tries to make small talk with her. (It's also fun to watch the townsfolk scurry away when Maleficent heads toward the palace).
You have free articles remaining.
Register for more free articles
Stay logged in to skip the surveys
Disaster ensues, and Maleficent, who flees the scene, gets all the blame. Now separated from her beloved Aurora, Maleficent discovers she isn't all alone. Some of the other fairies like her want to wage war on humans because people have treated them so cruelly.
In the meantime – and this will come as no surprise – the queen has quite a few secrets, and they're unpleasant.
The movie does include some eye-catching moments, especially when Maleficent flies around a hidden world with others of her kind. She sees children, in particular one child delighted for the first time with the gift of flight, along with families in the community. This is an enjoyable sight to behold, especially because we see it from Maleficent's eyes.
As was the case in the previous film, I like the look of Maleficent, with her towering horns, which Aurora wants to cover with a scarf, and her blade-sharp cheekbones. Although Fanning isn't the one decked out in CGI and feathers, she's wonderful as the princess who finds herself torn between two families. Her performance far outshines the screenplay.
What is maddening is the presence of chattering, skittering CGI creatures – both big and small – that take up far too much of the movie's time and focus. More revelations about the relationships of the main characters and their pasts would have been most welcome in this story about betrayal and misunderstanding.
Disney can, and will, do better than this average story decked out in far too many special effects. I can't wait to see the live action "Lady and the Tramp."