It's still fun and heart-warming. It's just that the humans, and not so much the pachyderms, are the stars of "Dumbo."
Tim Burton puts his recognizable touch on live-action reboot of the 1941 animated Disney classic. He has dispensed with the talking animals and the finale: Purists, beware. This is more of a Tim Burton film than a Disney film.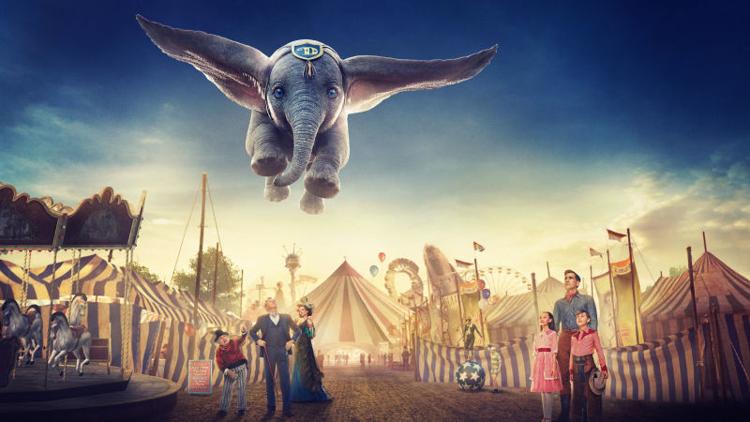 The movie begins with the return of a widowed World War I war veteran who comes home to his children and the traveling Medici circus that was their home. Holt Farrier (Colin Farrell) has lost an arm in the war, and is greeted with pity by his former colleagues, including Max Medici (Danny DeVito).
The circus continues despite hard times, so challenging that Max has sold the horses with which Holt once performed. Holt's daughter Milly (Nico Parker, who looks exactly like her real-life mother Thandie Newton) and his son Joe (Finley Hobbins) are glad to see their father but worry about the future.
Max, in a desperate bid for an act that will pack the big top, buys a pregnant elephant because he figures the baby will be an attraction. The little guy does indeed draw attention because of his incredibly large ears. His appearance is so unusual that the crowd and even some of the circus members mock him.
Tragedy ensues, and Dumbo and his mother are unfairly separated. When the children try to comfort the baby elephant, they discover he can fly under the right circumstances, which involve a feather.
Suddenly, Max has a headline-maker on his hands — that is, until V.A. Vandevere (gloriously played by Michael Keaton) asks Max to be his partner, with the Medici troupe performing in Vandevere's Disneyland-like park.
You have free articles remaining.
Vandevere insists his trapeze artist Colette Marchant (Eva Green) ride Dumbo while he flies around the tent.
Although Dumbo isn't really the main character, he's certainly in the center ring at times, particularly when he becomes airborne. This CGI creation, with his blue eyes and ears so large he trips over them, is adorable.
"Baby Mine," the Oscar-nominated tune from the original film, is performed once during the movie and again at the end, and it's incredibly touching.
I loved the look of the film, which has Burton's curlicued, silhouetted environments throughout the big amusement park. Longtime Burton collaborator Danny Elfman provides the enjoyable score.
Themes of embracing those with differences and being kind to animals will touch the hearts of all ages.
The film is almost twice as long as the original, which is a scant 64 minutes. Its standouts include DeVito, Farrell and Green, who gives her character depth and a certain mournfulness she provides beautifully.
Speaking of beautiful: Just wait until the last scene. It's as if the animators tell the audience "You ain't seen nothin' yet."