Boy, this is almost hellishly bad.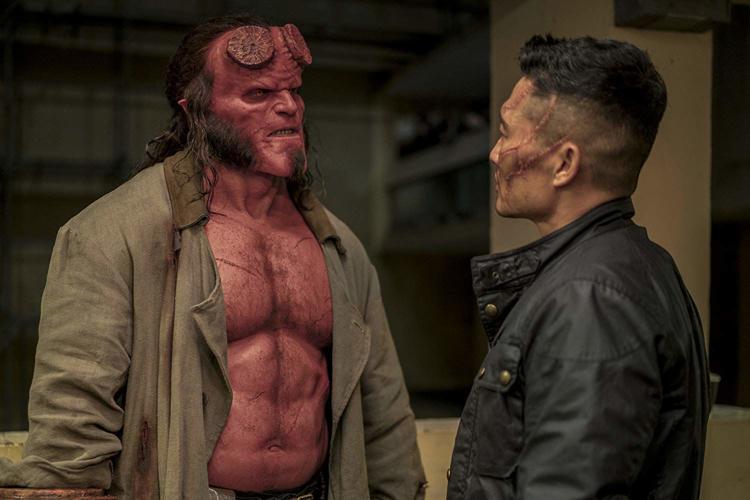 The aptly named "Hellboy," an unnecessary reboot/origins tale that's a far cry from the entertaining Guillermo del Toro films, is a mess of CGI, loud metal and carnage.
I'm not sure what prompted this. Maybe it was the Netflix hit "Stranger Things," which stars David Harbour, who takes over as Hellboy, a character played by Ron Perlman in the earlier shows. Harbour is one of those under-sung, dependable performers. Possibly someone saw his strong character in "Stranger Things" and thought he would make a good Hellboy.
This incarnation and the mind-numbing expository dialogue and narrative starts in the 500s – yes, you read that correctly – and a bizarre connection to the King Arthur legend and a wicked Blood Queen (Milla Jovovich) who has been dismembered and whose head is encased in a box.
Fast forward to contemporary times, when Hellboy works for his father (Ian McShane) at the Bureau of Paranormal Research and Defense. Hellboy, who is a demon and came to our world sometime ago (he doesn't look his age,) is on the side of good.
He tries to save a friend who has become a vampire, then goes on to meet many fiends and creatures, including the lecherous, nimble witch Baba Yaga, who lives in a house that strides along on chicken legs.
We know early on that he will reckon with the Blood Queen, who is trying to regain her powers and dispatch her minions to destroy England. Along the way, he does battle with a pig monster and hulking giants, among other entities.
Hellboy's new companion with ties to his past is a seer, Alice (Sasha Lane, "American Honey.") Ben Daimio (Daniel Dae Kim, television's "Lost") also joins him – but is Ben a friend or a foe?
Harbour works – you should pardon the expression – his tail off. He gives his character – who looks pretty cool - just the right doses of smart-alecky snark. Because the film lacks del Toro's deft hand, it's unfocused. Most times, the screen quite literally crawls with CGI.
Its "R" rating provides gallons of blood and all kinds of dismemberment and violence, none of which enhances the story line.
Because of the inordinate amount of CGI, this has more of the feel of a videogame than a feature film.
It may please fans of the comic, to which it is pretty true, and gore-hounds who love this sort of violence.
For those of us left longing for the del Toro version, this Hellboy is a devil of a misfire.