First, "La Llorona" is indeed a Mexican folk tale. It's creepy and sad enough to deserve a movie.
What you'll see in "The Curse of La Llorona" is just about what you'd expect: A ghost story that's a bit above average.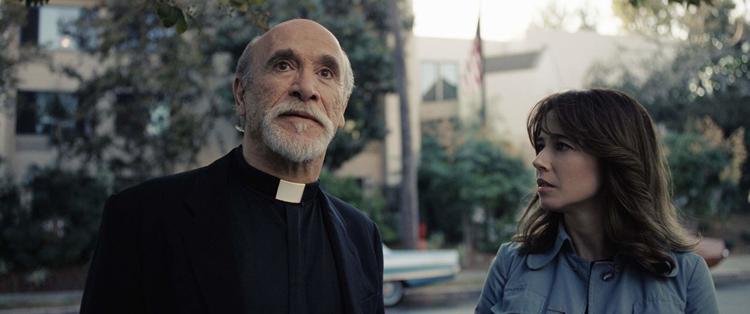 This is part of the "The Conjuring" universe, which has ranged from less-than-stellar to smart and fascinating.
La llorona, "the crying woman," is the ghost of a mother who drowned her children hundreds of years ago in an act of revenge. The ghost of the woman, horrified by what she did, now tries to steal other people's children.
Anna Tate-Garcia (Linda Cardellini, on a neighboring screen in "Avengers: Endgame") is a social worker whose husband recently has died, leaving her with two children to raise.
At the beginning of the story, Anna discovers two children behind a door with strange markings – a door the kids' mother begs her not to open.
Anna sees terrible burn marks on the children, who are terrified and reluctant to talk with her. She thinks they are afraid of their abusive mother.
After tragedy ensues, Anna's children become haunted by the specter. Although Anna knows about the legend, she still cannot believe what she has been told until she must face the fact her children's lives and her own are at stake.
Not much about the story in general will surprise you, but will enjoy a few scare moments, including an incredibly effective sequence involving an umbrella that's worth a few shudders and another set in a parked car. This has some really cool visuals.
I've always enjoyed Cardellini, a versatile actress who is really good here at being a terrified mother who doesn't want to believe what's right in front of her. Also convincing are the children, who really make the viewer believe they're in the midst of something frightening: Watch their reactions when the ghost appears.
It's cool to see Father Perez (Tony Amendola) again, and Raymond Cruz (recognizable from television's "Breaking Bad") is on hand as a one-time priest who uses "unorthodox methods" to deal with the paranormal.
The finale really devolves into the standard horror fare. This franchise, which can branch off into so many different incarnations, if you will, is far from over – you can hear the crying woman weeping at the end of the credits.
As long as people continue to embrace "The Conjuring" spinoffs, the franchise will stay alive. Something tells me La Llorono will make at least one more appearance on the big screen.