For grownups only, the smart "Long Shot" cleverly skewers politics while it delivers laugh after (sometimes-raunchy) laugh.
Charlize Theron plays Charlotte Field, U.S. Secretary of State, an orderly, poised politician who scrupulously protects her image of sophistication and capability. She takes "micro-naps" standing up because otherwise she doesn't have time for sleep.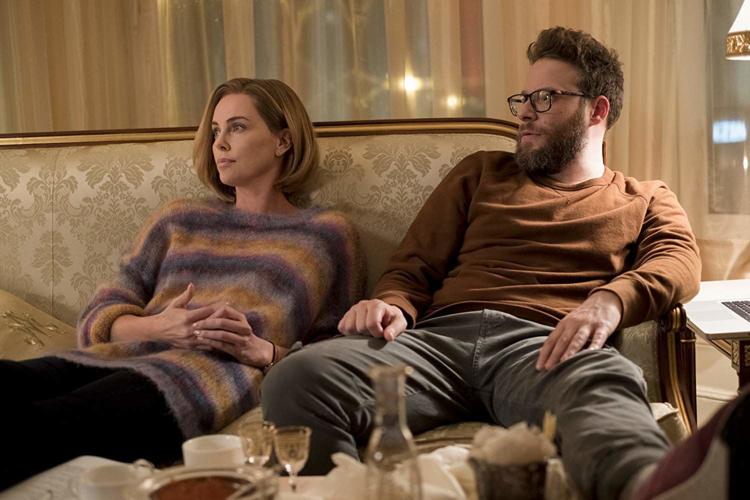 Seth Rogen is Fred Flarsky, an angry, slovenly journalist who writes for the Brooklyn "Advocate."
The two grew up as neighbors, and shared an embarrassing moment when she was his babysitter.
Fred, facing unemployment, goes to a fancy gathering with his best friend Lance (O'Shea Jackson Jr., "Straight Outta Compton") who figures it's a chance for Fred to get wasted and meet Boyz II Men, who are performing there.
Charlotte is accompanied by advisers Maggie (June Diane Raphael, "The Disaster Artist") and Tom (Ravi Patel, Netflix's "Master of None"), along with Agent M. (Tristan D. Lalla, television's "21 Thunder") for security.
Fred recognizes Charlotte. "You kind of know Charlotte Field?" asks Lance. "It's kind of like knowing a mermaid."
Charlotte fondly remembers Fred, and ends up hiring him to be her speechwriter. The current president (Bob Odenkirk in a delightfully dimwitted character) has decided to pursue a new career as an actor, and won't run again.
You have free articles remaining.
Register for more free articles
Stay logged in to skip the surveys
Charlotte decides to run for president, so she needs Fred to provide her with carefully thought-out remarks. They end up traveling together throughout the United States and in other countries while sophisticated Charlotte tries to explain to Fred how important his appearance and demeanor are.
The oddball pairing really works. The two characters argue about the give-and-take of politics, but they mostly agree on what's important for the country.
On the surface, this appears to be a "PG-13"-rated romantic romp. It is not. These characters abuse drugs, spew profanities and engage in all kinds of sexual activity.
If you enjoy Rogen's other roles, you'll enjoy this one. He's bumbling, yes, but he holds tight to his integrity.
Not surprisingly, Theron is terrific. She can become any character, from a serial killer to an exhausted new mother, after all, and she embraces this character who finds her carefully structured world torn asunder by the force of nature that is Fred.
The secondary characters are just as enjoyable as the leads. I love the way Maggie instantly tries to dissuade Fred from working for Charlotte — she spots potential danger before anyone else does, and recognizes the threat that Fred's awkwardness could pose to Charlotte's carefully groomed persona and career. An unrecognizable Andy Serkis is an insufferable politician who adds to much of the comedy.
You may never look at political speeches or hidden cameras the same way.