I hope "Missing Link" is a monstrous success.
It deserves to be. It's clever, it has great character development and oh, my, is it ever eye-catching.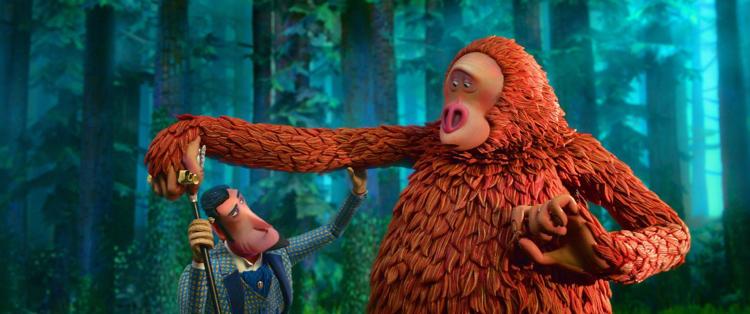 We first meet Sir Lionel Frost (voiced by Hugh Jackman) as a dashing, attention-seeking adventurer. He has a close encounter with the Loch Ness Monster, but ends up with no proof of what he has seen.
More than anything, he wants to belong to The Optimates Club, an explorers' club whose members think he isn't good enough to join their ranks. The club's arrogant president (Stephen Frye) mocks him, which gives him more motivation to join its ranks
He decides to set off to the Pacific Northwest to find the missing link, aka Sasquatch. He takes with him a mysterious letter urging him to find the big-footed creature.
And, and after many travels, he does — this isn't a spoiler if you've seen the trailer. Their first meeting is awkward because Mr. Link (Zack Galifianakis) is nervous and has a frog in his throat. He hasn't spoken to anyone for a long time.
It turns out that he wants something from Lionel, who agrees to the request. So the two take off on another adventure, with the disguised Mr. Link, aka Susan, trying to pass for a human.
They are joined by Adelina (Zoe Saldana), who holds a key to their quest. All the while, they are pursued by a wily bad guy who boasts the marvelous name of Stenk (Timothy Olyphant.)
I love the way Lionel and Mr. Link interact. Lionel is naturally sarcastic, and Mr. Link takes things literally. Often, their misunderstandings are the humor in the dialogue or result in a catastrophe the two must face together.
I also love the stylized characters, with their impossibly skinny legs, colorful attire and interesting noses. Of course, at the center of it all is the cuddly-looking, orange Mr. Link.
The brilliant Chris Butler, who also wrought the incredible "Kubo and the Two Strings" (you should see it you haven't already — it's remarkable) wrote and directed this superlative film. It's his best yet, with charming elements of offbeat British humor that will appeal to adults and kids alike.
Carter Burwell's notable score is wonderful.
This is another entertaining movie from Laika studios, which also gave us "Kubo" and "The Boxtrolls." Once again, Laika gives us memorable characters and gorgeous stop-motion animation that's delightful right down to the details (just look at Lionel's houndstooth attire.)
The details during the credits are delightful, with the credits written as notes on maps and luggage. Keep your eyes peeled for a seconds-long demonstration of how the models and environments were created by the hard-working crew.
Mr. Link provides the last image at the very end of a show that's bound to be a big hit with families and animation aficionados of all ages.