"Scary Stories to Tell in the Dark" has a nostalgic atmosphere in more ways than one.
First, it's based on a series of books by the same name that first were published in the 1980s as horror stories for kids.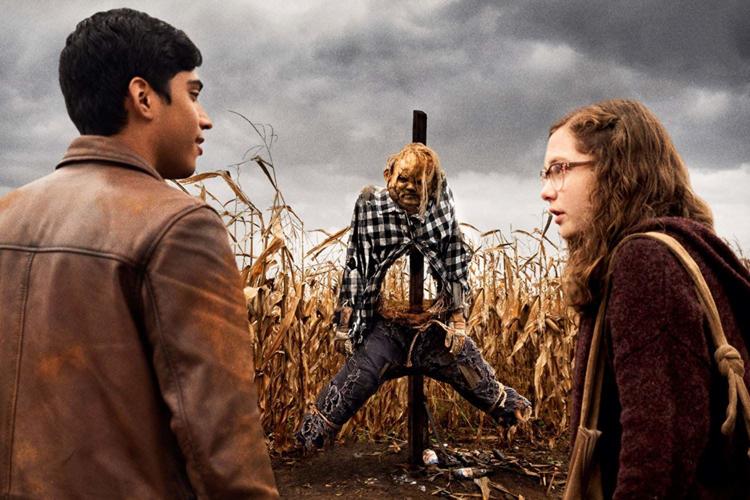 The film, which is rated "PG-13," and thus far gentler than the usual "R"-rated fare with tons of blood and guts, scores higher on the creepy-ometer than it does in gore.
Dan and Kevin Hageman "(The Lego Movie") and director André Øvredal (the marvelous "Trollhunter," a seldom-discussed but masterful flick genre-bending film), based the script on a story by producer Guillermo Del Toro, Patrick Melton and Marcus Dunstan.
The movie's format has a 1980s feel. It has an overarching plot on which several horror stories hang — a little like "Cat's Eye" or the "Creepshow" flicks from that era. Its 1968 setting will be familiar to older viewers and interesting to those decades too young to remember it.
Michael Garza ("The Hunger Games: Mockingjay — Part 1") is Ramon, a Mexican drifter who is passing through a small town during an era when young men are being dispatched to Vietnam and Richard Nixon is about to become president.
You have free articles remaining.
Although Ramon is a stranger he quickly encounters some other teenagers on Halloween night.
Stella (Zoe Margaret Colletti, "Wildlife") is a horror aficionado and child of a single parent (the marvelous Dean Norris, whom viewers may recognize from the "Breaking Bad" television series.) She goes out on with her friends Auggie (Gabriel Rush, on a neighboring screen in "The Kitchen") and Chuck (Austin Zajur, "Fist Fight").
The trio tries to attack a cold-blooded bully named Tommy (Austin Abrams, "Puzzle") and their prank turns sour when he pursues them with his own friends … along with a baseball bat.
After Ramon helps them escape, he joins them for an adventure in the town's haunted house where the mysterious Bellows family once lived. Daughter Sarah supposedly once lived in a locked room, where she wrote creepy stories.
Stella finds an old book that turns out to be — wouldn't you know it? — Sarah's volume of stories. She takes the book home, and Sarah begins to write again in stories that appear right before Stella's eyes.
Stella's friends become the "stars" of Sarah's stories, and they begin to meet the most ghastly of fates while Sarah and Ramon try to figure out how to stop their stories from being written.
Del Toro's touch of making the monstrous come to life is evident there. The grotesque apparitions are great fun, even when the movie lags a bit.
It's a celebration of writing and telling stories. Readers, story tellers and those with a penchant for things that go bump in the night are the audience for this movie.