"There's a family in our driveway."
Creepier words never were spoken. "Us" may not be the horror movie you expect, but it's smart and exhilarating, right down to the final moment.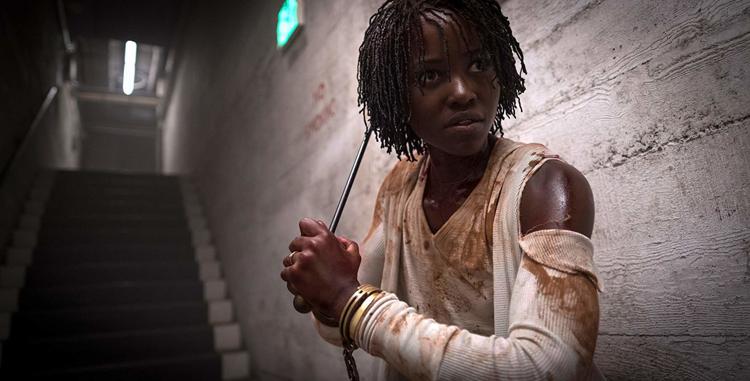 Jordan Peele's brilliant follow-up to the wonderful "Get Out" is at times breath-taking, at times sinister and at times comic. There's more than a hint of social commentary here, too, although it's the creep factor that remains on the surface.
The movie starts with some text about a series of tunnels under the United States – that's important. Then, in a flashback from 1986, a little girl named Adelaide goes off by herself away from the Santa Cruz boardwalk during a storm. She enters a hall of mirrors and sees another little girl who is almost her reflection – except she's real.
The movie fast-forwards to the present, with Adelaide Wilson (Lupita Nyong'o, "Black Panther") an adult with her husband Gabe (Winston Duke, also from "Black Panther") and two children (Evan Alex and Shahadi Wright Joseph.) They are on vacation in Santa Cruz, where Adelaide begins to feel more and more uneasy, bothered by visuals and coincidences.
She tells Gabe she wants to leave. Just when they prepare to take off, their son comes running in with the announcement "There's a family in the driveway." And so there is: A motionless family that remains in the shadows … at least, at first.
And then let the massacre begin.
You have free articles remaining.
One hint as to what transpires is the presence of Elisabeth Moss (television's "The Handmaid's Tale") who stars as part of another couple vacationing with the Wlsons.
Moss starred in the 2014 "The One I Love," also about another "identity crisis," if you will. "Us" definitely is a close relative of that movie.
Also, a Bible verse appears twice. I'm guessing "Jeremiah 11:11" will be one of the hottest web searches this weekend after people see this film. That's not the only place 11:11 appears, either. I'll let you find those for yourself.
On the film's surface, it's a home-invasion horror movie. If you seek a story with an underlying social conscience, you'll be equally entertained.
The acting is phenomenal, especially – and not surprisingly – from Nyong'o, who turns in what is sure to be one of the top performances of the year.
I was surprised at how often and how deftly Peele was able to lighten the mood without detracting from the overall tone.
I'd love to tell you more, but it wouldn't be sporting to let you in on too much. The surprises are part of the fun, the horror, and the thought-provoking commentary Peele makes on society.