It doesn't have the depth of an instant classic. The colorful romp "Wonder Park" does have some wonderful messages about the fear of loss and, believe it or not, depression, that will touch the hearts of the small viewers to whom it is aimed as well as their grownup companions.
You know what else I liked? The theme of female empowerment that runs slyly throughout the story line.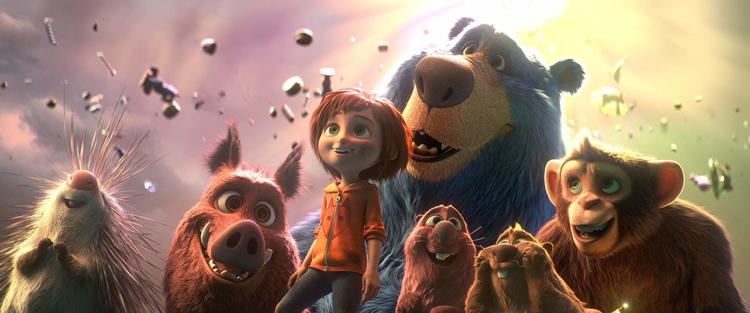 "Wonder Park" stars Brianna Denski as the voice of June, a little girl who loves to design and construct. The budding engineer enjoys inventing a highly imaginative magical amusement park with her mom (Jennifer Garner).
The park has clever, wild rides, and all kinds of characters, including a monkey named Peanut (Norbert Leo Butz, who has a marvelous voice) who serves as the park's resident wizard/designer.
While June and her mom continue to invent the fantasy land, they build on in their house, too, using a variety of gadgets and blueprints.
June's mom becomes ill – so ill she must go away for special treatment. June no longer plays with Wonder Park – in fact, she throws part of its design into the fireplace. She becomes so sad she doesn't want to play with her friends anymore.
Her dad sends her to math camp (along the way the kids sing a witty song about math that I'd like to hear again.) June decides her dad can't be left alone before they even reach the camp, and, with the help of a conspirator, she flees the bus and heads off into the woods toward home.
You have free articles remaining.
What she discovers in the woods is a decrepit, bizarre version of Wonder Park. All the creatures to whom she and her mom gave personalities are there, including Greta the warthog (Mila Kunis) Steve the porcupine (John Oliver) beavers Gus and Cooper (Kenan Thompson and Ken Jeong), and greeter Boomer bear (Ken Hudson Campbell).
The park has been invaded by zombies that want to destroy it. June must find her creativity and joy and save the park along with her animal friends.
I liked the idea of Wonder Park, and enjoyed both the beautiful and dilapidated versions of it.
I love how the mother's illness is introduced in stages, and that it has no name. What her ailment is doesn't matter. What does matter is its effect on June. Any child who has worried about a parents or endured a loss will be able to relate to June.
I saw the movie on its opening night, which was Thursday. Not only was the auditorium surprisingly full, but also the little audience members smiled, giggled and chattered about the movie on their way out.
It might not be Disneyland, but "Wonder Park" is well worth the trip.