Mostly, "The Secret Life of Pets 2" is a silly, colorful romp. But the animated comedy does have a few heartfelt moments, including a surprisingly insightful theme about cruelty.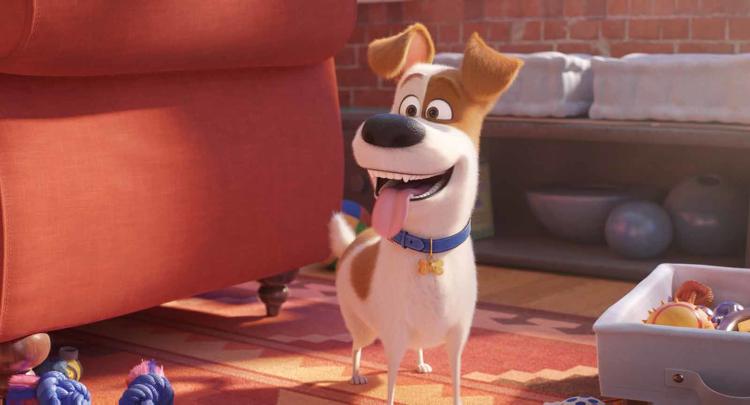 There's one other element that makes this worth a look – especially for "Star Wars" and "Indiana Jones" fans. Yes, the unmistakable voice of Harrison Ford provides the voice for Rooster, a confident, no-nonsense farm dog.
Max (now voiced by Patton Oswalt), the cute little fellow from the first movie, returns with his best buddy Duke (Eric Stonestreet). They are the dogs of a New York pair who meet cute and fall in love.
When a baby arrives, Max and Duke aren't too sure about the new addition at first, especially after baby Liam begins to cry and follow them around. But after the first "Max, I love you!" from the toddler, Max is completely smitten and loyal to the newest member of his pack.
Max develops some anxiety because he is so desperate to keep Liam safe. Max becomes so fraught with anxiety that he becomes to nervously scratch himself. There ensues a trip to the vet and an embarrassing collar.
When Max's people decide to take a vacation to the country, Max leaves his beloved squeaky bee toy with his friend Gidget (Jenny Slate.) Although Gidget does the best she can, the toy ends up with a houseful of ferocious felines, which leaves Gidget in a quandary about how to infiltrate their numbers.
You have free articles remaining.
Elsewhere, bunny Snowball (Kevin Hart) fancies himself to be a superhero. He makes a new friend in the dog Daisy (Tiffany Haddish,) who implores Snowball to help rescue a young circus tiger that suffers abuse at the hands of its cruel owner.
Max and Duke aren't on hand for the escapade to save the tiger (there's a reference for all you Jack Lemmon fans out there) because they're trying to get used to the farm environment. Rooster (Ford) is the dog who pretty much manages the farm, whether it's herding cattle or rescuing errant lambs.
The screenplay smartly nails the animal tendencies of its characters, from the ferocity of brave little canines to the way cats methodically knock objects off perches. And the way the terrified tiger shrinks from its abuser is authentic, heartfelt and a great moment to talk about kindness with kids.
I really liked the soundtrack, with"Me and Julio Down by the School Yard" and the classic "La Grange" by ZZ Top. Older movie fans will recognize a John Williams "Superman" theme.
Rooster is my favorite character, and it's Ford who makes the pragmatic character spring to life. It's wonderful to watch him give Max advice about courage and fear.
Next time around, I think Rooster should have his own movie.