The name of one of the best films you've never heard of will be on favorites lists at the end of the year.
"The Mustang," helmed by Laure de Clermont-Tonnerre, is a character study, a tale of redemption and a prison movie.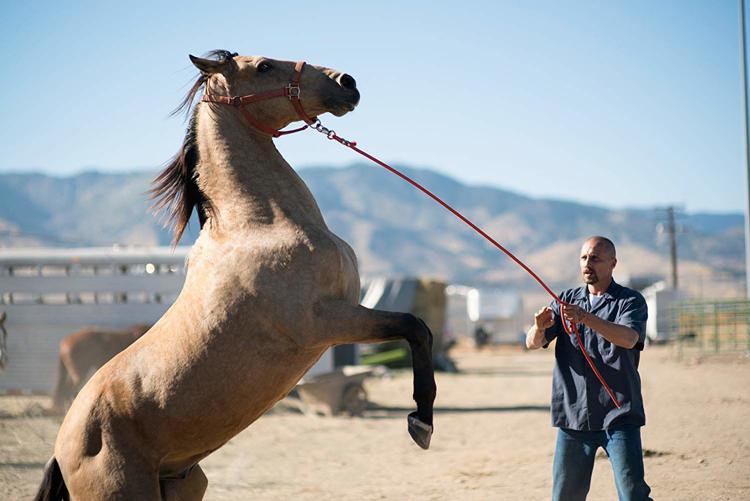 The incredibly intense Matthias Schoenarts ("The Drop") is Roman Coleman, an inmate who has served 12 years in a Nevada prison.
Roman has done a lot of time in solitary. When he is interviewed by the prison psychologist (Connie Britton, television's "American Horror Story"), he almost refuses to speak to her. He ends up shoveling horse manure in the work program that involves inmates breaking mustangs, which then are sold at auction (this is a real program, incidentally).
Myles (a marvelous portrayal by Bruce Dern) is the coordinator of the program that often helps the convicts in many ways. Immediately, one horse that eventually is named Marcus takes an interest in Roman, and vice versa.
Myles gives Roman the opportunity to join the program, and disaster ensues. But Roman begins to learn that patience sometimes is the best way to approach horse training, and eventually – with some coaching from other inmates, including Henry (Jason Mitchell, "Straight Outta Compton") – he begins settle down, along with the horse.
In addition to breaking the mustang, Roman also faces a challenge from his pregnant daughter, Martha (Gideon Adlon, "Blockers") who says she wants to sell the family home.
You have free articles remaining.
The script by Clermont-Tonnerre along with Mona Fastvold and Brock Norman Brock, is superb in its realism about prison life and prison reform. In a revealing sequence, various prisoners talk about how long they contemplated their crime before they carried it out (just seconds).
The politics and danger of prison life are depicted convincingly, with manipulations and danger at every turn for Roman and other prisoners.
Schoenarts, always a great performer, is outstanding here. You can see his rage build in his every muscle, particularly when he refuses to speak. When the history about his crime is revealed, we become even better-acquainted with his tendency toward violence.
Dern, not surprisingly, is excellent as the grizzled program supervisor who doesn't cut the participants any slack, yet recognizes them all as human beings and treats them with respect.
Watch for an inmate named Tom, beautifully played by Thomas Smittle, who served time in prison. Now a horse trainer, he really was part of the equine program depicted here.
There's not a bad moment in this excellent movie. Every scene reveals aspects of an animal or human character. It's only April, but it's safe to say this is one of the best films of 2019.