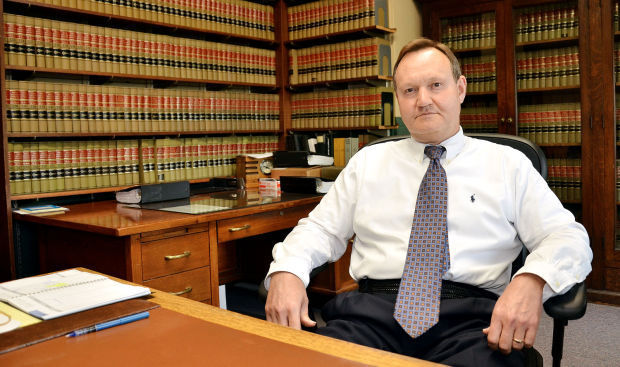 Joel Barrows says he takes a good, long look at the back flap of a book before he decides whether he'll read it.
"I know when I go to read a book, I look at the author's profile, and I want to see if that person has experience that tells me that he knows what he's talking about," Barrows explained. "And I hope that this will give me a good platform in the thriller and mystery context."
And if being an Iowa 7th District judge with 23 years as a practicing attorney, 18 of those as a state and federal prosecutor, isn't enough in the way of credentials, Barrows said he's not sure what is.
He has written "Deep White Cover," examining the work of an agent for the Bureau of Alcohol, Tobacco and Firearms, or ATF.
"I thought it would be interesting to do what now looks like a series about an undercover agent," he said. "I chose an ATF agent because, in my experience as an assistant U.S. attorney and working with various agencies, I noticed that ATF did a lot of really good undercover work and there wasn't anything else like that."
Another aspect of the book is that one of Barrows' characters is in the witness protection program, where both he and the undercover agent are "forced into totally different lives," he said.
He will sign copies of his book from 1 to 3 p.m. today at the Barnes & Noble bookstore in NorthPark Mall, Davenport.
Barrows was raised in Folletts, Iowa, moving to nearby Camanche at the age of 9. He received his law degree from Drake University and his master of law degree from Georgetown University.
He wrote two books before "Deep White Cover" was published by Crime Street Press in May. He said the publisher is looking toward at least one of the other two books for possible release.
Barrows already has plans for a sequel, "Deep Green Cover," in which the character infiltrates an eco-terrorist organization.
The 53-year-old said he wants to educate as well as entertain readers.
"I want the reader to feel like they're an insider," he said. "Obviously, I can't put everything into these books that I learned as a federal prosecutor. Some of that would be problematic."
He did give an early copy of the book to a supervisory deputy in the U.S. Marshals Service to double-check and make sure he wasn't giving away too much information.
Barrows said he got the thumbs-up.
"I do think that it rings true and gives folks the sense of being an insider in that world," he added.