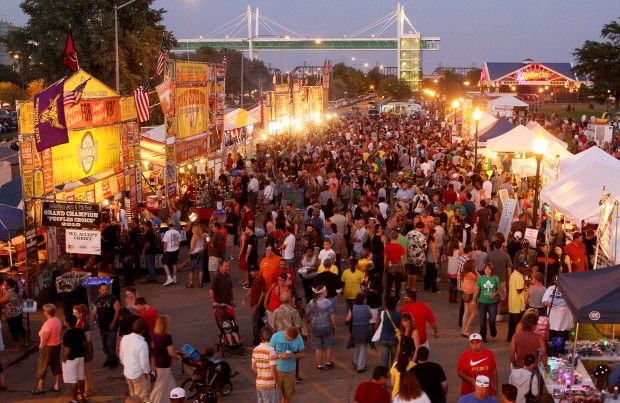 Cold drinks, hot ribs, exciting music and a relaxing view are all the ingredients for fun offered up by River Roots Live, arriving this weekend in Davenport's LeClaire Park. 
The festival is celebrating its 10th birthday with an impressive lineup of acts that includes The Jayhawks, Cracker, Los Lonely Boys, Robert Randolph and the Family Band, the North Mississippi Allstars, Ben Kweller, ZZ Ward and more. Local bands The Dawn and The One Night Standards also are on the bill.
"We feel really good about this year's show. We think it's the best and probably the deepest lineup we've ever had," said Jason Gilliland, the director of events for the Downtown Davenport Partnership, which stages River Roots Live. "When you start off the day with a band like The Jayhawks and you just keep on offering great acts throughout the day, that's a really strong lineup."
As always, the event not only offers up a solid musical slate, but a deep roster of restaurateurs as well, with some offering standard county fair fare and the lion's share dishing up mouth-watering barbecue.
"The Ribfest has been a staple of the festival for years, and it's always a part of it that people really love," Gilliland said. "We've got a really diverse group of rib vendors from around the country, and we're really happy about that, and we also have a lot of local vendors offering their items as well. It's a good mix. And people can come out early on Friday — we open at 11 — and they can have lunch and get a sneak preview of the fest."
In addition to beverages and sonic draws, the festival offers a number of events for children, with interactive music tents and kids activities.
"We like to offer a lot of things for a wide audience," Gilliland said. "We schedule different events and different bands at different times with the audience for each in mind."
Overall, he said, it makes for a well-rounded weekend of activities for the entire family.
"It's good music, good food and good drinks," he said. "A lot of people who live here just kind of take LeClaire Park for granted, but bands that come in are really impressed with playing on the Mississippi River and seeing just how beautiful it is."